Oct 1, 2008 — by Eric Brown — from the LinuxDevices Archive — 6 views
VirtualLogix and 6Wind announced a Linux-based multi-core networking reference design aimed at 4G wireless base stations and smart media gateway equipment. The reference design combines Linux, the 6WindGate multi-core networking stack, and VirtualLogix's VLX-NI (network infrastructure) virtualization technology, all running on Texas Instruments C6000 multi-core digital signal processors (DSPs).
The unnamed networking reference design will enable multi-plane consolidation for wireless baseband systems, resulting in lower power consumption, as well as a reduced bill of materials for network equipment providers (NEPs), claims VirtualLogix. According to the company, the design will be "the first solution of its kind that allows NEPs to easily integrate optimized IP networking protocol stacks into designs based on Texas Instruments (TI) multicore DSPs."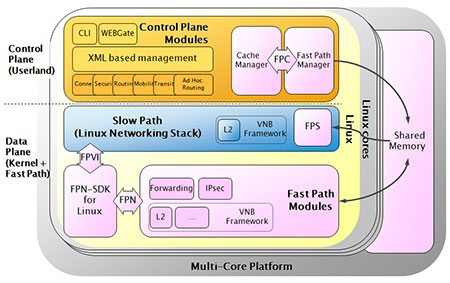 6WindGate EDS architecture
The design integrates the 6WindGate embedded Linux networking stack for multi-service IP gateways with VirtualLogix's VLX-NI virtualization technology. The latter is said to support running both Linux and TI's real-time DSP/BIOS code simultaneously on the
C6000 DSP
. The companies did not say which of the many C6000 models it supports, but the TMS320C6410/12/13/18, TMS320C642x, and TMS320C62x DSPs are all touted as being optimized for wireless and telecom infrastructure.
The 6WindGate stack provides routing, security, QoS (quality-of-service), mobility, and IPv4-6 support, and comes with an XML-based management system that allows integration with UTM (unified threat management) software, the company says. 6WindGate is also said to support standard-compliant IPsec cryptography hardware, and it implements a "fast-path-ready" architecture said to support the OCF (OpenBSD Cryptographic Framework) standard.
The stack has been validated on x86, IXP4xx, IXP2xxx, and multi-core MIPS64 processors from Cavium and Raza, and offers specific support for Lanbird's ATCA-compliant LBATCA-NS0216 telecommunications service processor board, which is powered by 32 MIPS64 Cavium cores. 6Wind has also announced support for Continuous Computing's ATCA PP50 board, which is based on a pair of Raza Microelectronics (RMI) XLR732 processors.
The 6WindGate stack comes in a symmetrical multiprocessing version called ADS, as well as a fast-path enabled SDS version that is said to offer a fast data path by dedicating some cores specifically to data plane processing via its real-time MCEE (Multi-Core Executive Environment), assigning other cores to control plane tasks running Linux. 6Wind also offers an EDS version that manages to accomplish fast-path performance without MCEE. Instead, it implements fast path as a Linux kernel module sitting between the Linux networking stack and the interface drivers.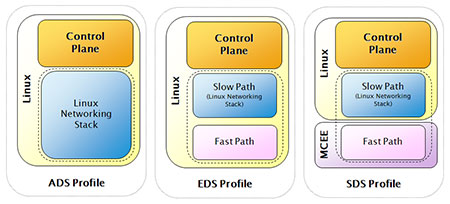 6WindGate's ADS, EDS, and SDS versions
The VirtualLogix VLX technology lets guest operating systems access physical hardware subsystems directly, for faster performance than typical enterprise virtualization products, VirtualLogix says. Hardware developers can use VLX to securely isolate critical applications, reduce materials cost, contain software failures, and segregate software licenses, the company adds.
VLX versions include:
VirtualLogix recently announced it would support the new Multicore Communications API (MCAPI), which standardizes communications among cores and between multi-core system-on-chips (SoCs). The company says that its MCAPI-enabled VLX virtualization products will allow customers to use the API to more easily migrate applications from a physical multi-core system to a virtual VLX environment.
Stated Didier Irlande, senior marketing nanager at VirtualLogix, "Performance per watt is becoming a key design factor for network equipment providers, and cost-effective gateways are more and more critical in the deployment of the IP multimedia core network subsystem."
Stated Eric Carmes, CEO for 6Wind, "The support of 6WindGate on VirtualLogix software for TI DSP opens new opportunities for network equipment providers, allowing them access to the flexibility necessary to develop new cost-sensitive network elements and reduce their time to market."
Availability
Neither VirtualLogix or 6Wind offered pricing or availability information on the new TI reference design. More information on 6WindGate may be found here.
---

This article was originally published on LinuxDevices.com and has been donated to the open source community by QuinStreet Inc. Please visit LinuxToday.com for up-to-date news and articles about Linux and open source.