Mar 1, 2010 — by Eric Brown — from the LinuxDevices Archive — 1 views
Sprint and Verizon Wireless have released Palm's upgraded 1.4 version of the Linux-based WebOS for Palm Pre and Palm Pixi smartphones. Offering much-anticipated video capture and editing functionality plus improved messaging features, WebOS 1.4 arrives shortly after Palm announced lowered investment guidance due to disappointing smartphone sales.
WebOS 1.4 follows the arrival of WebOS 1.3.5 two months ago, which offered a variety of updates, improvements, and bug fixes to the Linux-based mobile OS, including improvements to App Catalog downloads. Since then, the Palm Pre Plus and newly WiFi-enabled Palm Pixi Plus models arrived on Verizon Wireless; in addition, Palm announced a WebOS plugin development kit and said that its WebOS developer program is now open to all developers. (Our previous coverage of all these stories may be found here.)
WebOS 1.4 fills in a much-requested wish-list item by enabling video capture. The new release offers a video editing feature, as well as the ability to quickly upload videos to YouTube or Facebook, or send them via email or MMS. Judging from the YouTube video posted at the end of this story, the editor offers basic features, such as the ability to edit out the beginning or ending of the clip.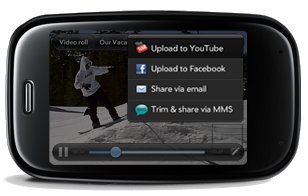 Video sharing on WebOS 1.4
Performance has been improved throughout in both app loading and gesture response, claims Palm. The company is also claiming improvements to battery life, helping to diminish one of the major knocks against WebOS and the Pre.
Enhancements have also been made to the Calendar, Phone, Messaging, and Email apps, with an eye toward improving performance and simplifying common tasks, says Palm. New features include the ability to dial from a calendar subject entry, as well as sort email by date, sender, and subject. The call log now offer more connection options, including SMS, says the company. In addition, short-cuts have been added for moving quickly, for example, from chat to phone-call modes.
The Pre's notification LED now lights up and pulses to indicate notifications, even when the screen is turned off, says Palm. Notification sounds, meanwhile, can be customized to differentiate email (on an account-by-account basis), other messaging, and calendar events.
Palm struggles once again
The WebOS 1.4 enhancements are welcome news indeed for WebOS developers and users concerned about the sustainability of both the platform and the company. Last week, the company said it now expects to post lower than projected 3Q 2010 revenues of between $285 million and $310 million on a GAAP basis ($300 million to $320 million on a non-GAAP basis). By comparison, Wall Street investors had called for revenue of about $424 million in the quarter.
Total 2010 revenues are now expected to fall well below the previously forecasted range of $1.6 billion to $1.8 billion, said Palm. Revenues have been lowered due to "slower than expected consumer adoption of the company's products that has resulted in lower than expected order volumes from carriers and the deferral of orders to future periods," said the company.
According to a recent report by Gartner, in just seven months, Palm's WebOS grew from nothing to represent a respectable 0.7 percent of the global smartphone market in 2009. However, according to several sources, including our sister publication, eWEEK, the Palm Pre Plus and Palm Pixi Plus have sold poorly on Verizon Wireless, where they debuted at the end of January.
Although Verizon Wireless offers Palm a much larger potential customer base than that available with Sprint's network, the carrier also offers more phones to choose from, including popular Android models like the Motorola Droid. (Last Friday, meanwhile, Sprint cut the price of its original Palm Pixi to just $50 for new customers, making it the least expensive smartphone we know of.)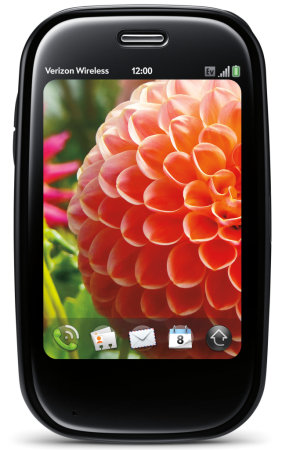 Verizon Wireless' Palm Pre Plus
On Feb. 23, Palm's stock prices began falling to their lowest levels since March 2009, writes Michelle Maisto in
eWEEK.
The story notes, however, that several weeks before Palm issued its lowered guidance, the company launched a "JumpStart" program to improve sales and training efforts. Palm CEO Jon Rubinstein is now claiming that the program is already showing promise.
Whether or not the WebOS 1.4 upgrade and JumpStart program will do the trick, the company appears to have the cash on hand to keep investing in product development and marketing, says the story. "The fact is, they have cash, they have real revenues in the hundreds of millions and they're selling a fair number of phones," Roger Kay, an analyst with Endpoint Technologies, was said to have told eWEEK. "The scale of the phone market is really big. But by most other measures, [Palm's numbers are] pretty good."
In a separate eWEEK story, Don Reisinger offers top ten tips for Palm to pull itself out of trouble. Suggestions include offering a more dynamic successor to the Palm Pre, as well as revamping Palm's "abysmal" Pre advertising.
Video editing on WebOS 1.4


(Source: Palm via YouTube)
(Click to play)
Availability
The announcement of WebOS 1.4 may be found here, and more details may be found here.
An eWEEK story that covers additional WebOS 1.4 features may be found here.
eWEEK's story on Palm's "JumpStart" program and earnings guidance may be found here, and the "10 Ways Palm Could Make a Comeback in the Mobile World" story should be here.
---
This article was originally published on LinuxDevices.com and has been donated to the open source community by QuinStreet Inc. Please visit LinuxToday.com for up-to-date news and articles about Linux and open source.