Dec 22, 2009 — by Eric Brown — from the LinuxDevices Archive — 6 views
Palm has released a beta version of a web-based GUI development platform called Palm Ares, said to streamline development for the Palm Pre's WebOS. Meanwhile, Palm announced lower than expected quarterly earnings, and said it's planning a marketing blitz to bolster sales of the Pre and Pixi smartphones, says Reuters.
Project Ares appears to be an attempt to broaden the scope of application development for the innovative, Linux-based WebOS operating system that runs on the Palm Pre and scaled-down Palm Pixi smartphones. Tipped last month, according to an eWEEK report by Darryl Taft, Project Ares is available now in a beta release.
Hosted entirely on the web, Palm Ares contains a complete integrated development environment (IDE) and drag-and-drop interface builder for WebOS apps, says Palm.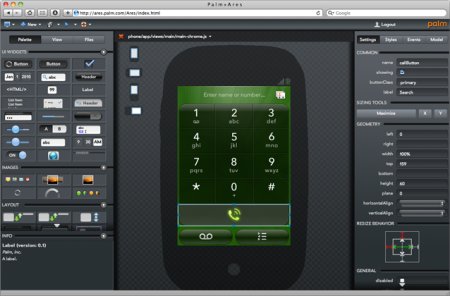 Palm Ares
(Click to enlarge)
Additional Palm Ares features are said by Palm to include:
Code editor (based on Mozilla Labs' HTML5-based Bespin editor)
Visual debugger
Log viewer
Source control integration
Fingertip access to full library of Mojo UI widgets
Push-button project and scene creation
Drag-and-drop file upload
Instant project upload and download for "seamless" desktop/cloud workflow
Apps preview from browser
Apps can be run directly on WebOS emulator or device (requires SDK installation)
Supports Safari, Chrome, or Firefox browsers
According to a blog post on Ajaxian.com by Dion Almaer, co-director of Palm's developer relations effort, one of the most notable aspects of Ares is the UI builder's widget layout system. The layout system is said to offer a variety of panels for vertical and horizontal layouts, exact positioning, panel combinations, scrolling panels, and a "Drawer/Collapsible" panel that can show or hide internal content.
Almaer was the co-developer of Mozilla Labs' Bespin code editor, which is used by Ares, and he appears to be happy with the adaptation. "Ben [Galbraith] and I created Bespin to see if the Web was ready for a desktop-class application of that nature," stated Almaer in his blog. "Ares has stepped up and gone even further to prove what the Web can do."
Palm feels the Android pressure
Last Thursday, Palm reported a greater-than-expected financial loss of 37 cents a share (compared to the expected 32 cents loss) for its fiscal second quarter, according to a Reuters report. In a conference call with analysts, Palm cited lower-than-expected demand among Sprint customers for its Pre and Pixi smartphones. According to the story, customers are instead turning to Sprint's Android phones from HTC and Samsung. Sprint offers the Android-based HTC Hero and HTC Tattoo, as well as the Samsung Moment.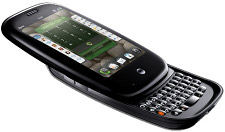 Palm's Pre (left) and Pixi (right)
(Click either to enlarge)
Palm said it shipped 783,000 smartphones during the quarter, which was "up 41 percent from last year and better than many analysts expected," according to
Reuters.
However, only 573,000 sell-through units actually ended up with consumers, down four percent from the previous year's quarter, and 29 percent lower than the previous three months, says the story.
Reuters
did not list how many of those units were represented by the Palm Pre and Palm Pixi.
Despite the tough sledding against Android, prospects are much brighter at Palm than they were a year ago. The company reported a net quarterly loss of $81.9 million, or 54 cents a share, compared to a net loss of $506.2 million, or $4.64 a share, a year ago. Palm was said to have reaffirmed its fiscal 2010 forecast for revenue of $1.6 billion to $1.8 billion, and said it plans to "spend aggressively and ramp up marketing to push its devices."
Palm also said it would offer its WebOS phones on other carriers in the "near future," said the story, which noted widespread speculation that Verizon Wireless will announce a Pre deal at CES in January. In September, rumors emerged that Verizon Wireless would forego its earlier plan to support the Pre, although these rumors were questioned by several analysts.
Availability
The Palm Ares page may be found here, and the Ajaxian.com blog should be here. A story on Palm Ares in our sister publication, eWEEK, may be found here.
The Reuters story on Palm's earnings, as reproduced on eWEEK should be here.
---
This article was originally published on LinuxDevices.com and has been donated to the open source community by QuinStreet Inc. Please visit LinuxToday.com for up-to-date news and articles about Linux and open source.