Oct 26, 2011 — by Eric Brown — from the LinuxDevices Archive — 36 views
Leader International announced two Android tablets, both with full-sized USB ports and microSD slots. The $179 Impression 7 (I7) runs Android 2.2 on a 1GHz processor, and provides a seven-inch 800 x 480 resistive touchscreen, while the $349 Impression 10 (I10) runs Android 2.3 on a 1GHz Samsung Hummingbird, adding a 9.7-inch, 1024 x 768 capacitive IPS touchscreen, an HDMI port, and a two-megapixel camera.
Over the last few weeks we've seen a number of seven- and eight-inch tablets that have matched or come close to the $200 price of Amazon's soon-to-be-released Kindle Fire, which is now projected to sell five million units in the fourth quarter alone. While most offer some ports and features (such as cameras) not found on the Kindle Fire, none has been able to match its dual-core Cortex-A9 processor or 1024 x 600 IPS touchscreen.

Impression 7
Now, Leader International has unveiled a seven-inch Impression 7 (I7) tablet selling for just $179, as well as a 9.7-inch Impression 10 (I10) tablet for a modest $349. Due in early November, both tablets appear to be killer deals at first glance, but then fade somewhat upon closer inspection.
Still, they have their moments, offering some few nifty features including full-sized USB ports. These could potentially support flash drives, external keyboards, and perhaps other peripherals, though Leader didn't cite the possibilities.
Impression 7
Although the I7 is equipped with a 1GHz processor, the company does not make a claim of Cortex-A8 technology.The tablet offers 512MB RAM, 4GB of internal storage, and a microSD slot that is limited to cards with 16GB or less.
The seven-inch, 800 × 480 display is said to provide resistive touch, and it is accompanied by an accelerometer and G-sensor. On the plus side, the I7 provides 802.11 b/g/n Wi-Fi, and two USB 2.0 ports, including one full-sized On-The-Go USB port, a feature found only on a few of the latest high-end Honeycomb tablets.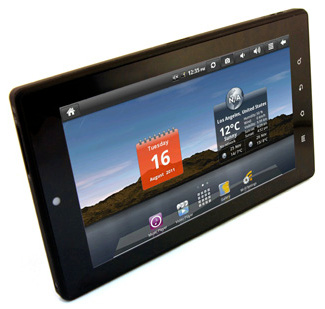 I7 on the horizontal
Other features include a 0.3-megapixel camera, stereo speakers, a 3.5mm headphone jack, and a mic, says Leader International. The 7.6 x 4.5 x 0.5-inch tablet weighs just a half pound, and the 3.7V battery supports up to six hours of life, says the company. Each unit also comes with a kickstand and a synthetic leather portfolio case.
The Impression 7 provides the solid, but aging Android 2.2 ("Froyo") build, which gives it the ability to offer Adobe Flash 10.1. There does not appear to be much beyond the basic Android apps, however, and for more apps, one is directed to third-party app store rather than the official Android Market.
All in all, the tablet appears to offers a mix of highs and lows. The full-sized USB port is a plus, but the resistive screen and Froyo OS give one pause.
It all comes down to the abilities of that mystery 1GHz processor. If it's an ARM9 or ARM11 model, the device can't really be compared to the Cortex A9-powered Kindle Fire (or other, Cortex-A8-based $200 tablets like the ViewSonic ViewPad 7e). Instead, it would be on par with budget seven-inch tablets selling for $150 or less, such as Augen's GenTouch78 or the PocketBook IQ.
Impression 10
The I10 is no Honeycomb tablet either. Instead, it runs the smartphone-oriented Android 2.3 on a smartphone-oriented processor — the 1GHz, Cortex-A8-based Samsung S5PC110 ("Hummingbird").
Like the I7, the I10 is equipped with 512MB of RAM and just 4GB of internal storage. This is another way the $349 I10 can be priced so much lower than typical 10-inch Honeycomb tablets, which sell for $500 to $600 and typically ship with between 8GB and 32GB of storage. At least the microSD slot accepts 32GB cards instead of just 16GB.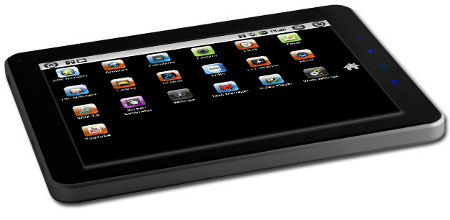 Impression 10
(Click to enlarge)
The I10 does stands out for being one of the few Android slates to perfectly match the screen dimensions (9.7 inches) and resolution (1024 x 768 pixels) of the Apple iPad. The tablet features a multitouch, capacitive touchscreen and also offers the iPad-like IPS (in-plane switching) technology.
The Impression 10 offers not just one full-sized USB On-The-Go port, but two, and also provides a mini-USB port, says Leader. There's also an HDMI port, through which one can play back video at 1080p, according to the company.
While most 10-inch tablets have dual cameras, including a five-megapixel model, the Leader shaves some more bucks off the I10 price by settling for a single front-facing two-megapixel model. Still, that does not seem so much of a loss, as most users are not likely to use a tablet this big as their primary camera.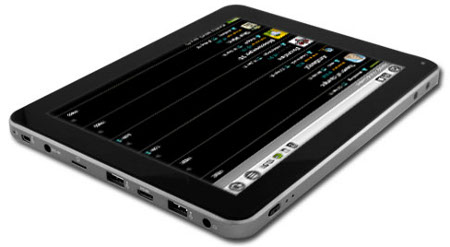 I10 ports
Additional features include 802.11b/g/n wireless networking, as well as a G-Sensor, accelerometer, plus a speaker, mic, and headphone jack, says Leader. The tablet measures 9.64 x 7.55 x 0.47 inches (245 x 192 x 12mm), says the company, which did not list a weight. The 6800mAh battery is said to last six hours.
The Android 2.3 build is said to include Flash 10.1, and as with the I7, apps are only available via third-party app stores.
Availability
The Impression 7 and Impression 10 will go on sale at Kmart and online stores such as HSN.com in early November for $179 and $349 respectively. More information and links to sales outlets may be found at Leader International's Impression 7 and Impression 10 product pages.
---
This article was originally published on LinuxDevices.com and has been donated to the open source community by QuinStreet Inc. Please visit LinuxToday.com for up-to-date news and articles about Linux and open source.