Oct 25, 2011 — by LinuxDevices Staff — from the LinuxDevices Archive — 3 views
ARM is set to provide an in-depth look at its recently announced Cortex-A7 processor this week at a Santa Clara, Calif.-based event. Other highlights of ARM TechCon 2011, scheduled for Oct. 25 to 27, will include a keynote by ARM CTO Mike Muller, and a demonstration of a $25 ARM11-based Ubuntu Linux computer from Raspberry Pi.
UBM Electronics' ARM TechCon — set to begin Oct. 25 at the Santa Clara Convention Center — is billed as "the most comprehensive forum for learning about technology based on the ARM architecture." It will include more than 85 sessions, addressing "areas such as developing for open source platforms, low-power design, safety and security and the latest in human interface design," according to the organizers.
Since the first ARM processor was released in 1987, more than 25 billion ARM-based chips have shipped, via an ecosystem of more than 850 licensees, according to UBM Electronics. ARM designs have loomed as being more important than ever, however, ever since Microsoft announced at last January's Consumer Electronics Show (CES) that its next major version of "big Windows" would run on ARM processors as well as x86 chips.
Since then, Microsoft has kept the pot boiling by releasing a Windows 8 Developer Preview version (albeit only in x86 form) and by blogging regularly about what features its forthcoming operating system will include.
Equally important, though, is that younger users have embraced smartphones as the computing platforms they're most excited about: ARM-based processors are included in Apple's iPhone and iPad, an overwhelming majority of Android phones and tablets, and in handsets using Microsoft's Windows Phone 7 operating system.
Showing off the Cortex-A7
Last week, ARM responded to burgeoning smartphone demand by announcing its 28-nanometer Cortex-A7, described as offering five times the energy efficiency, one fifth the size, and 50 percent better performance than the current Cortex-A8. A single-core version set for a 2013 debut will target sub-$100 smartphones, offering performance as good as today's $500 devices, according to the company.
ARM also announced a "big.Little" system on chip (SoC) design that combines the Cortex-A7 with the more powerful Cortex-A15 processor in a design that features a 20-microsecond interconnect between the two. (For more details, see our earlier coverage.)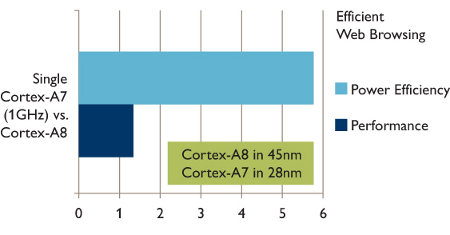 Cortex-A7 speed and power comparison with Cortex-A8
UBM says ARM TechCon attendees will get detailed information on the Cortex-A7 via a pair of sessions on Oct. 26. At 2:30 p.m., ARM CPU Product Manager Brian Jeff will present a session titled "ARM Cortex-A7 Processor for the Mainstream Low-power Mobile Market." This will be followed up at 3:30 by another titled "big.Little processing with the Cortex-A15 and Cortex-A7 Processors," delivered by Lead Designer Peter Greenhalgh.
These are just two among dozens of ARM processor-related sessions over the event's three days. Those on Oct. 25 are aimed most particularly at chip design teams working with ARM silicon IP and tools, while those on Oct. 26 and 27 are aimed at system designers and software developers, UBM says.
A 9:30 a.m. keynote on Oct 26 will be delivered by Microsoft's Dan Javnozon, group product manager for the Windows Embedded marketing group. "Creating business value with Microsoft" will feature a discussion of "key elements of Windows Embedded's use of ARM architecture, and outline how customers and partners can begin planning for ongoing technical innovations," according to the conference organizers.
Given that Javnozon is responsible for marketing today's Windows Embedded Compact 7, which runs on ARM processors and was revised just last week, we'd expect to hear more emphasis on what Microsoft has to sell today, and less on Windows 8 hype. Still, it will be worth looking around to see if the show provides any demos of Windows 8 running on ARM SoCs.
Meanwhile, there doesn't appear to be a keynote planned by anyone from Microsoft's arch-rival Google. However, there are multiple sessions devoted to the search giant's Android operating system, as follows:
According to UBM, additional keynotes will include, in chronological order:
A Mentor Graphics keynote by Walden C. Rhines, chairman and CEO, discussing issues related to measuring and enhancing product differentiation. (9 a.m. Oct. 25)
A TSMC keynote by Dr. Shang-Yi Chang, senior vice president of R&D, discussing the manufacturing challenges facing the industry and the value of collaboration across the development lifecycle (9:30 a.m. Oct. 25)
An Oracle keynote by Henrik Stahl, director of Java product management, who will speak about how Oracle's continued focus on Java Embedded is making computing more pervasive in the real world embedded domain. (9 a.m., Oct. 26)
An Avnet keynote by Harley Feldberg, corporate vice president and president of Avnet Electronics Marketing, who will discuss the moves companies can take to stay ahead of the technology curve in an ever-changing marketplace. (10 a.m., Oct. 26)
An ARM keynote by Mike Muller, chief technology officer, who will look at the technological advances that will bring us to 2020 in 26 steps (9 a.m. Oct. 27)
A keynote by Ole Lund Hansen, United Nations head of Global Compact LEAD, who will discuss how his organization is challenging and inspiring companies to achieve higher levels of sustainability (9:45 a.m., Oct. 27)
Finally, we're told the show will feature a demonstration of a tiny ARM computer that runs Ubuntu Linux and may sell for as little as $25. Featuring a USB port on one and an HDMI port on another, the device was first announced back in May by the Raspberry Pi foundation.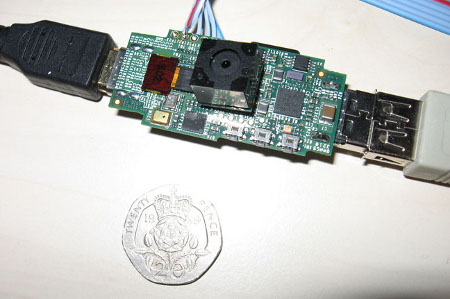 The ARM11-powered Raspberry Pi prototype, with optional camera on top
(Click to enlarge)
Raspberry Pi did not disclose the processor of its eponymous computer, but the device uses a Broadcom SoC, according to
an Oct. 25 EETimes article
. The device will be demonstrated by Eben Upton, an SoC architect at Broadcom who is one of Raspberry Pi's founders, according to author Colin Holland.
An image published by EE Times suggests that the Raspberry Pi device no longer features its original form factor, and is now about the size of the proverbial credit card, but we'll just have to wait and see. An ARM TechCon Expo session set for 1:30 p.m. on Oct. 27th will provide more details, Holland adds.
Further information
Advance registration for UBM's ARM TechCon 2011 is no longer available, but onsite registration will begin when the show opens Oct. 25. Further information may be found on the event website.
Jonathan Angel can be reached at [email protected] and followed at www.twitter.com/gadgetsense.
---
This article was originally published on LinuxDevices.com and has been donated to the open source community by QuinStreet Inc. Please visit LinuxToday.com for up-to-date news and articles about Linux and open source.