Apr 8, 2011 — by Eric Brown — from the LinuxDevices Archive — views
GeckoSystems will show off its fourth-generation "CareBot" service robot at its "Mobile Robots in Motion" conference on April 13-14. Based on two dual-core Intel Atom-based Mini-ITX boards, with one running Ubuntu Linux and the other Windows XP, the latest CareBot features an updated GeckoMotorController 7.0 and a new GeckoImager 3.1 vision system based on Microsoft Kinect technology.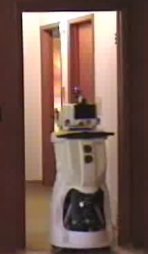 GeckoSystems has been working for several years on prototypes of its CareBot service robot (pictured at right), which it hopes to have ready in a version 4.0 design by the end of the year. CareBot 4.0 should be ready for what the company expects will be the world's first eldercare robot evaluation trials. GeckoSystems says it is also working with several potential manufacturing partners for the robot.
Service robots such as the CareBot can be used to provide domestic aid for the elderly and disabled, offering services including cleaning, entertainment, and remote monitoring, says GeckoSystems. Other potential markets for CareBot spinoffs might include security, public safety, professional healthcare, government systems, agriculture, and education, says the company.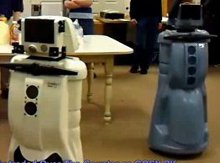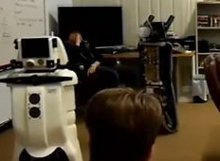 Pair of CareBots interacting with each other as well as

Rockdale Magnet Robotics Team students
The CareBot enables intelligent monitoring by automatically following care receivers from room to room, providing them with a visual and auditory presence to better assist their needs, says GeckoSystems. With its built-in Wi-Fi and cameras, it can enable telepresence applications such as allowing parents to view their children, or adult children to monitor frail parents via the Internet, says the company. CareBots can also serve as automatic reminders, informing care receivers of appointments, visitors, medication events, and more.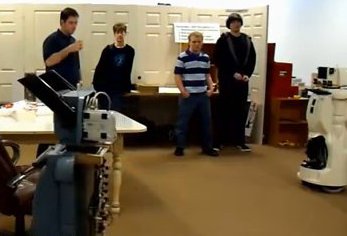 CareBot performing a seek operation
The CareBot has an aluminum frame, plastic shroud, two independently driven wheels, multiple sensor systems, various microprocessors, and several onboard computers connected in a local area network, says the company. The microprocessors directly interact with the sensor systems and transmit data to the dual onboard computers.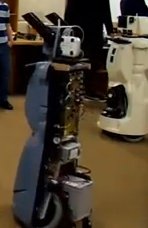 GeckoSystems does not offer a detailed spec chart on the CareBot. However, the company says the robot's major new AI software components, called "AI savants," are spread over two onboard, off-the-shelf Mini-ITX motherboards, each based on dual-core Intel Atoms running at 1.66GHz, most likely the D510.
The new GeckoImager savant runs Ubuntu Linux 10.10 while the computer running the GeckoNav navigation savant uses Microsoft Windows XP, says the company. The main controller of these and other savants, called the GeckoSuper, also runs on the Windows XP computer. Meanwhile, the newly updated GeckoMotorController (GeckoMC) runs along with the GeckoOrient sensor savant on a GeckoSPIO robot controller board.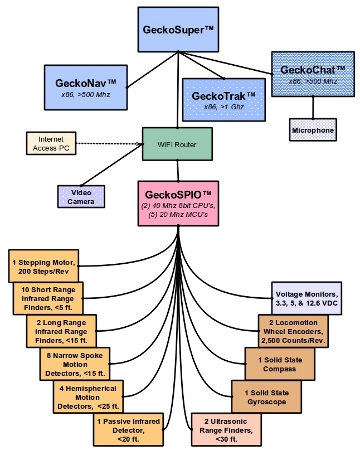 CareBot hardware architecture (2010, prior to GeckoImager inclusion)
(Click to enlarge)
The latest version of the GeckoMC continues to use feedback from optical encoders to control wheel velocity, but now uses PID (proportional-integral-derivative) algorithms combined with novel subsumption techniques to allow for smoother, more precise control of the CareBot's locomotion system, says GeckoSystems. GeckoMC 7.0 eliminates lurching, enables the CareBot to move in a straight line under varying conditions, and improves battery life, says the company.
The new GeckoMC also offers finer control of wheel locomotion at high speeds, enabling more precise turns and improved sudden stops. The latter enhancements are enabled by the integration of the new Ubuntu-driven GeckoImager sensor system.
Due to the high expense, power draw, and complexity of traditional video-centric machine vision systems, GeckoSystems took a new approach for the GeckoImager, taking a clue from "compound insect eyes," says the company. The system fuses two Microsoft Kinect Field of Views (FOV) 3D vision systems with sonar range finders. This is said to provide the GeckoImager with greater range and reliability for quickly locating stationary and/or dynamic obstacles.
The GeckoImager sensor fusion technology works together with the similar proprietary fusion technology in GeckoOrient's solid-state compass, accelerometer, and odometry functions. Sensor fusion technology is also used to integrate inputs in the GeckoTrak and GeckoSPIO savants, says the company.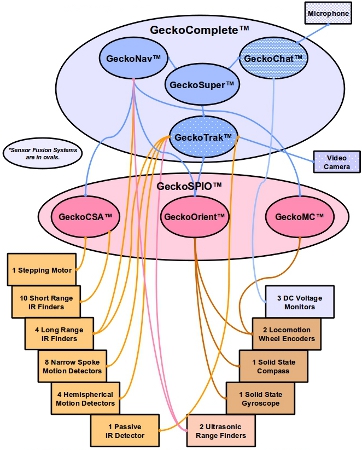 Sensor fusion architecture (2010, prior to GeckoImager inclusion)


(Click to enlarge)
The Windows-based GeckoNav self-navigation AI software integrates all these machine vision, passive infrared, sonar, and other sensor inputs "to achieve actionable situation awareness while providing a very safe, loose crowd level of autonomy to be 'collision proof,'" says GeckoSystems.
In addition, GeckoTrak can inform GeckoNav automatically as to the whereabouts of a designated person for continuous proximate monitoring. The CareBot also includes a GeckoScheduler savant, as well as a GeckoChat verbal interaction system responsible for interaction with the care-receiver. The latter is demonstrated in one of the recently posted YouTube demonstrations shown below in which the Rockdale Math and Science Magnet High School's FIRST Robotics Team in Conyers, Georgia, takes the latest CareBots for a spin.
Two Carebots interacting with Rockdale Magnet Robotics team and each other, on YouTube


Source: GeckoSystems
(Click to play)
CareBot chat test: "Go away," says the human. "You don't love me anymore," responds the Carebot.


Source: GeckoSystems
(Click to play)
Stated Martin Spencer, President/CEO, GeckoSystems, "This breakthrough usage of Microsoft's low cost Kinect range finding sensor system may enable some near term business-to-business niche retrofit markets for us. We continue to expect technology-licensing revenues to precede revenues from product manufacturing and sales and have two to three prospective licensees in active discussions."
Availability
GeckoSystems Intl. will show off its fourth-generation "CareBot" service robot at its third annual "Mobile Robots in Motion" conference in Conyers, Georgia on April 13-14. More information on the event and the latest CareBot may be found at GeckoSystems' website.
---
This article was originally published on LinuxDevices.com and has been donated to the open source community by QuinStreet Inc. Please visit LinuxToday.com for up-to-date news and articles about Linux and open source.