Jan 24, 2012 — by Eric Brown — from the LinuxDevices Archive — 5 views
The Linux Mint team announced the first "fully stable" version of its new GNOME 2.x-like "Cinnamon" fork of the GNOME 3.x desktop environment. Available for several major Linux distros, Cinnamon 1.2 is more customizable than GNOME 3.x, restores much of the GNOME 2.x interface, and adds features such as new desktop effects and layouts, a configuration tool, and five new "applets."
The Linux Mint team announced its Cinnamon fork of the GNOME 3.x desktop environment on Dec. 22, and has since released 1.12 and 1.13 versions. The latter, which launched on Jan. 2, was dubbed "stable," but the new 1.2 release and associated APIs are now called "fully stable."
Documentation for artists and developers is still missing, but is on the way, writes Clement Lefebvre, lead developer and founder of the Cinnamon and Linux Mint projects.
Cinnamon 1.2 is available not only for free download by Linux Mint 12 users, but also by users of Ubuntu 11.10, Fedora 16, OpenSUSE 12.1, Arch Linux, and Gentoo, says the project. The environment is said to offer new desktop effects, desktop layouts, a new configuration tool, five new applets, as well as various bug fixes and improvements.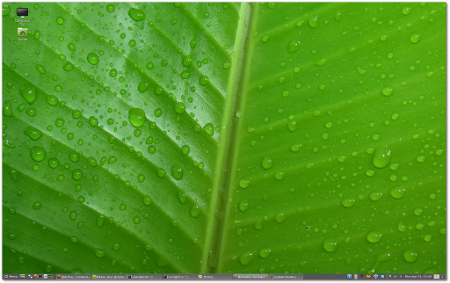 Cinnamon 1.2, in one of three desktop layout modes: traditional
(Click to enlarge)
Cinnamon was still under cover when
Linux Mint 12 shipped
in late November. Like Mint 11, the Ubuntu-based Mint 12 continued to avoid the radical new Ubuntu Unity desktop. Yet unlike Mint 11, which offered the familiar, but foundationally aging GNOME 2.3, but declined to adopt the controversial GNOME 3.x, Mint 12 deleted GNOME 2.3 in favor of the somewhat improved, but still controversial GNOME 3.2.
The update, however, was accompanied by several options that made the up-to-date, but restrictive GNOME 3.2 more palatable to GNOME old timers. Linux Mint 12 added "MGSE" (Mint Gnome Shell Extensions) — a desktop layer sitting atop GNOME 3.2 that lets users disable various components within MGSE to get more of a GNOME 2.3 experience. Users can choose which customizations they want to dial back.
In addition, the project included an early version of the MATE project's MATE fork of GNOME 2.x, which is said to be compatible with GNOME 3.x.
While these were intriguing options, none were ideal. Following up on Linus Torvalds' public call for somebody to develop a fork for the "unholy mess" of GNOME 3.x, the Mint team did just that with Cinnamon. Instead of being based on GNOME 2.x like MATE, which is still under development, Cinnamon offers all the foundational improvements of GNOME 3.2 while returning to a more customizable, more traditional GNOME 2.3-like interface.
Desktop effects and three layouts
That said, Cinnamon steps out on its own with a few interface enhancements and a revised "applets" concept. Noting that the Linux distro trend of offering special visual effect — as exemplified by the Compiz and Metacity desktop extensions, had faded — Lefebvre said it was time to revisit the concept.
Cinnamon's new desktop effects innovate by not only letting users "define fancy animations," but also choose to turn the effects off, writes Lefebvre. Currently there are only two desktop effect animation plugins: a Fade effect, which changes the opacity of windows, and a Scale effect, which changes their dimension. Cinnamon 1.2 is also said to add 30 transition styles.
Other new features in Cinnamon 1.2 include an improved main menu. For example, it repairs a bug that made search results disappear if one hovered the cursor in the wrong place.
One of the major deal-breakers that kept many from switching to GNOME 3.x was that users couldn't easily change the layout of the desktop. Cinnamon does away with this rigidity.
The new desktop layout feature is still evolving, however. "We haven't reached the stage where each component is independent and can be moved anywhere you like," writes Lefebvre.
Version 1.2 does, however, offer a choice of three layouts. As shown farther above, the traditional GNOME layout offers one panel at the bottom. There's also a flipped layout (one panel at the top), or a classic layout (one panel at the bottom and one panel at the top).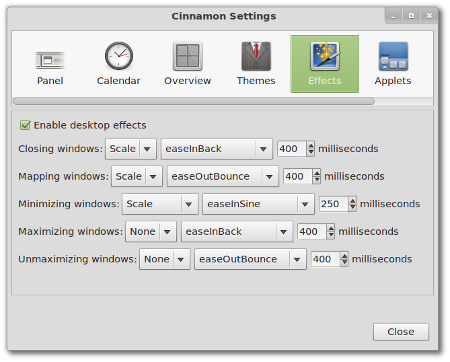 Cinnamon 1.2 "Cinnamon Settings" configuration menu for desktop effects
(Click to enlarge)
Perhaps the most welcome change for GNOME traditionalists is the ability to customize a variety of settings. A new configuration tool called "Cinnamon Settings" restores numerous customization features missing from GNOME 3.x.
Users can now switch themes, apply desktop effects, add applets and extensions, and configure some desktop settings, explains Lefebvre. For example, users can define their own date formats for the calendar applet, and edit panel launchers.
Applets made easy
Cinnamon 1.2 also restores the concept of applets — optional desktop components installed by default, which place themselves in the panel near the system tray. The first five applets are accessibility, recent documents, removable drives, trash, and display.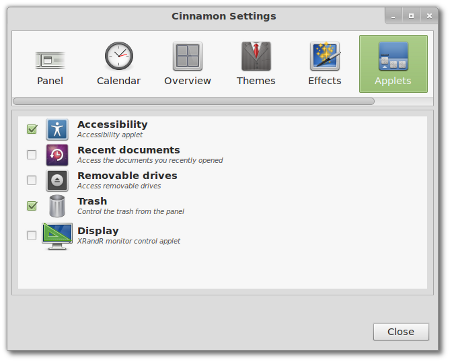 First five applets in Cinnamon 1.2
(Click to enlarge)
In Cinnamon 1.2, applets benefit from an Applet API, making them "trivial to write," according to Lefebvre. They are said to have consistent, common behavior, and have the advantage of not depending on a particular version of Cinnamon.
In addition, applets don't specify their own location, and a future release will let users move them around. Eventually, all panel components in Cinnamon will be applets, writes Lefebvre.
Cinnamon's foundational improvements, meanwhile, move the desktop farther away "from any kind of compatibility with [GNOME 3.x's] Gnome Shell," writes Lefebvre. For example, Cinnamon's own homemade Muffin windows manager forks and replaces Mutter, and there's no more compatibility with GNOME Shell themes.
In addition, newly open windows are "focused" by default, and closing windows on an empty workspace no longer triggers the overview, writes Lefebvre. Finally, the overview itself is said to be replaced by a desktop Scale plugin, similar to the old Compiz Scale.
Availability
Cinnamon 1.2 is available for free download for use with Linux Mint 12, Ubuntu 11.10, Fedora 16, OpenSUSE 12.1, Arch Linux, and Gentoo, says the Cinnamon project. More information may be found on this Cinnamon 1.2 announcement page, and downloads may be found on the Cinnamon download page.
---
This article was originally published on LinuxDevices.com and has been donated to the open source community by QuinStreet Inc. Please visit LinuxToday.com for up-to-date news and articles about Linux and open source.