Nov 14, 2011 — by Eric Brown — from the LinuxDevices Archive — views
Linux Mint 12 ("Lisa") RC1 was released, based on Ubuntu 11.10 and Linux 3.0. RC1 offers the GNOME 3.2 desktop, but augments it with "MGSE" extensions that let users create a more GNOME 2.3x-like environment, and also supplies a desktop called MATE that's claimed to be a GNOME 3.x-compatible version of GNOME 2.x.
In Linux Mint 11, the Ubuntu-based distribution could have adopted the new GNOME 3.0 or Ubuntu's new Unity desktop, but instead stuck with GNOME 2.3.2. While this pleased many Mint users who were unhappy with GNOME 3.0 — and also attracted some Ubuntu users who disliked Unity — it also raised concerns that Linux Mint would be left behind as a retro distribution, losing touch with new desktop Linux developments.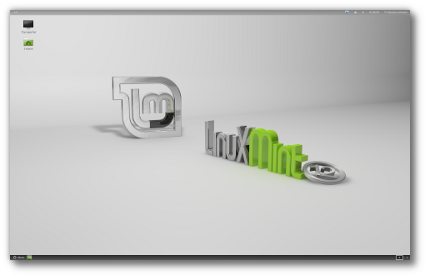 Linux Mint 12 RC1

Linux Mint 12 — available here in a RC1 beta version built on Linux 3.0 and the latest Ubuntu 11.10 — attempts to be all things to all people by offering with three alternative desktops. First, users can move up to GNOME 3.2, the version found in Fedora 16 and OpenSUSE 12.1, which fixes numerous bugs and modifies a few of the more controversial changes.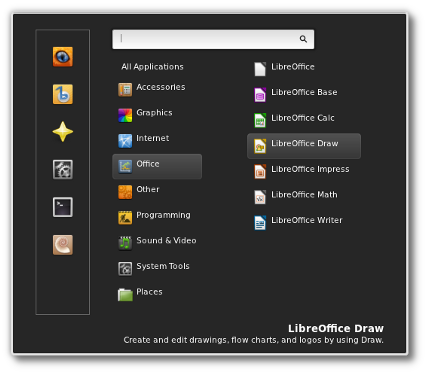 Linux Mint 12 with MSGE main menu
Yet for those who hate GNOME 3.2
as much as ZDNet's Steven J. Vaughan-Nichols
, Linux Mint 12 has augmented Gnome 3.2 with "MGSE" (Mint Gnome Shell Extensions) — a desktop layer sitting atop GNOME 3.2 "that makes it possible for you to use Gnome 3 in a traditional way," says the project.
"You can disable all components within MGSE to get a pure Gnome 3 experience, " explains the project. "Or you can enable all of them to get a Gnome 3 desktop that is similar to what you've been using before. Of course you can also pick and only enable the components you like to design your own desktop."


MSGE's task-centric Alt-Tab bar
MGSE components are said to include the GNOME 2.3.x bottom panel, application menu, and window list. MGSE also provides visible system tray icons plus extensions such as a media player indicator, among other enhancements, states the project.
Users can launch applications from the bottom left, and "easily switch between applications and workspaces using the window list or keyboard shortcuts," says the project. Notifications are once again said to be located at the top of the screen, and features such as activities are available from the top-left corner.
"Wow. Just wow," responded Vaughan-Nichols to the MSGE news. "The [GNOME 3.2] interface is so annoying that at least one major Linux distributor, perhaps the second most popular after Ubuntu, feels the only way they can get people to use is to twist it in looking and acting like classic GNOME."
On Muktware, meanwhile, Swapnil Bhartiya tries out the MGSE extensions, and writes that while the MSGE is not exactly like GNOME 2.3.2, the Mint team has "tried its best to retain" the 2.3.2 functionality while still keeping users in the up-to-date GNOME 3.x stream.
After reviewing the new features, Bhartiya concludes: "I found Linux Mint to be taking the full advantage of the goodies that Gnome 3 has to offer. With all those useful shell-extensions, I believe Linux Mint has done a great job. I think Linux Mint is the one distro which will make users love Gnome 3 without even realizing it."
MATE: the future GNOME 2.x
The Mint developers appear to realize that MGSE may not be a viable long-term solution for GNOME traditionalists. To this end, the project has also included an early version of the MATE project's MATE fork of GNOME 2, which is said to be compatible with Gnome 3.x. With MATE, which has been previously packaged for Arch Linux, Mint users can run both GNOME 3.2 and MATE on the same system, says the Mint project.
Available on the DVD edition of Linux Mint 12, MATE is "not completely stable yet, and it's missing a few parts," states the Mint project. For example, currently, only the mintDesktop is supported, although mintMenu will be supported in the stable release.
The project goes on to state, however, that "Eventually, MATE will be in every way identical to Gnome 2 and represent the future of traditional desktops within Linux."
New artwork and search engine
Beyond GNOME 3.2 with MGSE and the MATE integration, there are relatively few major new features in the RC1 version of Linux Mint 12. There is,however, a new theme called Mint-Z, said to be based on Mint-X and Zukitwo, featuring new artwork and backgrounds (see image below).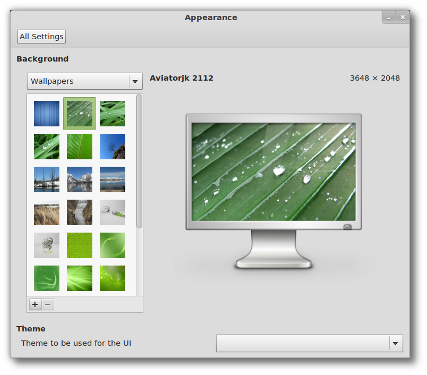 New backgrounds in Mint 12
In addition, Linux Mint 12 offers a new default search engine called Duck Duck Go. In an apparent swipe at Google, the project states that Duck Duck Go "doesn't show different results depending on who's making the search, it doesn't track or record user information, it provides you with optimized results and it's built on and contributes to Open Source."
According to Muktware's Bhartiya, Duck Duck Go is a vast improvement over the earlier homegrown search function. If one prefers Google or another search engine, however, the Mint project says it now offers an easier way to install them. In addition, the project has launched a new business model in which search engines "will share with Linux Mint the revenue generated for them by Linux Mint users," says the project.
Availability
Linux Mint 12 ("Lisa") RC1 is available now, with download mirrors listed in the Mint 12 RC1 announcement. More information may be found in this Linux Mint 12 features overview.
---
This article was originally published on LinuxDevices.com and has been donated to the open source community by QuinStreet Inc. Please visit LinuxToday.com for up-to-date news and articles about Linux and open source.