Jun 23, 2011 — by Eric Brown — from the LinuxDevices Archive — 2 views
Google has selectively released Google TV 2.0 "Fishtank" beta code based on Android 3.1, featuring the ability to run an Android app and stream TV at the same time, says a Geek.com report. The company is said to have sent out a Fishtank developer's system to about 50 developers, while another report says Logitech will offer a 2.0-based system in late summer.
Geek.com showed off images of a developer system that was said to have been sent out to about 50 developers, loaded with a beta version of Google TV 2.0, code-named Fishtank. The release is based on a stripped-down version of Android 3.1.
When the 3.1 version of the tablet-oriented Honeycomb was announced at Google I/O on May 10, Google said that Google TV users would be getting Android 3.1 this summer. Google also said that developers would be able to get started by using the vanilla Honeycomb SDK to build apps for Google TV, and announced hardware partners including Samsung, Vizio, Logitech, and Sony. (Other than that, Google TV was a no-show.)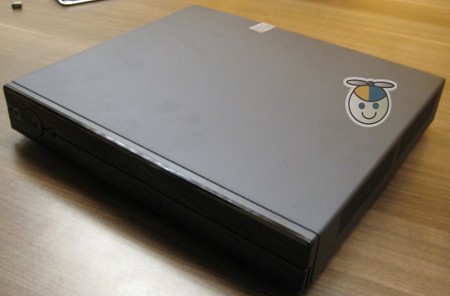 Google's Fishtank developer system


Source: Geek.com
Now, it appears, developers have a real Google TV system to play around with, although Fishtank is currently limited to a Clock application and the Live TV function. The latter currently only receives a signal from the HDMI port, according to
Geek.com
's Russell Holly.
There are few apps available, but one is a "dual-TV" feature, which Holly says likely provides "the ability to run an app and stream TV at the same time." The December update to Google TV enabled users to display a picture-in-picture TV screen on top of a web browser session, but this would appear to be an extension of that feature to any optimized Android app.
According to one Geek.com source, one of the largest threads on the Google Groups board dedicated to Fishtank is an ongoing argument between the developers and Google in regards to how the Live TV app works. Currently, Live TV permits broadcasting behind the home screen "while you do something else," according to the story. At this time, however, "developers will not have access to the Live TV feed while it's not in direct focus," writes Geek.com's Holly.
Beyond that, there were few details about what the Fishtank might hold, although Holly makes some speculations based on the development box. He allows, though, that a commercial system might not offer the same options.

Port view of Fishtank system


Source: Geek.com
Geek.com
notes the system stays with the Intel Atom CE4100 chipset, and ships with the standard Logitech Revue keyboard controller. Yet, unlike existing Google TV devices, the Fishtank system offers coaxial ports in addition to HDMI, suggesting to Holly that "Google is allowing developers access to a great deal more video-in and video-out possibilities."
Google tries, tries again
Google TV first appeared in commercial units last fall with Logitech's Revue set-top box, along with Sony's four Sony Internet TV models and Internet TV Blu-Ray Disc Player. The devices are all built around the Intel CE4100, and run the Android-based Google TV stack — which offers integrated search of commercial TV and web IPTV content, and Google's Chrome browser among other features.
The demos looked slick, but setup and other issues plagued the platform, the Logitech keyboard proved unpopular, and many broadcasters and content owners refused to sign content deals with Google.
A software update was released in December, and at CES in January Samsung showed off a Google TV-based Blu-ray player and companion box prototype it said it would introduce later this year. Yet, Google TV sales remained slow, many developers lost interest, and not much has been heard from the project since.
The old "interactive TV" dream has sunk a lot of ships over the years, and Google TV may well be just one more. Yet Google is persistent, and loaded with cash, and so it pushes forward. Much of the problem, clearly, is in the fledgling code itself, and the lack of developers given full access to it.
Logitech said to be ready to Fishtank by late summer
According to an Anandtech story yesterday, the Fishtank program aims to address these issues by widening involvement. The story also said that Logitech is known to be working on the Fishtank program, and is expected to have a revised Google TV 2.0 system ready to unveil by late summer.
Clint Boulton, writing in our sister site Google-Watch, speculates that haptics may be next on the list of features. "Google can't look at Microsoft Kinect and not want to add something like it," writes Boulton.
He also suggests that Google's recent acquisition of DVR software maker SageTV could come into play in the release. Sage TV makes software designed for "place-shifting" technology for TV programming over multiple devices and platforms, enabling users to watch a recorded show on one device and finish watching it on another.
According to ZDNet's Sam Diaz, the acquisition could represent "Google's push into personal video clouds." Diaz goes on to speculate that SageTV could provide Google TV with an "entertainment management" system that would "allow users to presumably access a list of their favorite shows or online videos and not only access them from phones or tablets, but also wirelessly stream them to any Internet-connected display."
In any case, it appears to be too soon to write off Google TV for good.
---
This article was originally published on LinuxDevices.com and has been donated to the open source community by QuinStreet Inc. Please visit LinuxToday.com for up-to-date news and articles about Linux and open source.