Oct 6, 2010 — by LinuxDevices Staff — from the LinuxDevices Archive — 5 views
[Updated, Oct. 7] — Logitech announced an Android- and Atom-powered STB (set-top box) that employs Google TV software. The Revue includes HDMI I/O and 802.11a/b/g/n wireless networking, may be controlled via smartphone apps or a choice of keyboards, and, with an optional camera, provides 720p videoconferencing, the company says.
Logitech's Revue STB is the first hardware manifestation of Google's Android-based Google TV platform, which was first announced in May. As we've previously reported, Sony is expected to unveil Google TV-enabled televisions and Blu-ray players on Oct. 12.
Google TV attempts to wed television programming with web surfing. For example, users will be able to watch TV, surf the Internet, and access web applications such as YouTube and Twitter via a special remote control that includes a miniaturized keyboard.

Logitech's Revue
The Revue (above) was shown off by Intel last month at its Intel Developer Forum (IDF), along with a forthcoming Sony TV (a prototype of which is pictured here). However, today's formal announcement brought details of pricing and accessories.
For example, Logitech says the $300 Revue will come with a thin, wireless QWERTY keyboard (below left) that offers a touchpad, five-way controller, and is said to be capable of controlling a TV, A/V receiver and DVR (digital video recorder) as well as the STB. An optional, $130 Mini Controller (below right) is "palm-sized" — its footprint is 6 x 3 inches — and designed to be typed on with both thumbs, the company adds.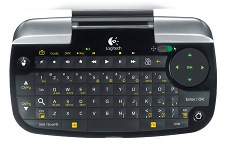 The Revue's standard keyboard (left) and Mini Controller (right)
(not to scale; click either to enlarge)
Another option is a $150 TV Cam that's said to include Carl Zeiss optics, a two megapixel sensor, 5x digital zoom, and stereo microphones. According to Logitech, the device turns the Revue into a videoconferencing system, allowing users to make 720p video calls to another Google TV unit or to a personal computer (Mac or Windows PC) running the company's Vid software. On-screen notification provides an indication of when a call is coming in, adds the company.
Logitech calls the Revue an "open platform" and touted a "growing selection of apps." Preinstalled software accessible via the device's applications menu includes the Vid program and the Logitech Media Player, which "lets you access your personal content, including photos, downloaded music files and home videos that are stored on a USB drive or a DLNA-certified media server on your home network," the company says.
Logitech officials reportedly said they are negotiating with Hulu to let the Revue play that provider's content, too. The Revue's web browser provides access to "the entire web," including Flash-based content, while a dual-view mode will let users "see the stats on the Web while still watching the game," the company adds.
While Logitech itself provided no further information on third-party apps, Google has said Google TV will support apps such as Netflix, Picasa, Flickr, Twitter, CNBC, Pandora, Napster, NBA Game Time, Amazon Video On Demand and Gallery. Starting early next year, apps from Android Market will work on Google TV as well, says Google.
For its part, Logitech says it will offer Logitech Harmony for Android and Logitech Harmony for iPhone apps, which will be available for free download from the Android Market and iTunes store, respectively. Though these apps apparently do not yet allow media streaming from phones to the STB, as was mooted back in May, they do offer "gesture control, voice searches, and much more," and may be used in place of (or alongside) the keyboards pictured earlier, according to Logitech.
Hardware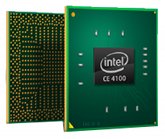 Though Logitech made no mention of the fact during its announcement, the Revue has been previously said to use Intel's CE4100 SoC (system on chip). This 45nm chip (right) measures 27 x 27mm, and includes an Atom processor core clocked at up to 1.2GHz, a NAND controller, video display controller, graphics processor, dual DSPs, transport/security processors, and I/O, Intel says.
The CE4100's graphics processor is based on Imagination Technologies' Powervr SGX535, which provides 2D/3D graphics acceleration and makes the SoC compatible with Open GL ES 2.0, says Intel. Compared to the earlier, Pentium M-based CE3100 — which used the same SGX535 graphics core, but clocked it only at 200MHz — the CE4100 employs either 200MHz or 400MHz versions, and now provides hardware acceleration for both JPEG and MPEG-4.2 decoding, the company adds.
According to Intel, the CE4100 is capable of decoding dual 1080p HD video streams at up to 60 frames per second, or a single 1080p stream at twice that rate, the company says. The chipmaker adds that it worked with Adobe to adapt Flash Player 10 especially for the CE4100.


The ports on Logitech's Revue
(Click to enlarge)
Logitech did not provide RAM or flash storage specifications for the Revue, as far as we've been able to find, but the company does say the device can access media stored on FAT32-formatted USB devices connected externally. As pictured above, the Revue includes two USB 2.0 ports, a 10/100 Ethernet port, and an S/PDIF optical audio output.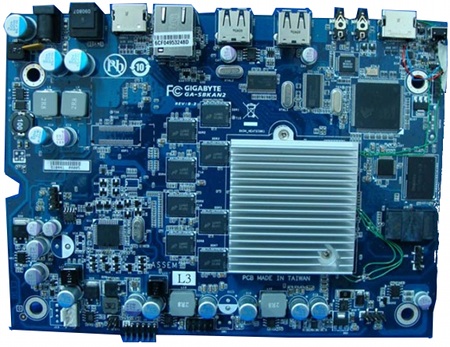 The Logitech Revue's motherboard
(Click to enlarge)
The Logitech Revue made an appearance on the Federal Communications website back in July, at which time a picture of its Gigabyte-manufactured motherboard (above) surfaced. The device appears to have 4GB of flash storage, provided via Micron modules, and an indeterminate amount of RAM.
Logitech says the Revue includes both an HDMI input, for device passthrough, and an HDMI output, both said to be capable of 1080p at 60fps. The device also includes 802.11a/b/g/n wireless networking, the company adds.
A Google video showcasing Google TV apps


(Click to play)

Further information
According to Logitech, pre-orders for the Revue are being accepted now, and the device should be in the stores by the end of this month. Logitech's product page for the Revue may be found here, while Google's rundown of Google TV features may be found here.
A posting by Wireless Goodness featuring Logitech Revue images extracted from the FCC database may be found here, while the FCC filings themselves may be found here.
---
This article was originally published on LinuxDevices.com and has been donated to the open source community by QuinStreet Inc. Please visit LinuxToday.com for up-to-date news and articles about Linux and open source.