Oct 28, 2010 — by LinuxDevices Staff — from the LinuxDevices Archive — 1 views
Logitech's Revue set-top box for the Android-based Google TV IPTV service got kudos in an eWEEK review. Meanwhile, Google gave away 10,000 free Revue devices to developers, Logitech released its Harmony Android app for Google TV, and broadcasters have blocked content from Google TV over digital piracy concerns.
Users interested in turning their TV set into a web-surfing computer can satisfy that need by using Google TV via Logitech's Revue companion box and controller. Google TV is the search engine's TV-web content and application cocktail. It's powered by Android 2.1 on machines running an Intel Atom chip, with web apps such as YouTube being accessible through the Chrome web browser.
Our sister publication eWEEK spent the weekend of Oct. 22 through Oct. 25 with the modest-sized Revue box and controller, which, at $299 from Logitech.com and in Best Buy stores is, for our money, the best way to procure the service. Sony Internet TVs and the $399 Blu-ray player are too expensive for our taste.

Logitech's Revue
eWEEK
tested the Revue with Google TV on a 46-inch Toshiba LCD TV, a Sony digital A/V receiver and a Motorola set-top box fed by AT&T's U-Verse service. Configuring the box takes some time — there are 12 steps — especially if users want to use the Logitech keyboard to turn the TV, set-top box and A/V on and off, as well as change channels.
You'll want to make sure to have handy your home Wi-Fi network name, zip code, and the make and models of all devices you want to connect to Revue. Once configured, we experimented with the lightweight but full QWERTY keyboard, which was quite comfortable. A quick-search button sits between the function button and control button, bringing a search bar down atop TV content in a rather unobtrusive manner.
Broadcasters block content from Google TV
We conducted several searches and quickly realized how attuned to entertainment content the special Google TV Search app is. Searches on TV shows returned both TV channel and websites results. For example, a search on CBS returned results for The Bold and the Beautiful, along with an option to go to CBS.com.
However, website content is currently blocked from the system due to ongoing negotiations between Google and broadcasters. Claiming that Google is not doing enough to protect them from digital piracy, ABC, CBS and NBC are blocking programming on their websites from Google TV, and Hulu also blocks Google TV.
Touring the keyboard

A directional pad sits at the top right of the full keyboard device (below, left) offering down or up arrows and easily marked back and home buttons. The home button is ground zero for Google TV. Users access all of their applications and TV content from there, including the Google Chrome 5.0 browser, YouTube Leanback, and anything else web- or TV-related.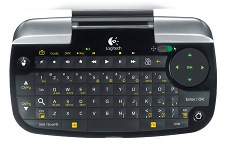 The Revue's standard keyboard (left) and Mini Controller (right)
(not to scale; click either to enlarge)
Under the arrow keys lives the star/record key, which is essential for being able to bookmark websites and TV channels, or record TV programs. To the right of this key is the dual-view button, which lets users browse their Google TV content while watching current TV programs in a small screen at the bottom right. Under the dual-view button are the rewind, fast forward, and stop/pause controls to manage recorded television.
Because we had synced the Revue with our U-Verse service, we were able to access our recorded U-verse movies and programs. This is the sort of seamless integration Google officials have been touting since Google TV was announced in May, and, while it's very good, it's not perfect. We couldn't control DVDs in an A/V player, or switch from TV to DVD to AM/FM radio on the controller. That would be nice functionality for the future.
The TV channel arrangement itself on Google TV is nice. You must access your "favorite menus" from your existing service, but you can also see TV channels grouped according to genres for movies, news, sports, comedy, drama, and more. We mentioned above that Google TV is essentially a way to turn your TV into a computer. This is true, especially if you're the type that consumes a lot of web apps, such as Facebook, Twitter, Wikipedia, and anything else online.
Netflix streaming trouble
People may be wowed by watching a football game, then tweeting about it without leaving the channel — this thanks to dual-view — but other perks caught our attention. Without a PlayStation or Xbox nearby, we had taken to streaming Netflix content on our PCs, which was hooked into the TV via an HDMI cable.
The Netflix app via Google TV made that no longer necessary. The app, though minimalistic, serves its purpose, delivering content from our Instant queue, thus allowing us to browse, play and remove items. But it remains a fairly dumb media server.


The ports on Logitech's Revue
(Click to enlarge)
You can't order new content for streaming or order DVDs to the house the way you can from Netflix.com from your PC. And when you go to Netflix.com, it tells you the OS — remember, it's Android 2.1 — does not support Netflix.com. Hopefully Netflix and Google can resolve this in the future. Don't use Netflix? Amazon.com Video on Demand is another pre-loaded app on the Revue.
Google Apps on Google TV
For Google app users, Google TV is a dream because you can access Google Apps such as Gmail, Google Reader and other programs from the big screen instead of a laptop.
For example, Google has created an app called Queue, which lets users subscribe to podcasts, web video and other web content. We subscribed to the NYTimes.com website and found a fresh section in our Google Reader RSS app for Google Queue, allowing us to read the Times content there.
We could go on and on explaining all of the programming ins and outs. Some websites don't render well at all on this big form factor, so Google has created a special "Spotlight" tab that touts websites who created dedicated Google TV apps. These include HBO Go, USA Today, The New York Times, and YouTube.
YouTube Leanback
As has been widely reported, YouTube Leanback provides a fresh viewing experience for user-generated videos and movie trailers. Users can click on a YouTube video and watch it play. Instead of flitting to the next video, Leanback will roll through videos, allowing users to relax and view rather than play with buttons every time a video is done.
Users can pause, rewind, or fast-forward through videos at any time. Users can also type on the keyboard at any time to change the content choices.
Fair warning: the pop-up ads on Leanback can be annoying, but it's no more annoying than YouTube ads on the desktop.
Ultimately, you need to ask yourself this: Are you one of the millions of Americans who surf the web from their laptop, netbook, or Apple iPad from the couch while watching TV? If so, Google TV powered by the Revue is definitely one way to go. Think of the Revue, then, as a way to turn your TV into a full-fledged netbook or tablet for web consumption. Isn't that worth $300?
Quirks, missing features and website gaps aside, we think so.
Free Revues and Harmony for Android
In other Google TV related news, on Oct. 26 Google doled out more than 3,000 Logitech Revue companion boxes to attendees of the Adobe Max developer conference, and will give away 7,000 more to get developers writing applications for the service. For more information see the eWEEK story, here.
Meanwhile, the Logitech Harmony for Android remote control application is now available free on the Android Market, providing Google TV users with another way of controlling their TV content. The eWEEK story may be found here.
---
This article was originally published on LinuxDevices.com and has been donated to the open source community by QuinStreet Inc. Please visit LinuxToday.com for up-to-date news and articles about Linux and open source.