Apr 6, 2011 — by Eric Brown — from the LinuxDevices Archive — 4 views
The MeeGo project released a pre-alpha version of its promised Tablet User Experience (UX), officially opening up development for the UI layer. Based on MeeGo v1.2 core and Linux 2.6.37, the preview version includes a touch-optimized user interface for tablets, as well as a new panel UI concept and a suite of built-in browser, personal information management, and media playback apps.
Previewed in prototype form by MeeGo backer Intel at Mobile World Congress in February, the Tablet User Experience is expected to reach products by the end of the year, says the chipmaker. Like the previously announced UX layers for netbooks, in-vehicle infotainment, and handsets, the Tablet UX offers a format-optimized UI layer atop the core MeeGo code.
The Tablet UX is built on an early version of MeeGo v1.2 core, as well as Linux kernel version 2.6.37, says the project. The UX is based primarily on the Handset UX, which has been placed on the back burner since Nokia retreated from MeeGo in favor of Windows Phone 7.
The MeeGo project released MeeGo 1.1 in October, and hopes to release MeeGo 1.2 in time for the MeeGo conference May23-25 in San Francisco, which is open for paper submissions.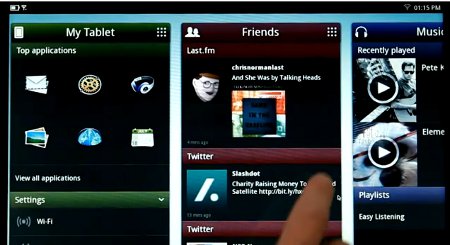 MeeGo Tablet UX prototype
(Click to enlarge)
The Tablet UX features a panels-based home screen as the core navigation model. Panels provide users with fast access to applications, settings, as well as recent and favorite content, says the open source MeeGo project, which is hosted by the Linux Foundation. A "traditional grid of application icons" is also provided for application management, says the project.
Intel's prototype demo in February (seen above and below) showed a Tablet UX interface broken up into columns, entitled Friends, Music, Photos, etc. Users can pan across or scroll down these columns individually. The arrangement of the information within each column also varies, depending on the type of content.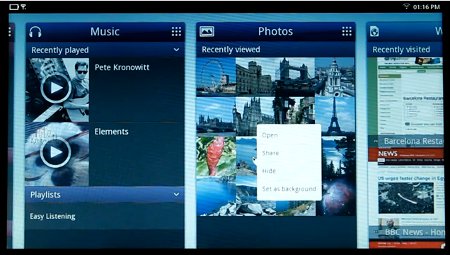 Context-sensitive pop-up menus in MeeGo Tablet UX
(Click to enlarge)
Features in the pre-alpha MeeGo Tablet UX are said to include:
Web browser optimized for touch interaction
Camera, photo viewer, video player and music player
Calendar, contacts, email, tasks, and notes applications
Chat app for instant messaging on Jabber and Google Talk networks
Clock app with alarms, timers and multiple time zone displays
Unified Settings framework for built-in and installed applications
APIs for sharing content to social networks and other web targets, and adding third-party content
SDK and emulator for tablet app developers
MeeGo UI Guidelines and meego-ux-components library
Despite the lack of optimized support, at least tw

o MeeGo-based tablets have already shipped, according to their vendors. The Atom-based WeTab, offered by a German company of the same name, is a MeeGo-based color e-reader tablet. Trinity Audio Group is offering an Atom/MeeGo based Indamixx 2 version of is musician and audio engineering tablet (pictured at right).
One potentially promising development for MeeGo tablets is Myriad Group's announcement of a "Myriad Alien Dalvik" virtual machine claimed to let Android apps run on non-Android platforms, starting with MeeGo later this year. Alien Dalvik enables the majority of Android applications to run unmodified, letting app-store services easily repackage Android Package (APK) files to make the apps MeeGo compatible, claims Myriad.
At the MWC event in February, Intel's Renee James, senior vice president and general manager of the software and services group, said Intel was standing behind MeeGo, despite Nokia CEO Stephen Elop's Feb. 11 announcement that the phone maker has shifted its primary focus from MeeGo to Microsoft's Windows Phone 7 platform. She was particularly bullish on the prospects for MeeGo tablets.
After the Tablet UX ships later this year, MeeGo will then turn to the IPTV market. Late last month, the Linux Foundation launched a MeeGo Smart TV Working Group with partners including Intel, MIPS, Sigma Designs, Nokia, Amino, MIPS, and Nokia.
MeeGo Tablet UX demo'd on YouTube


Source: Intel
(Click to play)
Promotional video on MeeGo Tablet UX on YouTube


Source: Intel
(Click to play)
Availability
The pre-alpha MeeGo Tablet UX release is available now via links found in this MeeGo Tablet page, which offers links to feature lists, release notes, information about supported hardware, and links to OS images. The project welcomes developer involvement on the project, which is dubbed a "work-in-progress under active development."
---
This article was originally published on LinuxDevices.com and has been donated to the open source community by QuinStreet Inc. Please visit LinuxToday.com for up-to-date news and articles about Linux and open source.