May 5, 2011 — by LinuxDevices Staff — from the LinuxDevices Archive — views
Intel's new 3-D transistor technology will enable the giant chip maker to continue extending Moore's Law in PCs and servers for at least the next few years. Nonetheless, say analysts, ARM Holdings and its many licensees will continue to dominate the mobile space — and a new IDC report claims ARM will have 15 percent of the "PC processors" market by 2015.
Moore's Law — named for Intel co-founder Gordon Moore — is a forecast for the pace of silicon technology development stating that, roughly every two years, transistor density will double, decreasing costs while increasing performance. The law had been expected to start bumping up against physical limits as transistors shrink, since atoms themselves are approximately 0.5-nanometer (nm) wide.
But Intel officials on May 4 introduced the new transistor technology they called Tri-Gate, which essentially moves away from the flat "planar" circuitry of previous designs and to a three-dimensional structure. The Tri-Gate transistors will appear in Intel's upcoming "Ivy Bridge" processors, the 22nm shrink of the current "Sandy Bridge" microarchitecture.
The Tri-Gate design enables the Ivy Bridge processors to offer higher levels of performance while driving down electrical leakage and power consumption, all in a package smaller than the current 32nm chip design, according to the officials. Bill Holt, senior vice president and general manager of Intel's Technology Manufacturing Group, likened the idea behind the Tri-Gate design (below) to that of a skyscraper.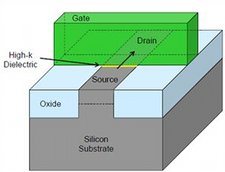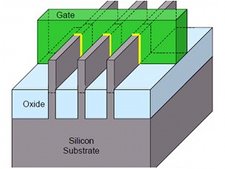 2D transistors (left) and 3D Tri-Gate transistors (right)
Source: Intel
(Click either to enlarge)
The numbers are impressive: 37 percent better performance than current 32-nm chips and 50 percent power reduction. Ivy Bridge chips will begin sampling later this year, and begin appearing in PCs and servers in early 2012, officials said.
No specific plans for mobile devices were set forth at the May 4 press conference, but an Intel release said its 3-D technology will also be used in future Atom processors and SoCs (systems on chip), resulting in devices that will require less than 1mW of idle power. The chipmaker has already promised 22nm Atoms, as indicated in the slide below.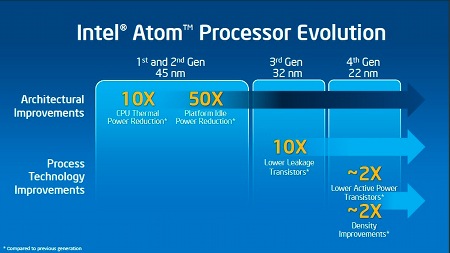 Intel's Atoms will shrink via 22nm fabrication
(Click to enlarge)
David "Dadi" Perlmutter, executive vice president and general manager of the Intel Architecture Group, said during the conference that the new transistor design will keep Intel "extra-competitive" in the company's core server and PC market, and will also enable the company to move deeper into the smartphone and tablet spaces, currently dominated by processors built on designs from ARM Holdings.
Analysts: Intel's move into mobile will take years …
"The fact that x86 products will have first access to 3D transistor gate technology will likely help offset to the architecture handicap of x86 vs. ARM in optimizing low-power," Doug Freedman, an analyst with Gleacher & Co., said in a research note. "We do not view this as game-changing, but do see it as heating up the x86 versus ARM battle."
Roger Kay, principal analyst with Endpoint Technologies Associates, said it makes sense that Intel will make a significant push into the tablet space with the 22nm Ivy Bridge chips, but he wouldn't expect the company to make its mark in smartphones until it starts coming out with its 14nm chips about two years later. Not until then will Intel processors will be able to challenge ARM in low-power capabilities, Kay said.
"Not at 32, maybe at 22, for sure at 14," he said in an interview with eWEEK. "Maybe 22 is not all the way there for handsets yet, while it's plenty for the tablet business."
Both Kay and Rob Enderle, principal analyst with The Enderle Group, said Intel also is facing a market situation from an unfamiliar vantage point. Intel for years has been the dominant player in the PC and server chip space, giving it an advantage similar to that of a political incumbent. Now, however, it's the upstart company trying to displace the top vendor — ARM — in the mobile device space.
"Intel is coming at this market from behind, but the investment is almost unparalleled in the history of the company and yet it still might not be enough," Enderle said in an email:
The difficulty is they have to not only be better, they have to be enough better to displace a very different technology. Generally, Intel has benefited from this dynamic as the entrenched vendor in the PC space; now this market dynamic works against them. Making a massive improvement like this [new transistor structure] will be critical to this battle, but it will still require them to walk away with major wins, and is this enough to move, even with major Intel co-funding, a major vendor to their product set?
Over the past week, there has been speculation that Intel is looking to serve as Apple's foundry for ARM-based chips for such popular mobile devices as iPhones, iPads and iPods. The rumors were fueled by a research note from Piper Jaffray analyst Gus Richard, who said:
Based on a number of inputs, we believe Intel is also vying for Apple's foundry business. It makes strategic sense for both companies. The combination of Apple's growing demand and market share in smart phones and tablets gives Intel a position in these markets and drives the logic volume Intel needs to stay ahead in manufacturing.
Such a deal would be critical for Intel, Enderle said.
"Rumor is that Apple is looking at such a move, and if they get Apple, the earth moves," he wrote. "But if they don't get a major brand and/or a very popular product, [the Tri-Gate technology] still won't be enough."
… while ARM moves into Intel's territory
At the end of last month, ARM Holdings reported a 35 percent increase in year-over-year profits. The company added that 1.85 billion chips based on its designs shipped in mobile devices during the first quarter of its financial year (ending March 31, 2011).
Last December, meanwhile, ARM acknowledged its plans to move into the server market, claiming that its designs could halve the power consumption of the low-end servers increasingly being used for tasks such as virtualization and cloud computing. (For more details of recent announcements related to ARM servers, see our previous coverage.)
Now, IDC is saying more than 13 percent of "PC processors" will be based on ARM designs by 2015. The well-known research firm added in its May 5 release that this is the first time it has felt the need to forecast PC microprocessor units by processor architecture.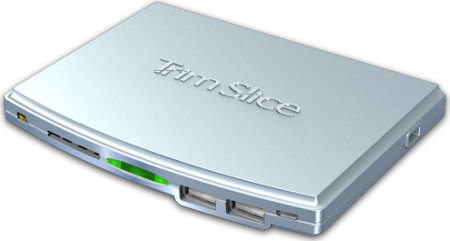 The recently announced CompuLab Trim-Slice is an ARM-based PC currently aimed at software developers
(Click for more information)
If IDC's predictions regarding ARM-based PCs are correct, they'll represent a major shakeup in a market that the research firm characterizes as "remarkably stable" at present. During the first quarter of 2011, Intel earned 80.8 percent unit market share and AMD earned 18.9 percent, both flat compared to 4Q10. VIA Technologies earned a scant 0.2 percent, IDC adds.
Other IDC findings including the following, by form factor:
in the mobile processor space, Intel earned 86.3 percent share in the mobile PC processor segment (a gain of 0.2 percent), AMD finished with 13.4 percent (a loss of 0.1 percent), and Via earned 0.3 percent
in the PC server/workstation processor segment, Intel finished with 93.9 percent market share (a loss of 0.3 percent), and AMD earned 6.1 percent (a gain of 0.3 percent)
in the desktop PC processor segment, Intel earned 72.4 percent, a loss of 0.1 percent, and AMD earned 27.4 percent, a gain of 0.1 percent
According to IDC, its already released, $2,000 Worldwide PC Microprocessor 1Q11 Vendor Shares (IDC #228073) report provides worldwide market share results for PC microprocessor vendors on an overall unit and revenue basis, as well as by form factor (desktop, mobile, and x86 server). An upcoming Worldwide PC Microprocessor 2011-2015 Market Forecast will formalize the forecasts for unit shipments by processor architecture, including x86 and ARM, the research firm adds.
Jeffrey Burt is a writer for eWEEEK. Jonathan Angel added supplemental reporting to this story.
---
This article was originally published on LinuxDevices.com and has been donated to the open source community by QuinStreet Inc. Please visit LinuxToday.com for up-to-date news and articles about Linux and open source.