May 28, 2010 — by Jonathan Angel — from the LinuxDevices Archive — views
Intel says it will launch dedicated silicon for tablet PCs at next week's Computex show in Taiwan. The Atom-based chipset — likely bearing the "Moorestown-W" moniker — will run a tablet-specific version of Windows 7 that supports power-saving "SmartIdle" technology, according to various reports.

Confirmation of the new tablet silicon came earlier this week at a Q&A following Intel's introduction of new CULV (consumer ultra low voltage) processors, intended for thin-and-light laptops. Shmuel ("Mooly") Eden (right), VP and GM of the chipmaker's PC client group, said the Core-based CULV processors are too large and run too hot for tablets.
"We will have dedicated silicon for the tablet space that we are going to uncover at Computex," he added. Though Eden provided no further details, it's widely believed that the new chipset, almost certainly Atom-based and likely code-named Moorestown-W, will be a variant of the Moorestown platform (Atom Z6xx processor and Platform Controller Hub MP20) announced earlier this month.
According to Intel, the Z6xx offers not only 1/50th the idle power consumption of its earlier Z5xx, but also 1/20th the power consumption for audio playback. Power usage during web browsing and video playback has been cut by one half to two thirds, the company adds.
Mending a rift?
At its May 5 introduction of Moorestown, Intel already promised that the Z6xx will be offered in a version "up to 1.9GHz for tablets." But it surprised the industry by launching the SoC with support for three flavors of Linux — Android, Moblin 2.1, and MeeGo — but nary a mention of Microsoft Windows.
Our sister publication WindowsForDevices.com lamented, "this arguably represents the biggest rift in the 'Wintel monopoly' since the IBM PC was first launched in 1981 with Intel's 8088 CPU and Microsoft's MS-DOS/PC-DOS operating system."
The key to the "rift" appears to be the Z6xx's "SmartIdle" technology, which, according to Intel, enables the CPU core and the rest of the SoC to switch off while the operating system remains in the "on" state (S0). The chipmaker added that "the best performance and Internet experience at dramatically low power levels [are provided with] the Moblin 2.1 software platform."
What Intel will announce next week is, of course, a matter of speculation. It's also unclear whether getting Windows to run on Moorestown will require actual changes to the silicon, or merely modifications to the operating system so that it supports SmartIdle. (As we review later in this story, the Z6xx is a relatively svelte 13.8 x 13.8 x 1.1mm, but it remains a 45nm part, providing Intel with the opportunity to announce a 32nm die-shrink.)
However, WindowsForDevices.com hopes Microsoft will provide a slimmed-down version of Windows 7 specifically for tablets, which will not only support SmartIdle but also include more tablet-specific software than does today's Windows 7 Tablet Edition.
Meanwhile, Asus, MSI, and other vendors have said they will announce new Windows 7-based tablets at Computex one way or another. In fact, a Digitimes report earlier this week by Monica Chen and Joseph Tsai claims vendors will focus on Wintel tablets rather than ARM-based devices because of "persuasion from Intel and Microsoft."
Background
The basic architecture and capabilities of Intel's Z6xx processor were far from a surprise, since the chipmaker had been touting this platform under its "Moorestown" code name since a September 2007 developer forum. The product is a successor to the first-generation Atom, the Z5xx, which had reduced idle power consumption by ten times compared to Intel's original UMPC (ultra mobile PC) platform.
The "family" of Z6xx SoCs will now cut idle power consumption by a further factor of 50, Intel announced earlier this month. The devices, which still have not been further delineated, were said to range from "up to 1.5GHz for handhelds/smartphones and up to 1.9GHz for tablets."
Intel claimed "High-end smartphones, tablets, and other mobile handheld products" will be able to offer more than ten days of standby, up to two days of audio playback, and from four to five hours of intensive usage. In addition to the SmartIdle technology we've already mentioned, other power-saving techniques were said to include:
new ultra-low-power states (S0i1 and S0i3), which respectively kick in when a user is employing a device but not providing any input, and when a device is idle
aggressive power and clock gating across the SoC's 19 power islands and its system voltage rails
a new high-K 45nm process that supports a multiple transistor design with a range of high-voltage I/Os
burst performance technology, allowing the processor to burst to higher performance to very short intervals of time
According to Intel, the Z6xx SoC ("Lincroft") also includes on-chip "GMA 600" graphics (reportedly based on Imagination Technologies' PowerVR SGX IP) clocked at up to 400MHz. The device provides 1080p video playback and 720p video recording, plus support for displays up to 1366 x 768 pixels, the company says.
Also on Lincroft is an integrated memory controller, said to support 200MHz LPDDR memory in quantities up to 1GB. Alternatively 400MHz DDR2 memory may be employed, in which case 2GB of RAM is supported, adds Intel.

Intel's Z6xx SoC (left) and Platform Controller Hub MP20 (right)
(Click to enlarge)

Lincroft (above left) is supported by a similarly sized I/O controller, formerly code-named "Langwell," providing high-speed USB and USB On-The-Go capabilities. Known as the Platform Controller Hub MP20, this part incorporates power management, cryptographic acceleration (AES, DERS, 3DES, RSA, ECC, SHA-1/2, DRM), and a 24-bit audio DSP, the chipmaker says.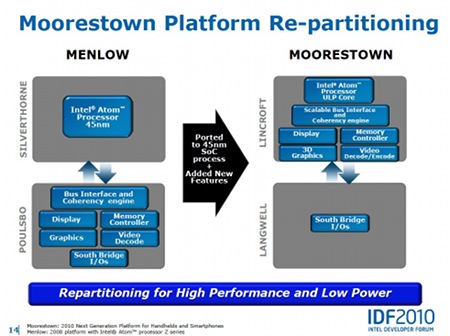 Intel's Moorestown
(Click to enlarge)
According to Intel, the Moorestown platform also includes a MSIC (mixed signal IC) that will be manufactured by Freescale, Maxim, and Renesas. This "Briertown" part integrates power delivery, battery charging, and a range of components such as audio codecs, a touchscreen controller, and GPIOs, the company says.
Availability
Interesting, detailed speculation on what "Moorestown-W" may bring is provided by writer Steve ("Chippy") Paine on UMPC Portal, here. An audio clip of Mooly Eden's statement regarding new tablet silicon may be found here. The Digitimes story on Computex Windows 7 tablet introductions may be found here.
According to Intel, its Z6xx processor, PCH MP20, and dedicated MSIC, are all available now. Pricing was not announced, but devices based on Moorestown are expected to begin appearing in the second half of this year.
Block diagrams and data sheets for the Z6xx are still unavailable, as far as we've been able to determine. However, a "fact sheet" in PDF format may be found here.
Engadget offers pictures of the slides from Intel's Moorestown launch, here.
---
This article was originally published on LinuxDevices.com and has been donated to the open source community by QuinStreet Inc. Please visit LinuxToday.com for up-to-date news and articles about Linux and open source.