Dec 20, 2010 — by Jonathan Angel — from the LinuxDevices Archive — 1 views
Intel released a list of 11 tech predictions for next year, including "tablet mania," more smart TV offerings, the spread of "context-aware" devices, and "Minority Report"-like digital signs. Meanwhile, the chip giant's 2011 "Sandy Bridge" Core processors are reportedly already on sale in Malaysia.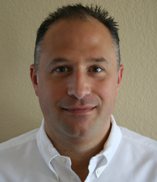 Intel's 2011 tech predictions were offered on the company's [email protected] blog by Bill Kircos (right), the company's PR director. He reports consulting with Chief Technology Officer Justin Rattner, Chief Information Officer Diane Bryant, plus both other company officials and industry analysts, to compile the list.
Edited just slightly for length and formatting, but listed in Kircos' order, the tech predictions — "a bit slanted toward Intel (shocker)" — are as follows:
1. Smart TV experience gets real — Expect a large number of TV, cable and other consumer electronics companies to join Comcast, Free, Sony, Logitech Boxee, and Cisco … [in] … the smart TV and video market. By the end of 2011, these companies should be able to gauge the consumer acceptance of smart TV — does it sizzle or fizzle?
2. Tablet mania — Tablet computing, in a multitude of form factor and operating systems, will inundate the market. Expect to also see hybrid tablet/netbook products such as an Intel-based Dell prototype [the Dell Inspiron Duo, below] unveiled at the Intel Developer Forum, or the new eleven-inch Macbook Air that looks and feels like a combination of the best of netbooks with the best of tablets.



Intel's Kircos expects more hybrid devices like these Dell Inspiron Duos
(Click to enlarge)

3. Even stronger laptop sales — Laptop sales will continue with strong growth, thanks to Intel's upcoming 2011 Core processors that add a multitude of new HD and graphics-related features for consumers, including wireless display to beam content to TVs. IT spending on server, PC and laptop upgrades should also increase.
4. PCs, smart devices gain senses: Context-aware perceptual computing — The first wave of context-aware or perceptual computers will leverage hard and soft sensor technologies. For example, a mobile device called the Personal Vacation Assistant uses context-aware computing technologies to help get the most out of the travel experience. The portable device uses "hard sensors" (cameras that recognize objects and GPS-based information) and "soft sensors" (information that travelers input into the device such as calendar and cuisine preferences) to make on-the-spot recommendations for sights to see, places to eat, and more.
5. Smart signage — Interactive,"Minority Report" movie-like digital signs will become widely accepted, featuring new modes of interaction, including face and gesture recognition.
6. Consumer revolution on energy, environment — Consumers will go from talking about managing their energy consumption to actually doing it, with a variety of home energy management devices and services becoming available.
7. Securer security — Security will remain one of the highest priorities for the IT industry. Over the next year, the industry will focus on foundational capabilities for infrastructure protection and maintaining both personal and business secrets. The Core vPro processors, Intel's proposed McAfee acquisition [link], and numerous projects inside and around Intel silicon chips will play roles here. We also expect consumers will have to become smarter about their online identity (e.g. their Facebook accounts, what photos they are sharing, Twitter account, etc.)
8. The "Consumerization" of IT — 2011 will mark the point where we see a blurring of consumer devices and enterprise devices. We saw it in 2010 with iPhones and Droid phones brought inside the corporate firewall. Employees will want to use their personal solutions for work productivity, and employers will want to augment the corporate environment with the devices to drive productivity. Virtualization, anti-theft technology, remote management and security will contribute here.
9. Sunny forecast for cloud, virtualized computing — The enterprise cloud will take off as more cloud-based services are recast for business use, including social networking. With most large corporations plowing through the virtualization of their respective environments in 2010, next year will also see build-out of internal cloud solutions. In addition, cloud-based rendering will be done in the cloud and streamed over broadband networks to devices with modest graphics horsepower.
10. Auto tech — With sophisticated technologies acting as central nervous systems in today's cars, new in-vehicle technologies are attracting tremendous interest, whether it's new entertainment features, hands-free voice control of smart phones, other safety technologies, or driver functions performed automatically by the vehicle.
11. Moore's Law thrives — New innovations and manufacturing techniques will continue to defy the skeptics who claim Moore's Law is dead. This means that in the coming years, as billions of new devices acquire computing capability and Internet connectivity, they will be substantially higher-performing with more features embedded in silicon, while also dramatically cutting power consumption and extending battery life.
Sandy Bridge Core CPUs already on sale?
While the predictions made by Intel's Kircos were not very product-specific, one key development during 2011 will be the launch of the Oak Trail platform, a combination of its Atom Z6xx CPU and "Whitney Point" I/O controller that, the chip giant hopes, will make x86-based CPUs compatible with ARM in the tablet market. Another will be the CES (Consumer Electronics Show) introduction of the company's 32nm "Sandy Bridge" core processors, of which preliminary details were provided at the IDF (Intel Developer Forum) in September.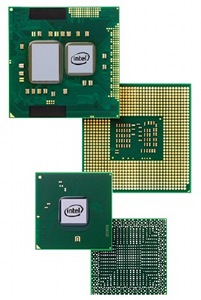 Like the earlier Core CPUs (left) rolled out at the 2009 Consumer Electronics Show (CES) back in January, the Sandy Bridge processors are described as employing "cutting-edge 32nm processor technology with second-generation high-k metal gate transistors," but they also sport a "new microarchitecture," according to Intel.
The new Cores are claimed to deliver "enhanced visual features focused on the areas where most users are computing today: HD video, stereoscopic 3D, mainstream gaming, multitasking, and online socializing and multimedia." They'll include dedicated silicon for media processing, which includes transcoding HD video from one format to another, Intel adds.
Intel has also said the second-generation Cores will offer a new 256-bit instruction set known as AVX (advanced vector extensions), accelerating floating-point-intensive applications such as digital photo editing and content creation. They'll further offer a "next-generation" version of the Turbo Boost technology, which varies CPU frequency to maximize performance or conserve energy depending upon the type of instructions being executed, the company says.
At the IDF, Intel touted a "desktop low-power roadmap" that will see second-generation Cores with 65W, 45W, and 35W TDPs being targeted at "smaller, more stylish desktop systems." But, it failed to bolster this by providing any specific model numbers, clock speeds, or detailed power consumption data.
A week before the September IDF, however, the below list of planned Sandy Bridge CPUs had appeared on several websites, most of which attributed it to a site called MacBidoullie. As far as we were able to determine, the information actually originated from the German website ComputerBase, which later updated its list thanks to information from a Taiwanese site known as EXPReview.
| | | | | | |
| --- | --- | --- | --- | --- | --- |
| Model | Cores/threads | Clock speed/Turbo Boost | L3 Cache | Graphics speed/Turbo | TDP |
| Core i7-2600K | 4 / 8 | 3.4 / 3.8GHz | 8MB | 850 / 1.350MHz | 95 W |
| Core i7-2600 | 4 / 8 | 3.4 / 3.8GHz | 8MB | 850 / 1.350MHz | 95 W |
| Core i7-2600S | 4 / 8 | 2.8 / 3.8GHz | 8MB | 850 / 1.100MHz | 65 W |
| Core i5-2500K | 4 / 4 | 3.3 / 3.7GHz | 6MB | 850 / 1.100MHz | 95 W |
| Core i5-2500 | 4 / 4 | 3.3 / 3.7GHz | 6MB | 850 / 1.100MHz | 95 W |
| Core i5-2500S | 4 / 4 | 2.7 / 3.7GHz | 6MB | 850 / 1.100MHz | 65 W |
| Core i5-2500T | 4 / 4 | 2.3 / 3.3GHz | 6MB | 650 / 1.250MHz | 45 W |
| Core i5-2400 | 4 / 4 | 3.1 / 3.4GHz | 6MB | 850 / 1.100MHz | 95 W |
| Core i5-2400S | 4 / 4 | 2.5 / 3.3GHz | 6MB | 850 / 1.100MHz | 65 W |
| Core i5-2390T | 2 / 4 | 2.7 / 3.5GHz | 3MB | 650 / 1.100MHz | 35 W |
| Core i3-2120 | 2 / 4 | 3.3 / – GHz | 3MB | 850 / 1.100MHz | 65 W |
| Core i3-2100 | 2 / 4 | 3.1 / – GHz | 3MB | 850 / 1.100MHz | 65 W |
| Core i3-2100T | 2 / 4 | 2.5 / – GHz | 3MB | 650 / 1.100MHz | 35 W |
Intel's upcoming "Sandy Bridge" desktop CPUs
Source: ComputerBase
Whatever its actual provenance, the list appeared to be credible, and, like an earlier Fudzilla report, showed Intel adding a digit to the names of its 2011 Core processors — along with marginally higher clock speeds. As with the 2010 crop of Cores, TDPs range from 35 to 95 Watts. Graphics performance should be significantly better, however, since the integrated GPUs (graphics processing units) now benefit from the same TurboBoost mode as the CPUs.

"Sandy Bridge" CPUs on a Malaysian price list
Source: Lowyat.net
(Click to enlarge)
Now, the list has been partly confirmed — and even added to — by a blog posting by "Chapree" on Malaysia's Lowyat.net. Citing a price list (above) from retailer Compuzone, the author claims the Core i5 2300, Core i5 2400, and Core i7 2600 are already on sale, adding that photos of their packaging briefly appeared on the retailer's Facebook page.
Further information
Tech predictions for 2011 are also available from research firms Forrester, IDC, Gartner, and VDC Research.
---
This article was originally published on LinuxDevices.com and has been donated to the open source community by QuinStreet Inc. Please visit LinuxToday.com for up-to-date news and articles about Linux and open source.