Aug 29, 2008 — by LinuxDevices Staff — from the LinuxDevices Archive — 2 views
Wind River Systems yesterday reported strong second quarter results, raising earnings guidance for fiscal 2009 to between $365M and $375M, or 17 to 19 cents per share. Leading the growth were Linux-related revenues, up 60 percent year-over-year, to $10,111,000, or 11 percent of the company's total revenues for the quarter.
VxWorks-related revenues also grew, by nine percent, led by gains in aerospace and defense. Revenues from other products, such as tools, "non-core products," services, and device management declined 11 percent, Wind River said. However, service margins were up, likely as a result of off-shore partnerships and acquisitions, such as that recently of ComSys.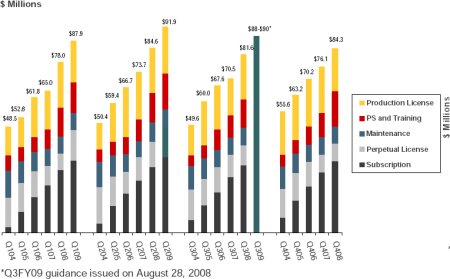 Wind River revenues
(Source: Wind River. Click to enlarge)
In an earnings call with investors, CEO Ken Klein was quick to ascribe some of the quarter's windfall to the addition of "term-based" licensing. As an alternative to subscription-based licensing, term licenses helped the company close "two or three" large transactions sooner than expected, Klein's comments suggested. Still, Klein said in answer to a question, the company's first-half 2009 momentum looks as though it may continue, given that bookings for the quarter outstripped revenues, and that bookings growth rate outstripped revenue growth rate.
Boasting of eight deals worth more than a million dollars, and 155 worth more than $100,000, Klein said the company had 250 design wins for the quarter, including "groundbreaking" deals in MILS (multiple independent levels of security), industrial/automotive, and in mobile handsets. The MILS and automotive wins appear to involve Wind River's scalable hypervisor, currently beta-testing but already bringing in revenue as part of a "large automotive customer transaction," Klein suggested.
In an interesting zeitgeist, Klein noted in answer to a question that Wind River's automotive-related revenues are at the "design start" stage, with per-unit royalties not expected before the 2012 model year. "Whether car sales go up or down has no impact on our business whatsoever," Klein said.
Klein was also quick to credit Wind River's silicon partnerships around multi-core tools as helping drive growth. Listing "Cavium, Freescale, Intel, and Raza," as key partners, he called out Freescale's forthcoming QorIQ successor to PowerQUICC III in particular, making comments that suggest Wind River is working closely with Virtutech, which uniquely offers simulation products for QorIQ and other Freescale chips. Simulation products aim to enable hardware and software developers get to work "migrating existing products" in advance of silicon availability, Klein said.
Linux growth
Klein said Linux bookings grew 115 percent, approaching a runrate of $100M. Wind River's participation in the Google-Android focused Open Handset Alliance, Intel's Moblin initiative, and in the Linux Mobile Foundation (LiMo) "significantly increased" the mobile Linux pipeline, Klein said.
For example, Klein said, Wind River has a "services-led" Android design win with a major mobile operator. Meanwhile, he said that "all five LiMo OEMs began using our Linux tools and build system to make contributions to the LiMo platform." The Foundation selected Wind River as the preferred tools provider in December of last year.
In another LiMo-related victory, Klein boasted of a design win with Japanese consumer electronics and industrial equipment giant Kyocera, which he said chose Wind River for a "next-generation consortia-based smartphone." Ironically, Kyocera was involved in the world's very first Linux phone, though it has been quiet in the market since.
With regard to Wind River's acquisition of Mizi, announced yesterday, Klein said Wind River had ported Mizi's stack, known as "Prizm," to Intel's Atom platform. He said the deal, and Mizi's 65 employees, would bring "incremental" expertise in mobile Linux. The real value, he suggested, was in the customer relationships the deal would bring. Traditionally, such relationships have been especially important in the Asian market, said Wind River rival Access when it earlier acquired China MobileSoft.
In particular, the Mizi deal aligns Wind River with mobile operators China Mobile and China Unicom, as with Korean handset makers Samsung and LG, both now among the top five handset makers globally. Klein's response to a later question underscored the value to Wind River of operator relationships, in particular: "One of the trends is dis-intermediation, where operators are starting to differentiate their offerings rather than being beholden to the design schedules of [handset] OEMs or ODMs."
Finally, Klein touted a design win in the high-end digital TV space, which he suggested would lead to more "service-led" Linux opportunities for Wind River to serve as a software systems integrator across multiple vendors. We'd guess that the deal involves Intel's Atom platform, though it's certainly possible that it could involve one of the many MIPS64 platforms traditionally strong in digital TVs.
Asked what percentage of Wind River's Linux deals carry per-unit pricing, or royalties, Klein replied, "In general, [our Linux deals] are services-led engagements that [have] NREs (non-recoverable expenses) upfront, plus a technology access fee, per-developer fees, and then per-unit fees to track with customer volumes when these devices enter production. It's very similar to what we have already been able to do successfully in networking equipment."
Klein then affirmed that per-unit royalties from the high-volume handset market would not begin to appear before the company's fiscal 2010 year. That reality would not "push out the profitability target" on Wind River's Linux business, however, Klein confirmed in response to a question.
A summary of Wind River's first-quarter results can be found here. A (not very accurate) transcipt of the Q2 call can be found here. Lots more details, including multimedia transcript, presentations, and supplemental financial reports, can be found on Wind River's investor site, here.
Wind River's stock price fell about 10 percent, to $11 per share, during the first six hours of trading following the announcement. Wind River employs 1,512, including 405 in sales.
---

This article was originally published on LinuxDevices.com and has been donated to the open source community by QuinStreet Inc. Please visit LinuxToday.com for up-to-date news and articles about Linux and open source.