Oct 16, 2008 — by LinuxDevices Staff — from the LinuxDevices Archive — 2 views

Wind River has completed its $16M acquisition of Linux smartphone pioneer Mizi Research, it announced. The Seoul, Korea based acquisition will broaden its mobile Linux services delivery capability in Asia Pacific, while deepening the value of its vertical market offerings, it… hopes.
Mizi's proud history
Founded in 1999, Mizi was among the first wave of companies attempting to commercialize embedded Linux. From the beginning, the company took an interest in Linux on handsets, as well as PDAs. It began offering GPL-licensed Linux BSPs (board support packages) for Samsung system-on-chip processors targeting smartphones in 2003, and later that year released Mizi Linux 2.0, a full software stack targeting phones and other mobile devices. Samsung first experimented with the stack in 2003, and Mizi collaborated with an unspecified partner in 2004 on a low-cost handset hardware/software reference design.
By 2006, Samsung was shipping Linux phones based on Mizi Linux in earnest, in higher-end "smartphone" models such as the SCH-i819 and SGH-i858. These phones were based on Mizi's Prizm Linux 2.5 mobile phone software stack. Like Motorola's Linux phone stack, Prizm 2.5 used the Qt GUI toolkit now owned by Nokia.
Later, for its Mizi Linux 3.0 release in 2007, Mizi moved to a "Prizm" GUI framework developed in-house. Combined with a new Python-based API, Prizm enabled quick development of phones with fancy graphics effects like dragging, sliding, fading, and scaling, Mizi said at the time (Prizm 3.0 screenshot gallery).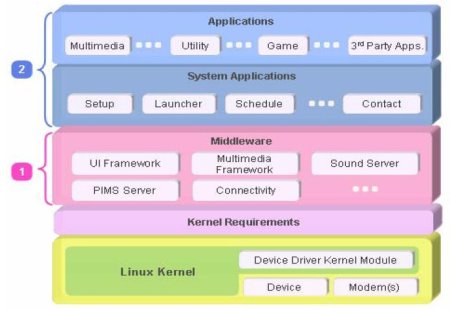 Mizi Prizm Linux 3.0
(Click to enlarge)
Today, Wind River competitor MontaVista boasts proudly of supplying the Linux operating system kernels used in Samsung's Linux-based phones, such as its recently launched Olympics Phone. Additionally, MontaVista boasts of delivering "company-wide" tools licenses to Samsung Electronics. However, Samsung phones distributed in China and elsewhere in Asia still use the Prizm stack.


The Olympic phone's Prizm based interface
(Click to enlarge)
According to Wind River, Mizi's stack has been integrated into 20 "commercialized consumer electronics products." However, whether the company has customers other than Samsung, or outside of Korea, is not known.
Wind River's intentions
Wind River says Mizi's mobile expertise will help it "accelerate its mobile services presence in Asia Pacific." The acquisition's 65 employees will help to expand its mobile Linux services delivery capability, it suggests. And, obviously, the Prizm Linux stack will help Wind River "deepen the value of its product offering" where key verticle markets are concerned — namely automotive infotainment, mobile handsets, and mobile internet devices, it says.
Some 86 million Linux-based MIDs will ship by 2013, according to an ABI forecast from last month. Presumably, this rosy figure bloomed prior to the onset of the current global financial crisis. However, another recent report suggests that high-end phone sales, at least, have proven somewhat immune to poor economic conditions.
Additionally, Wind River said Mizi's mobile expertise will be "redeployed" to align with Wind River's "focus on open standards and consortia." While Mizi participated in the erstwhile LiPS standardization effort, Wind River has championed causes such as LiMO, Android, and Eclipse (whose tools Mizi has long used in its SDKs).
Interestingly, LiMO's specifications call for GTK+ as the GUI toolkit and C/C++ as the application interface, suggesting that some Prizm developers could be re-assigned to port higher-level application stack components from the Prizm GUI toolkit and Python-based API to GTK+ and C/C++. Another likely integration effort could involve porting Prizm components to Wind River's version of Eclipse.
According to Wind River, the acquisition was completed as originally announced, with a transfer of 99 percent of outstanding Mizi shares, for an aggregate price of $16 million in cash.
---

This article was originally published on LinuxDevices.com and has been donated to the open source community by QuinStreet Inc. Please visit LinuxToday.com for up-to-date news and articles about Linux and open source.