Jan 30, 2008 — by LinuxDevices Staff — from the LinuxDevices Archive — 4 views

Start-up Azingo, formerly Celunite, will officially launch its Linux-based mobile phone software stack next month. Set to debut at the Mobile World Congress in Barcelona, the "Azingo Mobile" stack is positioned as a comprehensive software/services offering for mid-tier feature-phones compliant with LiMo… (Linux Mobile Foundation) requirements.
Then known as Celunite, the venture-funded startup unveiled itself just over a year ago, at the "Open Source in Mobile" show in Amsterdam. Based in Silicon Valley, with development offices throughout India, Azingo employs about 250 engineers, with plans to "grow substantially" over the next three years, said director of marketing, Michael McLaughlin. "We'll be a 1,000-person company, with 600 working on services and 400 working on platforms. We'll offer services related to customization of our platform, operator-specific service packs, and porting customers' DRM or JVM to our platform. We'll also offer services related to developing open source software."
Earlier this month, Celunite changed its name to Azingo and announced that it would supply some tools to LiMO's CIE (common integration environment), a win that could open the door at least to business relationships with LiMo's membership of powerful phone vendors and operators. LiMo is an industry group collaboratively developing middleware for application management, security, rights management, and so on. Azingo also recently hired a Motorola executive to lead its engineering team.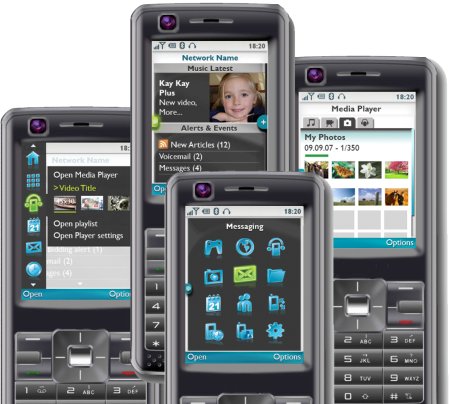 Azingo Mobile mockups
(Click to enlarge)
Azingo Mobile
The Azingo Mobile stack is positioned as the first "complete" Linux phone stack — from kernel to application layer — that also complies with LiMo specifications. McLaughlin said, "We're quite active in LiMo, which we see as one of centers of the Linux mobile universe. But you need more than what's in the first release of LiMo. [Azingo Mobile] conforms to and uses technology from Limo, but it's a superset, offering more of the middleware suites, and it has an app suite and kernel pre-integrated."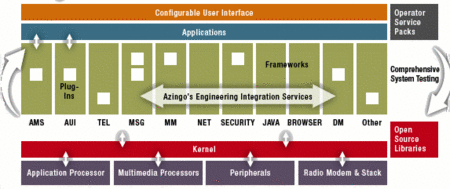 Azingo Mobile diagram
(Click to enlarge)
The Azingo Mobile stack currently supports "13 hardware platforms from seven of the industry's leading silicon providers," said CEO Mahesh Veerina in a statement. McLaughlin said that for most platforms, a 2.6.19 kernel is available. Alternatively, Azingo can work with a customer's own kernel, or with a kernel supplied by a provider such as MontaVista or partner Wind River. "Partners will have a kernel version that was ported with patches to specific hardware. We have commercial relationships with customers who would rather use their own kernel," McLaughlin said.
Keeping with the device world's trend toward using desktop graphics rather than lightweight embedded graphics stacks, the Azingo Mobile stack is based on GTK. There's also rich multimedia capabilities, Azingo says. There's also a MIDP 2.0 Java virtual machine from an as-yet unannounced partner. Together, it all comprises a "complete" stack, the company says, yet one that can be integrated with custom components under the terms of a service contract.
Perhaps most interestingly, despite its mid-market feature-phone focus, the Azingo Mobile stack integrates the open source Webkit rendering engine used in Nokia's S60 smartphone environment, and in Apple's iPhone. The integration provides a world-class mobile browser, of course, but even more importantly lets operators and phone vendors customize the UI using HTML, CSS, AJAX, and other web standards. The advantages of this approach include wider availability of developer talent, easier over-the-air interface updates, and an ability to promote revenue-generating web content throughout the interface. McLaughlin noted, "Suddenly you have the ability to get all these new services through the web, via non-browser app integration, and 'quick tasks' that tie into Web services — checking the weather, traffic, photo streams, and so on."
Azingo competitor Trolltech was at work integrating Webkit in a similar fashion into its Qt and Qtopia products, prior to Monday's announcement of Trolltech's pending acquisition by Nokia. Additionally, Motorola at last year's LinuxWorld Expo in August announced its intention to add support for Web widgets to the MotoDev Studio tools it supplies for its Linux-based phones.
McLaughlin said Azingo is not ready to announce any customers yet for its Mobile stack. However, he promised "a number of announcements between now and the end of March." Also promised are further announcements in conjunction with LiMo.
Guido Arnone, director of terminals technology at Vodafone said: "Azingo Mobile's ability to provide lower-cost, Internet-enabled mobile phones helps support LiMo's goal to create a true mass-market platform and surrounding ecosystem."
Availability
The Azingo Mobile stack is available now for immediate licensing, Azingo says. It will demonstrate the stack at teh Mobile World Congress in Barcelona Feb. 11-14.
---

This article was originally published on LinuxDevices.com and has been donated to the open source community by QuinStreet Inc. Please visit LinuxToday.com for up-to-date news and articles about Linux and open source.