Jun 8, 2011 — by Eric Brown — from the LinuxDevices Archive — 43 views
Two in-vehicle infotainment (IVI) reference platforms based on the Genivi Alliance's Linux-based automotive middleware standard have been announced in conjunction with this week's Telematics Detroit 2011 show. MontaVista and Rightware Oy are collaborating on a platform that integrates Rightware's Kanzi UI Solution with MontaVista Linux, and Renesas Electronics is readying an ARM-Cortex-based "R-Car" platform incorporating CSR's SiRFstarIV-based GPS technology.
Both the MontaVista/Rightware platform, as well as portions of the Renesas/CSR IVI platform, will be on display at the Telematics Detroit 2011 show on June 8-9 in Novi, Mich. The new platforms are based on the Genivi Alliance open source Linux middleware standard.
(See farther below for Genivi background, and some recent Genevi membership news, including the addition of Honda and Canonical. The latter is developing a Genivi-compliant "Ubuntu IVI Remix" distribution.)
MontaVista platform gains Rightware UI layer
The Genivi-compliant MontaVista Linux IVI platform appears to be based in part on the Genivi-based IVI stack the Cavium subsidiary announced last June. That initial platform was developed in partnership with automotive infotainment manufacturer Robert Bosch Car Multimedia GmbH, but Bosch is not mentioned here.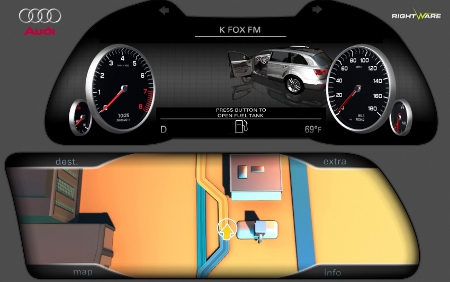 A Rightware Kanzi UI Solution cluster display design for Audi


(Click to enlarge)
MontaVista's latest platform — announced without any mention of hardware, automotive partners, or expected release dates — integrates
MontaVista Linux
with Rightware Oy's
Kanzi UI Solution
. The reference platform supports high performance graphics, multimedia, and Internet connectivity via Wi-Fi, 3G/4G, Bluetooth, and USB, says MontaVista. Other features are said to include media and music management, contacts management, email and Internet browsing, and GPS location aware services.
Said to be compliant with Genivi version 1.0, the platform is likely based on an Intel Atom processor running MeeGo, both of which form the foundation of the Genivi 1.0 platform. Neither technology is cited, however, although Rightware says that Kanzi UI Solution supports Android, MeeGo, and Linux in general. (See farther below for more on the MeeGo/Genivi connection.)
Kanzi UI Solution is billed as benchmarking and design software that aims to "solve the implementation and differentiation problems of today's 3D user interfaces." The software is also said to enable rapid design, development, testing, and deployment of visually rich and intuitive 3D user interfaces in mobile, consumer, and automotive devices.
At this week's Telematics Update 2011 show, MontaVista will show off an early version of the platform, which is said to ease integration with 3D automotive solutions, including instrument cluster and IVI capabilities. The demo will show a "highly sophisticated 3D user interface with more than 30,000 polygons," says MontaVista. The demo runs on top of OpenGL ES 2.0, "which is the only hard-requirement for Kanzi Engine technology," says the company.
Stated Tero Sarkkinen, CEO of Rightware, "We're very excited to announce this partnership with MontaVista as it enables our customers to get the access to the best of both — the most powerful 3D UI and a high quality and high performance Embedded Linux by MontaVista."
Renesas taps CSR's wireless tech for Renesas-Car platform
Mobile connectivity developer CSR announced that Japanese chipmaker, Genivi Alliance member, and recent Linux Foundation member Renesas Electronics will use CSR's automotive-qualified location and connectivity hardware and software for its Genivi-compliant IVI reference platform. Called Renesas-Car, or R-Car, the reference platform is designed for software development and "proof of concept" design, says CSR.
Compliant with the Genivi spec, R-Car offers a graphical user interface with support for Internet connectivity and advanced graphics demos, says the company. Other touted features include a media player, Bluetooth and Wi-Fi connectivity, voice recognition, GPS with associated navigation and location-based applications, and "a full range of AM, FM, and HD radios."
The R-Car reference platform is built around dual ARM Cortex-A9 cores, and appears to be based on the specialized R-Car M1 SoC announced in February, which incorporates dual Renesas SH-4A cores. The R-Car M1 can be considered a specialized, automotive-specific cousin of Renesas' Cortex-A9-based EMMA Mobile EV0 SoCs for multimedia devices.
The R-Car IVI platform is touted as offering 2500 MIPS performance at 533MHz, as well as integrating an SGX 530 2D/3D graphics engine. The R-Car platform also offers automotive peripherals, such as CAN, USB, I2C, and SDIO, says CSR.
The platform integrates several CSR hardware and software products built around a newly announced SiRFstarIV GSD4e-9500 version of its SiRFatlasIV ARM/11/GPS navigation processor. The new automotive-specific version of the processor adds features such as AEC-Q100 qualification for harsh automotive environments. AEC-Q100 support was also touted for a related, automotive-focused SiRFprimaAuto SoC announced in October.
The full list of CSR components that will appear in the R-Car platform are said to include:
CSR SiRFstarIV GSD4e-9500 AEC-100-qualified GPS engine
CSR8311 AEC-100-qualified Bluetooth connectivity solution
CSR6000 AEC-100-qualified Wi-Fi connectivity solution
CSR SiRFDRive turn-key dead-reckoning solution
CSR aptX audio codec for Bluetooth high-fidelity, low-latency stereo
CSR Synergy integrated host software
Formerly known as Cambridge Silicon Radio, CSR plc acquired SiRF — known for the wide adoption of its GPS platforms by PND (personal navigation device) and smartphone manufacturers — in 2009. At that time, SiRF had already produced several SoCs integrating GPS receivers with ARM cores: the SiRFprima and the SiRFatlasIV.
Under CSR's aegis, the SiRFatlasV was introduced in May 2010, again using an ARM1136GH-S computing core, but with a faster 664MHz clock speed and a claimed 10 percent lower power consumption.
In January of this year, CSR announced a licensing agreement with ARM that will result in its GPS receivers being integrated with ARM's IP (intellectual property). The "location-aware" SoC platforms will include application processors with Cortex-A5 and Cortex-A9 cores, according to the companies.
Stated Amrit Vivekanand, director of Business Development, Automotive Business Unit, Renesas Electronics America, "The CSR and SiRFstar names are virtually synonymous with Bluetooth, Wi-Fi and GPS solutions in the automotive market, and their technology leadership in delivering innovations such as active jammer removal for GPS, Wi-Fi Direct, Bluetooth low energy and Wideband Speech will help our customers deliver market leading products."
Genivi background, and Canonical's Genivi-ready Ubuntu
The Genivi Alliance was launched in March 2009, by Intel, Delphi, General Motors (GM), Magneti Marelli, PSA Peugeot Citroen, Visteon, and Intel's Wind River, which earlier this year partnered with Magneti Marelli and BMW on a Genivi-based solution. The industry group's goal is to develop open platform IVI reference designs and middleware based on Linux, starting with Intel Atom-based solutions.
The group was later joined by ARM Holdings, as well as ARM system-on-chip (SoC) vendors Freescale and Texas Instruments (TI), and an ARM Cortex version of the platform has been under development since last year. It does not appear to have been officially announced, however.
In January at CES, the Genivi Alliance demonstrated an early version of the ARM platform running on a TI ARM Cortex-A8 powered BeagleBoard. An updated Genivi platform is said to be planned for this summer, and will likely offer ARM support, possibly based on the Renesas R-Car design.
Genivi and MeeGo gave each other a boost when it was announced last July that the Intel Atom version of the Genivi IVI platform, at least, will be based on MeeGo. This was a logical upgrade from Moblin, which formed part of the Intel-backed mobile Linux MeeGo platform along with Nokia's Maemo. Last month, the MeeGo project released MeeGo 1.2, which included an updated IVI "User Experience (UX)" that adds speech recognition capabilities.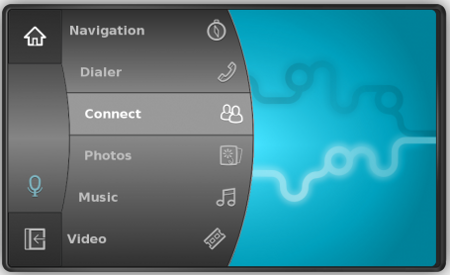 MeeGo 1.1 IVI UX
Yet Genivi appears to be expanding beyond MeeGo, as suggested by
Canonical's decision to join the alliance
last month. The U.K.-based firm also announced that it was developing a Genivi-compliant version of Ubuntu called Ubuntu IVI Remix.
Based on its new, embedded-oriented Ubuntu Core subset of Ubuntu technologies, Ubuntu IVI Remix is said to support both Intel and ARM architectures. However, the only initially announced partner for Ubuntu IVI Remix was Freescale, which was said to be collaborating with Canonical, no doubt using one of its ARM-Cortex-based i.MX platforms, such as the Cortex-A9-based, multicore i.MX 6. The ARM-oriented Linaro not-for-profit embedded Linux tools company also announced support for Ubuntu IVI Remix.
Other new members announced over the last year include MontaVista, as well as car-makers Jaguar Land Rover and Hyundai, among others. In April of this year, the Genivi Alliance announced new members Accenture, DENSO, and MOBIS. Earlier this month Honda joined the group, bringing the total membership to 123.
---
This article was originally published on LinuxDevices.com and has been donated to the open source community by QuinStreet Inc. Please visit LinuxToday.com for up-to-date news and articles about Linux and open source.