Oct 22, 2008 — by Eric Brown — from the LinuxDevices Archive — 2 views
[Updated Nov. 26] — The Moblin.org project continues to gain support, with Good OS (GoS), Mandriva, and Turbolinux announcing they will contribute to the project. Ericsson, meanwhile, announces it is working on HSPA chipsets for next-generation Moorestown-based MIDs that run the Linux-based Moblin stack.


USI MID-160
(Click for details)
The Intel-sponsored Moblin.org develops Moblin, which recently announced version 2.0, expected to arrive in January, 2009. Moblin is an open-source toolkit and mobile device software stack that is optimized for MIDs, but also supports netbooks and other Atom-based mobile devices. Linux-based MID products running the stack are just starting to be announced, including USI's MID-160 (pictured).
Announced in April, 2007, Moblin comprises a Linux kernel, UI framework, browser, multimedia framework, and embedded Linux image creation tools. It also comes with developer resources such as documentation, mailing lists, and an IRC channel.
Ericsson targets Moorestown
The Ericsson HSPA (high speed packet access) project is a collaboration with Intel that targets Intel's upcoming Moorestown platform, and is scheduled for release when Moorestown processors hit the market in 2009 or 2010. Based on the Intel Atom, "Moorestown is Intel's next-generation MID platform," says Ericsson.
Intel announced Moorestown at the Intel Atom launch. The heir to the Atom designs, Moorestown consists of a system-on-chip (SoC) and an I/O hub. Codenamed "Lincroft," the SoC will integrate a 45nm core, graphics, video, and memory controller onto a single chip, says Intel, greatly decreasing size and power consumption. The I/O hub, codenamed "Langwell," is said to support a range of I/O blocks such as storage and display, and to provide interfaces to third-party PMICs and wireless products.
The HSPA chipsets will focus on providing 3G broadband access for "pocketable" MIDs. Specifically targeting devices that run Moblin, the modules will be based on Ericsson's latest generation of 3G chipsets, and work on both WCDMA/HSPA and GSM/EDGE networks worldwide, says the company. HSPA, which is an umbrella term for a standard that encompasses HSDPA and HSUPA standards, is deployed with 221 networks available worldwide, serving more than 60 million subscribers, claims Ericsson.
Linux distros pile on
Moblin also seems to be gaining traction among Linux distributions. French software firm Mandriva, which recently announced a netbook version of its Mandriva Linux distro, called Mandriva Mini, has joined with venerable Linux distro vendor Turbolinux to announce that their "Manbo Labs" collaboration will join Moblin.org and contribute code. Launched in 2007, Manbo Labs develops core components for both firms's Linux distros.


The Mandriva-based
Emtec Gdium netbook
(Click for details)
Scheduled for release in Q4 2008 or Q1 2009, the Moblin-based components are slated for use in a new version of Mandriva Mini and a netbook version of the Turbolinux Client 2008 distribution, say the companies. The Moblin-based distros are said to feature long battery life, fast boot time, small footprint, and a small-screen GUI interface. Manbo Labs, meanwhile, is being expanded to support new components and products, and will add a new member soon, say the partners. Manbo Labs is also exploring Moblin-based distributions for automotive infotainment systems. Mandriva is used on the Emtec Gdium netbook (pictured left). Turbolinux, meanwhile, also sells the "Wizpy", a combination PMP (portable media player) and personal Linux boot device.
Finally, Good OS, which sells the Ubuntu-based gOS 3 distribution, announced that its recently released gOS 3 Gadgets netbook version (pictured below) will now support Moblin on Atom-based netbooks. More details will be released at the end of the year, says Good OS.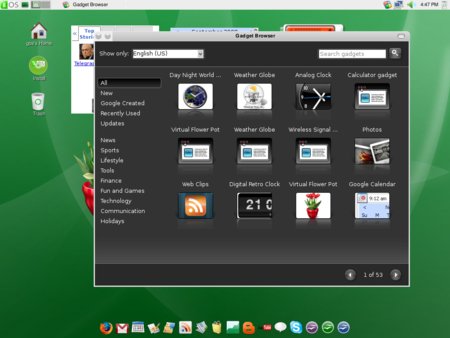 gOS 3 Gadgets interface
Stated Good OS founder and CEO David Liu, "We see a significant number of NetBook opportunities today, and Moblin technologies will provide gOS a lower cost platform to develop new products."
---

This article was originally published on LinuxDevices.com and has been donated to the open source community by QuinStreet Inc. Please visit LinuxToday.com for up-to-date news and articles about Linux and open source.