Jul 28, 2010 — by Eric Brown — from the LinuxDevices Archive — views
Marvell announced the availability of an open source installer, simplifying software deployment on its Linux-based Plug Computer reference design. The Easy Plug Computer Installer (EPI) is the first wizard-based installation tool for Marvell's Plug Computer, which is being supported by more than 20,000 developers worldwide, says Marvell.
The EPI wizard interacts with the Plug Computer's Marvell Armada 300/310 processor to make it easier for developers to install Linux distributions, file-systems, file-system images, or single applications, says Marvell. The application also provides USB key and HTTP-based list retrieval mechanisms, offering more options for updates, says the company.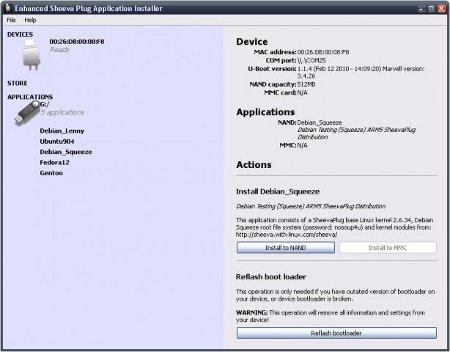 Marvell's Easy Plug Computer Installer (EPI)


(Click to enlarge)
The application is said to be compatible with Fedora 11 (32/64bit), Ubuntu 9.04 (32bit), Windows XP SP2/3, and OSX (Leopard) operating systems, says Marvell. The EPI app is supported with step-by-step instructions, and a site will offer EPI-related developments contributed by the open source community, says the company.
Plug Computer background
Marvell introduced the tiny Plug Computer networking computer reference design in Feb. 2008, along with an accompanying open source, Linux-based SheevaPlug development platform. In January of this year, Marvell announced a faster, wirelessly connected version 3.0 of its Plug Computer, which, like the original, plugs directly into a wall adapter.
The Plug Computer 3.0 design adds Wi-Fi, Bluetooth, and a built-in hard drive, and moves up to a 2GHz Armada 300 version of its ARM-based Armada processors that was announced at the same time.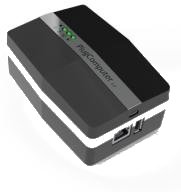 Marvell's PlugComputer 3.0
The $100 Plug Computer 3.0 design features optional built-in hard disk drive and embedded Marvell Wi-Fi and Bluetooth technologies. Additional peripherals such as Direct Attached Storage (DAS) can be connected using a USB 2.0 port, says the company. Multiple standard Linux 2.6 kernel distributions are said to be supported on the Plug Computer development platform.
The Plug Computer 3.0 has a wider range of applications than the original, which was focused primarily on network-attached storage (NAS) and media server duties. New applications are said to extend to management of medical and financial records, as well as home monitoring jobs like remote management of lights, thermostat, and irrigation systems.
In April, Marvell announced a more affordable version of the Armada 300 called the Armada 310. Touted for delivering up to 1GHz performance while consuming less than a single Watt, the Armada 310 offers 256KB L2 cache, plus PCI Express, gigabit Ethernet, and USB 2.0 connectivity, says the company.
Considering that Marvell noted that EPI is compatible with the Armada 310, as well as the Armada 300, it would be reasonable to believe that a lower-cost 310-based version of the Plug Computer may be on the way.
The original Plug Computer has been integrated into a wide variety of NAS and media server devices. Early hardware licensees of the SheevaPlug design include Ctera Networks for its CloudPlug NAS device, and CloudEngines for its Pogoplug, which enables remote viewing of external storage devices via a web browser. The popular, consumer-focused Pogoplug came out in a new version that adds additional USB ports, as well as new synchronization, multimedia sharing, and social networking integration features.
Other products based on the Plug Computer include Seagate's FreeAgent DockStar, WebTView's WebTVPlug IPTV receiver, and Eyecon Technologies' media "control point" reference design. Marvell also announced last year that networked-attached storage (NAS) device vendors Buffalo, D-Link, and LaCie would offer SheevaPlug-based NAS devices.
Stated Viren Shah, Senior Director of Marketing Embedded System-on-a-Chip (SoC) Product Line from Marvell's Enterprise Business Unit, "There's a broad array of Plug Computing application ideas waiting to be discovered. EPI further enables the software and hardware community to easily integrate their solutions and reap the always-on benefits of the Plug Computer."
Stated Joseph Byrne, Senior Analyst for the Linley Group, "EPI makes it easier for Plug Computer developers to program new applications while preparing consumers for the day when they can order and download applications online for their personalized Plug Computer."
Availability
The open source Easy Plug Computer Installer (EPI) is available for free download at SourceForge,here, and further information is offered by Marvell in PDF format, here.
More information on the Plug Computer may be found here.
---
This article was originally published on LinuxDevices.com and has been donated to the open source community by QuinStreet Inc. Please visit LinuxToday.com for up-to-date news and articles about Linux and open source.