Dec 19, 2011 — by LinuxDevices Staff — from the LinuxDevices Archive — 1 views
Motorola Mobility's Droid Xyboard 10.1 tablet brings the iPad some solid competition thanks to its Android 3.2 Honeycomb operating system, thin profile, HD display, 1.2GHz dual-core processor, and compatiblity with Verizon's 4G LTE network. Yet, Motorola should take the hardware button design and new stylus option back to the drawing board, this eWEEK review adds.
Forgive me for this eye-roll-inducing observation, but high-tech is often the hunting ground for the game of "hindsight being 20-20." New evidence of that struck me dead center this past week as I tested Motorola Mobility's follow-up to its Xoom tablet, the Droid Xyboard 10.1, and realized just how much better it seems in comparison.
Consumers can now purchase the new 10.1-inch tablet — which weighs 1.29 pounds and is just 0.34 inches thick — in 16GB ($530), 32GB ($630) and 64GB ($730) editions with a two-year contract from Verizon Wireless. Verizon also offers the "enterprise-ready" Xyboard 10.1's similar, but smaller twin, the Xyboard 8.2. The latter offers an 8.2-inch screen and is focused mostly on consumer media consumption.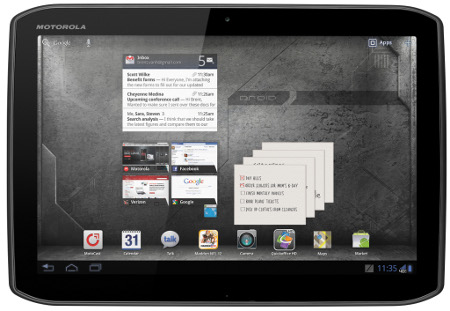 Droid Xyboard 10.1
(Click to enlarge)
The 32GB Xyboard I tested was a data-chugging monster that runs Android 3.2 ("Honeycomb") on a 1.2GHz dual-core CPU, with a promise for an Android 4.0 upgrade in the future. It also offers Verizon's 4G Long Term Evolution (LTE) cellular service. I've tested other 4G Android tablets before, including AT&T's
HTC Jetstream
and the
HTC Evo View 4G
, and neither is as fast as the Xyboard.
Having been an early testers of the Xoom, which ran the often buggy Honeycomb 3.0, I can safely say Google has worked out the system-freezing quirks in Android 3.2. As on Samsung's Galaxy Tab 7.0 Plus slate, which I tested last month, the operating system let me drag and drop widgets fluidly across all five home screens without any freeze-ups.
I further kicked the tires of the Xyboard's Android 3.2 build with Gmail, Google Search, Google Maps, Facebook for Android, Twitter for Android, and Google Music, and they all ran great. The Xyboard even passed the more strenuous tests of Angry Birds Seasons, YouTube, and Netflix.
The pre-installed Netflix, which was revamped to support larger touch targets, looked great on the Xyboard's in-plane switching (IPS) 1280 x 800-pixel display, which is designed for wide viewing angles. This makes it easier for more than one person to watch videos on the 10.1-inch display. I watched one quick episode of "Parks & Recreation" without so much as a hiccup.
The Xyboard offers a five-megapixel back-facing camera, which can't match the Jetstream's great eight-megapixel camera, but nevertheless supports 1080p video capture. Stills and video shoots looked middling to great. A 1.3-megapixel camera is available in front for video chat via Google Talk or Skype.
My favorite part about the Xyboard's photo capabilities is that once you log into the tablet with your Google account, photos from your Picasa Web albums populate the gallery application. This was an awesome perk.
The Xyboard is a corporate road warrior's dream in the sense that it comes preloaded with Citrix's Receiver desktop virtualization app, as well as the Go To Meeting web conferencing software. Web conferencing apps such as Fuze Meeting and Polycom's RealPresence Mobile app for business users are also available. In addition, QuickOffice HD is preloaded to let workers access their documents on the go.
Salespeople who use the iPad for presentations would do well to consider the Xyboard as an alternative for virtual collaboration. To that end, the Xyboard 10.1 also has a stylus to let users take notes and save them in the cloud via the Evernote application.
Major black marks
For me, the Xyboard has two major black marks, which may or may not be deal-breakers for premium tablet shoppers. First are the power and volume keys. The power button is a ridiculous, recessed little piece of soft rubber on the right side of the tablet. The volume button is made of the same material, only raised slightly higher, presumably so users don't have to fumble and risk dropping the device as they're watching a movie or gaming.
The Xyboard's rounded edges make these buttons that much harder to locate by touch. I often had to flip the tablet over to find the buttons. Any time you have to do that on a personal gadget that you're going to use a lot, it's a deal-breaker.
Second — and this one is bigger — is that the stylus technology Motorola added to the Xyboard is pretty poor. It's slow, balky, and barely responsive for nearly all of my writing gestures. I had to frequently slow down, and often was forced to erase and rewrite letters and other sketches with the digital eraser.
To see if the digital pen itself was the source of the problems, I tried using my forefinger. I actually had better luck writing notes with my pointer finger than I did with the plastic pen, and switching from pen to brush to eraser mode was also a chore.
I've tested two tablets imbued with HTC's Scribe digital ink pen and software — the HTC Evo View 4G and the HTC Jetstream 4G — and this is far superior. Unlike the Motorola technology, HTC's Scribe made the experience fluid and effortless, and upon logging in, all of the notes and drawings I made on previous tablets with the Evernote app were displayed.
Anyway, the Xyboard doesn't really need a pen. Android 3.2's soft keyboard has evolved to be well-designed and even quite cozy for heavy typing.
Hidden buttons and sub-par stylus aside, the Xyboard is a solid tablet, equipped as it is with a speedy processor buoyed by Verizon's 4G LTE network. And the 7000mAh battery held up reasonably well, with seven hours of web surfing and Netflix watching via LTE.
If you want a premium Honeycomb tablet that is faster than an iPad but priced similarly, I can suggest the Xyboard. It's the tablet Motorola should have launched a year ago instead of the Xoom.
You can read the speeds, feeds, and specifications for the Xyboard in our earlier Xyboard coverage as well as Motorola's Xyboard product page.
Clint Boulton is a writer for eWEEK.
---
This article was originally published on LinuxDevices.com and has been donated to the open source community by QuinStreet Inc. Please visit LinuxToday.com for up-to-date news and articles about Linux and open source.