Jan 22, 2010 — by LinuxDevices Staff — from the LinuxDevices Archive — 5 views
ABI Research has forecast a major turnaround in the processor market for ultra-mobile devices (UMDs). Intel has 90 percent of that market today, but ARM Holdings and its licensees will garner the majority by 2013, the research firm says.
In 2009, 90 percent of the UMDs — defined as tablets, MIDs (mobile Internet devices), UMPCs (ultra-mobile PCs), netbooks, and smartbooks - that shipped were based on x86 processors, ABI Research says. But by 2013, as many ARM-based systems will be shipping as x86-based ones, and the former will start moving into the majority, the firm adds.
This year, the percentage of shipping UMDs employing x86 processors will fall to approximately 75 percent, according to a chart (below) released by ABI Research. By 2011, x86 devices will have slipped to about 65 percent, and they'll be under 60 percent by 2012, the firm additionally predicts.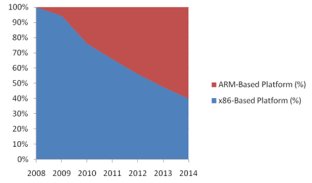 ARM vs. x86 in ultra-mobile devices
Source: ABI Research
Despite developments such as Intel's upcoming "Moorestown" — an Atom that is claimed to offer a tenfold reduction in idle power consumption compared to today's offerings — processors built around core IP (intellectual property) licensed from U.K.-based ARM Holdings are widely considered to offer better power efficiency. In addition, Intel, AMD, and Via have yet to provide an x86 processor with an on-chip GPU (graphics processing unit) capable of 1080p HD video decoding and encoding, craved by an increasing number of customers.
In contrast, a variety of ARM processors provide 1080p capability along with extended battery life. For example, Nvidia recently announced the Tegra 250 (below), employing a dual-core version of ARM's Cortex-A9 core. Providing HD encode/decode and dual-display support, the Tegra 250 can offer battery life measured in days, Nvidia claims.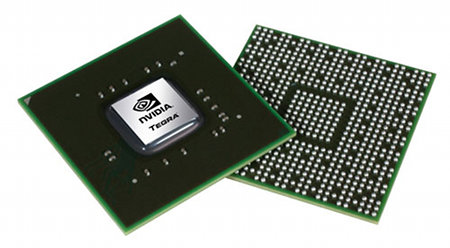 Nvidia's Tegra 250
Nvidia says the Tegra 250 delivers up to four times the performance of previous Tegras — already claimed to rival the Atom — and ten times the performance of "the processors used in smartphones today." The company further claims twice the graphics performance of earlier Tegras, plus support for OpenGL ES 2.0 and hardware acceleration for Adobe's Flash 10.1.
ARM invades the first tier
ARM processors have long dominated the market when it comes to smartphones, PMPs (personal music players), PNDs (personal navigation devices), and other dedicated devices where compatibility with the x86 instruction set is unimportant. However, in more PC-like devices — mini-notebooks, netbooks, smartbooks, or whatever you care to call them — ARM CPUs have generally only been employed by third-tier vendors and Chinese mystery brands.
Now, ARM CPUs are invading the first tier. Earlier this month, for example, Lenovo introduced both an ARM smartbook called the Skylight (below left) and a hybrid smartbook/tablet called the IdeaPad U1 (below right). Both devices employ Lenovo's Skylight Linux distribution, running it on a ARM-based, 1GHz Qualcomm Snapdragon, though the IdeaPad hedges bets by including a dual-core Pentium as well in its detachable keyboard/base unit, which runs Windows 7.
Lenovo Skylight (left) and IdeaPad U1 (right)
(Click on either to enlarge)
Further, it's widely rumored even in Tibet that Apple will next week launch a tablet device, featuring a 10-inch touchscreen display and built-in cellular connectivity. While the "iWhatever" could employ an x86 processor and the company's Macintosh OS X operating system, observers consider it more likely that the tablet will employ Apple's iPhone OS — running either on an ARM-based Samsung SoC like that of the iPhone, or on an ARM CPU crafted by PA Semi (acquired by Apple several years ago).
ABI Research didn't mention the above high-profile developments when summarizing its report. However, the firm did say "the perception that ARM-based systems are heavily oriented towards an 'always connected' mode of operation" is a key factor in their success.
Noting that devices such as the iPhone are often blamed for overtaxing cellular networks, Jeff Orr, ABI senior analyst, writes, "In fact, that's a distraction. In general, laptops and netbooks with embedded or attached modems [already] contribute a significantly greater amount of traffic to 3G networks than smartphones do."
Orr adds that "2010 will be pivotal for building momentum behind non-x86 solutions, and gaining adoption in both distribution channels and by end-user populations worldwide."
Availability
According to ABI Research, the data cited above are taken from its 4Q 2009 report, "Netbooks, MIDs, and Mobile CE Market Data," which features 31 charts and 116 tables. Shipments, average selling prices, and revenue for UMDs are provided, broken out by region, processor platform, operating system, and connectivity type, the firm adds.
More details on the report, whose price was not provided, may be found on the company's website, here.
---
This article was originally published on LinuxDevices.com and has been donated to the open source community by QuinStreet Inc. Please visit LinuxToday.com for up-to-date news and articles about Linux and open source.