Aug 30, 2010 — by LinuxDevices Staff — from the LinuxDevices Archive — 4 views
After months of rumors and speculation, Intel is buying Infineon Technologies' wireless solutions (WLS) unit, its latest move to expand beyond its traditional server and PC processor business. Customers for Infineon's wireless chip business currently include Apple, Nokia, and Samsung.
Today's announcement by Intel signals the chip giant's aggressive push into the Internet connected mobile device space — Infineon's wireless customers include the likes of Apple, Nokia and Samsung — and is being taken by some as an indication that Intel's Atom platform may not yet be ready for the mainstream mobile phone market.
The purchase comes four years after Intel sold its XScale application processor business to Marvell Technology Group. The ARM-based chip line at the time was being used in a variety of mobile and embedded devices, including those from Palm and BlackBerry maker Research In Motion.
During a conference call with analysts and journalists, Anand Chandrasekher, senior vice president and general manager of Intel's Ultra Mobility Group, said the mainstream mobile device space is of keen interest to the company, and that buying Infineon's WLS business will enable it to continue its momentum. "If we slowed down with our investments in this area, we'd lose touch with where the market is going," Chandrasekher said.
Intel is buying the Infineon business for $1.4 billion, and after the deal closes sometime in the first quarter of 2011, about 3,400 Infineon employees will shift over to Intel, Peter Bauer, Infineon CEO, said during the call. The unit will operate as an independent business, with a dedicated sales force, according to Intel and Infineon executives. It will be headed by Infineon board member Hermann Eul, who will report to Dadi Perlmutter, executive vice president and co-general manager of Intel's Architecture Group.
Intel President and CEO Paul Otellini said, "The global demand for wireless solutions continues to grow at an extraordinary rate. The acquisition of Infineon's [wireless chip business] strengthens the second pillar of our computing strategy–Internet connectivity–and enables us to offer a portfolio of products that covers the full range of wireless options, from WiFi and 3G to WiMAX and LTE (Long-Term Evolution)."
Intel's stated goal is to expand its mobile and embedded product offerings to support additional customers and market segments, including smartphones, tablets, netbooks, notebooks and embedded computing devices. The company said it will "pair WLS' best-in-class cellular technology with its core strength, to enable the delivery of low-power, Intel-based platforms that combine its applications processor with an expanded portfolio of wireless options."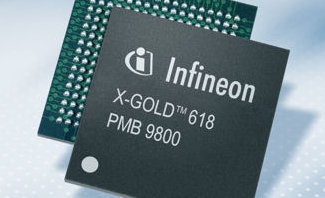 Infineon's wireless processors include the WCDMA- and HSPA-ready X-Gold 3G baseband chips
In a statement announcing the acquisition, Intel said it expects WLS to continue growing, and to remain a standalone business. "Leading-edge 3G slim modem solutions from WLS" (pictured above) will continue to support customers producing ARM-based products, as well as those using Intel-based application processors, the company added.
Roger Kay, an analyst with Endpoint Technologies Associates, said the deal makes sense for Intel, which not only get an established wireless chip business that Infineon officials said has been profitable for the past five quarters, but also has established big-name customers.
"[Communication] chips have become that much more important over the last three or four years" since Intel sold its XScale chip line, Kay said in an interview with eWEEK. "Maybe at the time it was a non-strategic asset, but that's changed now."
Intel has been trying to make some inroads into the mobile device market with its x86-based Atom platform — which initially was developed for systems such as as netbooks — but Intel executives probably saw it was going to take a while before Atom chips were ready to be significant players in the space, he said.
"Even at 32 nanometers, it wasn't cool enough to really do the battery life needed in that space," Kay said. "They've been aiming for this space and didn't quite hit it, and the next round [of Atom development] is two years away."
Essentially Intel executives were able to trade several years of Atom development for the $1.4 billion they're spending for Infineon's established business, which he said is a good deal.
Greg Richardson, an analyst with Technology Business Research, said the deal also once again illustrates Intel's willingness to grow its reach in fast-growing markets, a trait that was on display less than two week ago, when Intel announced it was buying security software maker McAfee for almost $7.7 billion.
"The acquisitions of McAfee and Infineon's Wireless Solutions Business strengthen components of Intel's "three pillars" — energy efficiency, connectivity, and security — a key maneuver in expanding its presence in the growing mobile device market," Richardson said in a research note. "By coupling technologies from both acquisitions, Intel will target the end users' concerns of securing personal data and reliable connectivity as a means to drive value sales and differentiate from competitors."
Demand in IT is changing, he said, as users look to such Internet-connected devices as netbooks, smartphones, and tablet PCs to use the Web more quickly and efficiently.
"Although servers and PCs will remain cornerstones in the IT industry, we believe end users are increasingly using smaller, lower-cost devices to complete simple day-to-day IT tasks, such as checking email or surfing the Web," Richardson wrote. "Through acquisitions, Intel is aligning its portfolio to meet this growing demand, helping differentiate itself from its traditional competitors, such as [Advanced Micro Devices], while simultaneously diving head-first into mobile markets that are dominated by the likes of Qualcomm and ARM."
Jeffrey Burt is a writer for our sister publication eWEEK.
---
This article was originally published on LinuxDevices.com and has been donated to the open source community by QuinStreet Inc. Please visit LinuxToday.com for up-to-date news and articles about Linux and open source.