Dec 9, 2010 — by Eric Brown — from the LinuxDevices Archive — views
Google's Cr-48 notebook beta-testing prototype for Chrome OS has received several first-look unboxings and quickie reviews, earning mostly positive feedback. Meanwhile, analysts responded to Chrome OS' delays, problems, and promise, and eWEEK took a closer look at Chrome OS' upcoming Citrix Receiver virtualization client, suggesting it signals a corporate turn for the Linux-based OS.
As PC's David Pierce notes in his unboxing report on Google's Cr-48 notebook prototype, Google was careful to caution at this week's Chrome OS launch event that the Cr-48 is not intended to be a review unit. Still, PC couldn't resist offering a few comments and evaluations on the notebook.
Neither, apparently, could PC World and Engadget when they received their test units. Slide shows, videos, and first-look impressions have ensued, but so far no full-fledged review.
As Google VP Sundar Pichai explained at the Dec. 7 event, Google will not sell the unbranded Cr-48, which it commissioned from an unnamed manufacturer. Instead, it will be offered solely as a reference platform for an expanded Chrome OS beta testing program.
The CR48 will be followed in mid-2011 by the first two commercial Chrome OS notebooks, from Acer and Samsung. Other products running the cloud-oriented, Linux- and Chrome-derived operating system will follow from other unnamed vendors, says Google.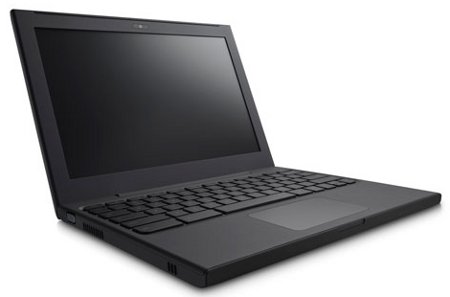 The Cr-48 features an extra-large touchpad.
The Cr-48 is equipped with a 12.1 inch screen and an oversized touchpad. The notebook will offer a full-sized keyboard, with a few key changes such as the omission of a Caps Lock key, says Google.
The 3.8-pound notebook is said to boot in 10 seconds and resume from sleep instantly, and the battery is claimed to last eight hours, or eight days on standby. Other features include 802.11n Wi-Fi, 3G, and a jailbreaking switch, says Google.
The PC first look speculates that the Cr-48 may be manufactured by Inventec. The no-frills notebook "looks a lot like an older black MacBook, and is nicely simple and very minimalistic," writes Pierce.
In addition to the specs listed above, he notes that the device offers flash storage. A more thorough review was said to be forthcoming, and a followup PC story notes that while there is no Caps Lock key by default, this may be restored via a trip to the Settings menu.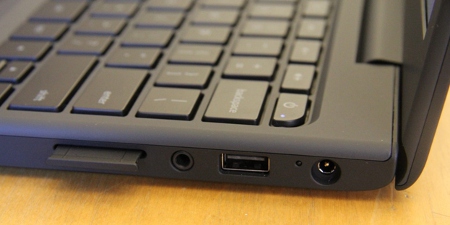 Cr-48 ports


Source: PC
Over at
PCWorld
, Edward Albro
makes
a similar MacBook allusion, but says that the Cr-48 boots up a lot faster. Although he didn't see the promised 10-second boot-up, the review unit's 15-second boot-time was deemed impressive.
Just as importantly, "Once you login, you're working in seconds because there's virtually nothing to load," writes Albro. "Your desktop is literally a tab of the Chrome browser with icons for nine apps."
The apps are said to include the Entanglement and Poppit games, a note-taking app called Scratchpad, as well as links for YouTube, Google Maps, Gmail, Google Talk, and the Chrome Web Store.
The Cr-48 runs on an Intel Atom processor, says the story, although the exact model is not mentioned. Ports are said to include a mini-VGA port, a USB port, charging port, audio port, and a SIM card tray. (It would appear that the flash storage is internal, not available via an SD slot.)
The keyboard replaces the Caps Lock key with a Search key, the review reiterates, and the large trackpad lacks buttons — one simply presses down on the trackpad to click.
Google Cr-48 unboxing and first-look video from PCWorld on YouTube


Source: PCWorld
(Click to play)
At
Engadget
, meanwhile, Paul Miller
calls
the Cr-48 "beautiful," and repeats the MacBook refrain, noting that it offers a very similar keyboard and hinge design. Miller calls the trackpad "Envy-style," generally praising it, but noting that "Basically, you have to click or mouse, you can't be doing both at once."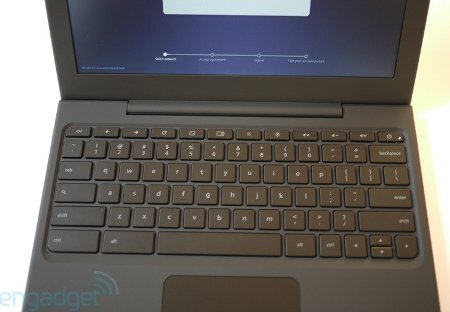 The Cr-48's keyboard and trackpad


Source: Engadget
Plugging in a USB mouse was said to be straightforward, says the story. In addition, the matte screen was enthusiastically praised with a: "Thank you, Google.
Thank you.
Engadget agrees with PCWorld that the Cr-48 boots up in 15 seconds to login, but says it takes another six or seven seconds after password entry to start clicking. "It's actually really hard to tell if we've put it into standby or not because there are no drive noises," he adds, "and we haven't hit upon any fan noise yet either."
As with the other stories, the Engadget's first look is said to be developing, so there was not yet much here about Chrome OS itself. However, Miller does write that "Flash is really bad, both with general applications and particularly with video."
He adds, "Adobe hasn't built Flash acceleration yet for Linux, and there's not a hardware acceleration chip, either. Hulu is like a slideshow, YouTube works, but not great."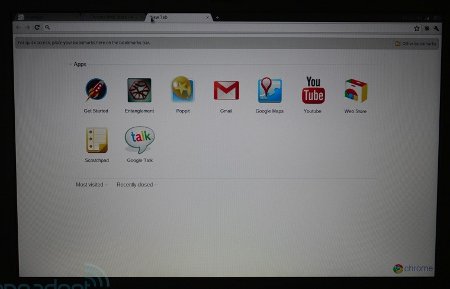 The Cr-48 showing Chrome OS interface


Source: Engadget
Miller concludes, "Still, there seems to be a lot here that laptop manufacturers of all sorts could take note of, and generic-ified or not, the Cr-48 is pretty striking."
Chrome OS aftermath: More questions than answers
Considering that the major news of this week's Chrome OS launch event was that the first commercial devices would not appear until mid-2011 — six to nine months longer than originally scheduled — the post-mortem has for the most part been muted.
Some pundits, such as ComputerWorld's Richi Jennings are still wondering what the strategy is, while Infotech's Doug Mohney projects fairly limited appeal for Chrome OS, although he says it does show promise as a point-of-sale terminal.
On PCWorld, Technologizer's Harry McCracken says the launch event raised more questions than it did answer old ones. First of all, he asks, what happened to Acer, Asus, HP, and Lenovo, who were previously said to be preparing Chrome OS devices?
Like other analysts, McCracken also wonders whom exactly the OS is for, although he seems to answer this question by noting that the Citrix Receiver angle (see later) appears to focus a shift from a consumer to a business audience.
One might add that a turn toward the enterprise was also reflected in the 12.1-inch Cr-48, which is more of a notebook than a netbook. In addition the beta program appears to have a strong corporate focus, with several of the key customers including airlines.
McCracken also echoes the main question that runs throughout most of the Chrome OS analysis: Where does this fit in with a fast-growing tablet market where Android is expected to thrive? He wonders whether Chrome OS will migrate first to desktop PCs or to tablets and other devices such as set-top boxes, or whether tablets and other embedded devices will be left to Android.
If most observers seemed to be even more skeptical about Chrome OS than they were before, Don Reisinger, writing in our sister publication eWEEK, warns Microsoft not to take Chrome OS too lightly. eWEEK's Clint Boulton takes a closer look at the Citrix/Google partnership, noting that it may signal a new enterprise push for Chrome OS.
In "Chrome OS poses serious potential threat to Microsoft: 10 reasons why," Reisinger says that despite the delays, as well as the gaps, questions, and potential flaws in the OS, the increasing focus of both consumer and business PC users on the web shows plenty of upside for Chrome OS.
His main argument appears to be that this is not just any cloud-based OS competitor, but one with Google behind it, bringing plenty of patience, money, clout, and integration with other technologies such as Search. Among other arguments, Reisinger notes that the fast-growing Chrome browser should drive users toward Chrome OS.
Citrix Receiver for Chrome OS heralds enterprise push
As we noted in our coverage of the Chrome OS launch event, Citrix took the stage to give a brief demo of an upcoming version of its Citrix Receiver virtualization client for Chrome OS.
Due sometime in 2011, Citrix Receiver for Chrome OS will enable Citrix customer employees to bring Chrome OS netbooks into their office and get immediate access to their enterprise apps, says the story. What is significant about this, writes Boulton, is that Citrix boasts some 250,000 customers worldwide.
The story also interviews IDC analyst Al Hilwa, who says that Google's list of Chrome OS partners, including Citrix and the various corporate beta testers, is "quite impressive."
He goes on to quote Hilwa as saying about the Citrix Receiver integration, "It is certainly the case that evolutionary technologies stand a much bigger chance of being adopted than revolutionary ones, and being able to run traditional apps designed for other platforms, such as Windows, is a clever way to roll out Chrome OS."
Further information
An eWEEK slide show of Chrome OS features may be found here.
---
This article was originally published on LinuxDevices.com and has been donated to the open source community by QuinStreet Inc. Please visit LinuxToday.com for up-to-date news and articles about Linux and open source.