Mar 15, 2011 — by LinuxDevices Staff — from the LinuxDevices Archive — 2 views
Intel announced four new x86 processors intended for the "micro server" market, with TDPs ranging from 45 Watts down to 20 Watts. Apparently meant to fend off gains by ARM Holdings licensees, they include: the Xeon E3-1260L and E3-1220L; an un-named "Sandy Bridge"-based offering due later this year; and a Atom variant planned for next year.
The Intel announcements are a clear riposte to recent developments in the ARM camp, which have included: Calxeda's announcement that it will ship Cortex-A9 server chips later this year; Marvell's introduction of the quad-core Armada XP, Nvidia's plans to build server CPUs; and ZT Systems' power-sipping R1801e rackmount server.
As we review later in this story, the announcements also follow word that Microsoft has not only come up with its own streamlined x86 server design, but also asked AMD and Intel to consider cramming up to 16 compute cores on forthcoming SoCs (systems on chip).
In a statement, Intel defined micro servers as "an emerging type of shared infrastructure server designed for unique data center workloads where many low-power dense servers may be more efficient than fewer, more robust servers." Such devices are, and will continue to be, popular with large Internet datacenters and service providers, where compute density and electricity savings are critical, the company added.
The micro server category will make up less than ten percent of the overall server market for the next four or five years, claims Intel. But by entering the market, the chip giant says, it will "help its customers deliver new levels of power efficiency and density while allowing them to also benefit from common software compatibility across Intel-based micro servers and traditional servers."
Already in production — and soon to become available, according to Intel — is the Xeon E3-1220L, which features dual cores, a 2.2GHz basic clock speed and 3.3GHz TurboBoost speed, support for 32GB of memory, and a 20-Watt TDP. This will be accompanied by the Xeon E3-1260L, which is similarly clocked but moves to four cores and has a 45-Watt TDP.


The "micro server" Xeons
Source: Intel
(Click to enlarge)
Also touted as suitable for micro servers are other existing Xeon E3 CPUs (above), which have TDPs ranging from 45 Watts to 95 Watts. All are partnered with the C204 or C202 chipsets, which feature support for as many as 12 USB 2.0 ports and RAID disk arrays, among other features.
But more dramatic entries into the micro server field will follow later this year and next, Intel promised. The first, set for the second half of this year, will be a "Sandy Bridge"-based CPU that will consume just 15 Watts.
The second, set for some time in 2012, will be based on Atom microarchitecture and will use fewer than 10 Watts. No word of the number of cores to be crammed onto this chip was provided, but it will support ECC (error correcting code) memory, virtualization technology, and 64-bit operation, just like the big brothers listed above, Intel promised.
Support from Facebook and hardware vendors …

In an event today promoting its micro server strategy, Intel apparently got the endorsement of a key customer: Facebook. According to reports including this IDG News Service item by Stephen Lawson and a PC story by Mark Hachman, Facebook Labs Director Gio Coglitore (right) compared micro servers to "cannon fodder" and said it's better to have the code they run executing on actual hardware rather than being virtualized.
Facebook has tested micro servers and will begin deploying them later this year or in early 2012, Coglitore is said to have added. Apparently devoted to x86 code, Facebook will reportedly consider devices based on chips from both Intel and AMD.
Meanwhile, Intel earlier this month announced a dual-core, 1.66GHz Atom N570 processor that has an 8.5 Watt TDP. This chip is being promoted for netbooks, but it provides 64-bit operation and virtualization — at least according to Santa Clara, Calif-based Sea Micro, which is using 256 of the chips in its SM10000-64 (below).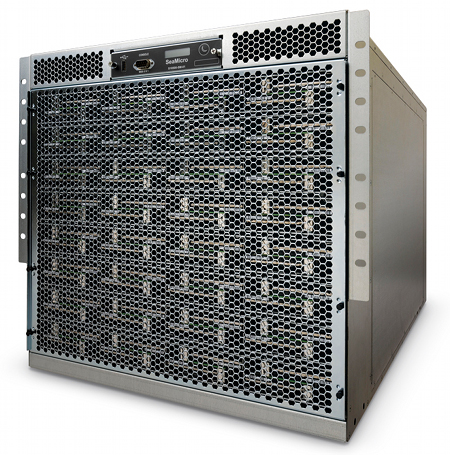 Sea Micro's SM10000-64
(Click to enlarge)
The SM10000-64 employs 256 Intel Atom N570 processors. Touted as the "world's most energy-efficient 64-bit server," the SM10000-64 contains 64 compute cards that house four CPUs apiece and are interconnected with a 1.28TB/sec. "supercomputer style" fabric, according to the company.
According to SeaMicro, overall power consumption is under 2,500 Watts. While this obviously makes the SM10000-64 more power-hungry than proposed micro servers, the device is like them in that it can "run off-the-shelf operating systems for application compatibility, enabling drop-in adoption," and it includes an integrated top-of-rack switch, load balancer, and console server, according to the company.
… and a call to action from Microsoft
As we review later in this story, the first ARM server designs have already begun to appear. However, Microsoft has no server operating system it could run on them.
Redmond's CES (Consumer Electronics Show) announcement that it will port a forthcoming version of "big Windows" to ARM processors has been widely reported. Demonstrations (below) given at the event focused on client devices, however, not servers. Meanwhile, Microsoft's existing ARM OS, Windows CE — its latest variant is Windows Embedded Compact 7 — has not been offered in a server version either.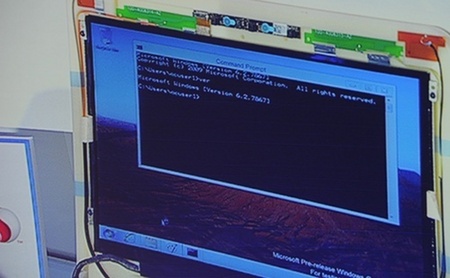 A pre-release version of Windows running on ARM
Source: Gizmodo

Microsoft executive Dileep Bhandarkar addressed the above issues at the end of January in a keynote delivered to the Linley Tech Data Center Conference in San Jose, Calif. A summary of the talk, titled "Energy Efficiency in Data Centers," promised it would "discuss optimization of large scale data centers for energy efficiency" and "examine Microsoft's data center deployments as well as the company's data center strategy."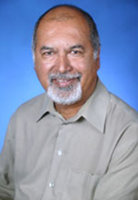 "ARM's an interesting thing to look at, and if nothing else, it lights a fire under Intel and AMD, … I'm happy," Bhandarkar (right) was quoted as saying in reports by Rick Merritt of EETimes and James Niccolai of the IDG News Service. But, he is said to have added, it won't be that easy for ARM to break into the server market.
"Instruction-set architecture transitions are extremely painful," Bhandarkar reportedly claimed. "As a general rule of thumb, you have to have a sustainable improvement per dollar per watt of at least 2x — some would say 5x — but it's at least 2x … and ARM is not there."
Instead, Bhandarkar called on Intel and AMD to develop 16-core SoCs (system-on-chips), respectively based on their Atom and Bobcat cores. "There's a huge opportunity using these smaller cores to be more energy efficient," he is quoted by Merritt as saying.
"When you look at these tiny cores, another way of making them work in a very efficient way is [not to] surround them with a whole bunch of south bridges and network controllers. … Essentially, the tiny cores and systems-on-chip should go together," Bhandarkar added, according to Niccolai's report.
Microsoft is enormously influential not just as a software vendor, but also as a buyer of server hardware. As the EETimes story notes, the company has between 10 and 60 data centers worldwide, each of them employing thousands of x86 servers.
According to EETimes, Microsoft has come up with a streamlined x86 server design that has already been shared with multiple server manufacturers, and will be publicized more fully in the next few weeks.
The design involves the following, Bhandarkar is said to have explained:
two low-power x86 CPUs
a half-size board with one PCI Express slot (left open, for a future switch to 10Gbit Ethernet)
four DIMM sockets per CPU, populated with low-power DRAM
four SATA connectors linked to four hard disk drives
It's said two of these servers, with eight drives overall, may be placed in a 1U rack-mounted unit, allowing 96 servers to be crammed into a standard rack. Microsoft is moving toward minimal use of air conditioning in its data centers, with temperatures being allowed to go up to 85 deg. F, Bhandarkar reportedly added.
According to his official bio, Bhandarkar is responsible for server hardware architecture and standard for Microsoft's "Global Foundation Services," which delivers the platform for more than 150 online services and Web portals. He's said to have joined Microsoft in 2009 from Intel, where he was "instrumental in driving the strategic decision to implement AMD compatible 64-bit x86 architecture … and pioneered the adoption of energy-efficient microprocessor cores across Intel's product line."
Jonathan Angel can be followed at www.twitter.com/gadgetsense.
---
This article was originally published on LinuxDevices.com and has been donated to the open source community by QuinStreet Inc. Please visit LinuxToday.com for up-to-date news and articles about Linux and open source.