Apr 22, 2010 — by LinuxDevices Staff — from the LinuxDevices Archive — views
Executives for ARM Holdings are attempting to quell rumors that the company could be sold to Apple. "Nobody has to buy the company," CEO Warren East was quoted as saying by London's Guardian newspaper, adding "that our standard business model is an excellent way … to gain access to our technology."
The rumor about a buyout by Apple — which uses ARM-based chips in its popular iPhone, iPod Touch, and iPad products — surfaced yesterday in London and was initially aired by the Evening Standard newspaper. Apple, which is sitting on about $40 billion in cash, could purchase ARM for around $8 billion outright, reports have noted.
The Evening Standard quoted an anonymous trader as saying, "A deal would make a lot of sense for Apple. That way, they could stop ARM's technology from ending up in everyone else's computers and gadgets."
The rumor left ARM's shares up 3.4 percent on the day to 258.9 British pence, said to have been the highest valuation since April 2002. But despite that, ARM executives — and, no doubt, almost all of the company's current customers — seem cool to the idea.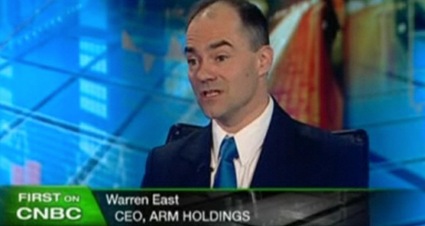 ARM CEO Warren East
CEO Warren East (pictured above in an February CNBC interview) reportedly told the Guardian, "Exciting though it is to have the share price pushed up by these rumors, common sense tells us that our standard business model is an excellent way for technology companies to gain access to our technology. Nobody has to buy the company."
With more than 660 different licensees for its "macros" — core designs that customers such as Nvidia, Marvell, Qualcomm, and Samsung build their chips around — ARM is believed to have about 98 percent of the world's cellphone market. As the company explained in its Q4 2009 earnings report last February, each phone shipped during the quarter contained an average of 2.4 ARM-based chips. In other words, ARM chips are found not just in smartphone CPUs, but also in microcontrollers, radios, and other necessary components.

Thanks to their relatively low power consumption, ARM chips are key ingredients not only in smartphones, but also for any tablet PC whose designer wants to match the 10-hour battery life of Apple's iPad (right). x86-based alternatives such as HP's Slate have approximately half the battery life, and will be at a disadvantage until Intel finally releases its long-promised "Moorestown" version of the Atom later this year.
For a company as notoriously secretive and dictatorial as Apple — which already owns the chip foundry PA Semi — to gain control of ARM could cast a pall over the industry. Possibly raising antitrust concerns in many localities, such an acquisition likely would also send many present ARM customers screaming into the arms of Intel.
East reminded Guardian writer Katie Allen that, for much less than it would pay to purchase ARM Holdings, Apple can merely continue to license the company's designs and create its own customized extensions, as it is believed to have done for the "A4" CPU in the iPad. The Cupertino-manufacturer currently uses Samsung-manufactured ARM application processors in its iPhone and iPod Touch, but will move to an in-house CPU for this year's iPhone 4G, The Korea Times reported this week.
ARM's recent results
According to ARM, Q4 2009 saw 25 new processor licenses being signed, 19 of them involving "non-mobile" digital products such as automotive, consumer entertainment, microcontrollers, printers, networking, smartcards, and SSDs (solid state drives). Due in part to sales of Cortex-M class devices, ARM-based microcontroller sales grew 60 percent sequentially, outpacing the 20 percent growth seen in the overall microcontroller market, the company stated. Meanwhile, shipments of ARM-based smartcards were said to be up 100 percent.
ARM said its revenue for the quarter was $140 million, and $489.5 million for the year overall, both representing 10 percent declines over the same time periods in 2008. But, the company told investors, this was higher than expectations, and outstripped a 20 percent fall in global demands for all semiconductors.
According to ARM, the number of Cortex-based chips shipped during Q4 2009 more than doubled compared to the previous quarter. These high-end products, such as the Cortex-A8 and the Cortex-A9, now represent two percent of total shipments, the company says. ARM added that ARM11 products have reached five percent of shipments, but ARM7 and ARM9 products still predominate, with 57 percent and 36 percent shares, respectively.
In a February conference call for investors, East outlined three new processor core designs, codenamed "Eagle, "Heron," and "Merlin," that will be unveiled during the next 12 to 18 months. Heron is apparently an upgrade to the Cortex-R class of processors, used in such things as engine management systems, inkjet printers, and hard disk drives, while Merlin is an upgrade to the Cortex-M family, used in microcontrollers.
But, East added, "Eagle … takes our application processor products onto yet another level of high performance." According to previous reports, Eagle will include a multi-core main processor, "high-end" graphics, and power usage that can be kept down by using Global Foundries' 28nm production process.
East noted in February that ARM11 processors dominate the e-reader market, and added that a number of tablet devices with ARM processors were shown off at the Consumer Electronics Show (CES) in Las Vegas. Asked in a subsequent CNBC interview about Apple's recently announced iPad, East declined to confirm that Apple employed an ARM core in the device's "A4" processor. But, he said, "What they've done … is introduce a new product category that we see as an area of huge growth potential for us," he said.

A February CNBC interview with ARM Holdings CEO Warren East
(click to play)
Further information
Further details of ARM's February earnings report may be found on the company's website, here, and a transcript of the earnings call for investors can be found on the Seeking Alpha website, here.
CNBC's interview with Warren East may be found here.
---
This article was originally published on LinuxDevices.com and has been donated to the open source community by QuinStreet Inc. Please visit LinuxToday.com for up-to-date news and articles about Linux and open source.