Jan 2, 2012 — by Eric Brown — from the LinuxDevices Archive — 6 views
Intel announced the availability of its 32nm "Cedar Trail" Atom processors, due to appear in products starting in early 2012 — although Digitimes claims the chips have met with tepid demand. The dual-core Atom N2600 (1.6GHz, 3.5 Watt TDP) and N2800 (1.86GHz, 6.5 Watts) target netbooks, while the dual-core Atom D2500 and D2700 clock to 1.86GHz and 2.13GHz, respectively, and aim for entry-level desktops.
Intel briefly tipped its 32-nanometer fabricated "Cedar Trail" line of Atom processors in April 2010, promoting them for their smaller sizes and lower power consumption. In October, the chip maker quietly posted some further details, confirming some information that had leaked in the interim, including the product names.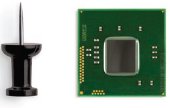 Intel has now announced availability and posted full spec sheets for the four "Cedar Trail" variants, available in the links at the end of this article. We'll focus primarily on the two netbook-oriented N-Series processors (pictured alongside a thumbtack at right) as opposed to the D-Series, which target entry-level desktops and all-in-one designs.
Intel has confirmed previous details, some of which are noted in the table below. The chips are said to be more video-savvy, featuring Blu-ray 2.0 support, a dedicated media engine for 1080p playback, plus additional video options, including Intel Wireless Display, DisplayPort, and HDMI. As previously revealed, the processors stick with the same NM10 Express chipset used with earlier Atoms.
Systems based on the Cedar Trail processors will be available in early 2012 from OEMs including Acer, Asus, HP, Lenovo, Samsung, and Toshiba, says Intel.
20 percent greater power efficiency
The key enhancements over earlier Atoms that targeted netbooks — such as the 45nm single-core N455 and D425, and dual-core D525 — include greater power efficiency and improved graphics. Power consumption is said to have been reduced by up to 20 percent compared with the "previous platform." The Cedar Trail processors support up to 10 hours of battery life and weeks of standby, claims the company.
The Atom N2600 clocks to 1.6GHz and offers a mere 3.5 Watt TDP, while the N2800 clocks to 1.86GHz and offers a 6.5 Watt TDP, according to Intel. (By comparison, the N455 has a 5.5 Watt TDP, and the dual-core D525 is rated at 13 Watts.)
The new dual-core Atom D2500 and D2700 will be clocked at 1.86GHz and 2.13GHz, respectively, says Intel. They are each said to offer TDPs of 10 Watts.
| | | | | |
| --- | --- | --- | --- | --- |
| Model | Clock speed | Cores/threads | TDP | Price |
| D2500 | 1.86 GHz | 2/2 | 10W | $42 |
| D2700 | 2.13 GHz | 2/4 | 10W | $52 |
| N2600 | 1.6 GHz | 2/4 | 3.5W | $42 |
| N2800 | 1.86GHz | 2/4 | 6.5W | $47 |
Intel's D- and N-series "Cedar Trail" Atoms
The new product pages make no mention of maximum clock speeds beyond the above stated limits. However, Intel's
PDF-formatted data sheet for Cedar Trail
posted in October indicates that the processors can be clocked upwards. The N2600 and N2800 can potentially jump from their official 1.6/1.86GHz rates to 1.86/2.13GHz, while the D2500 and D2700 may be bumped from 1.86GHz or 2.13GHz to 2.13GHz/2.4GHz, according to that document (see chart below).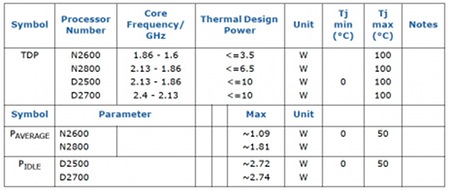 Clock speeds for Intel's new Cedar Trail Atoms
Source: Intel
(Click to enlarge)
The 1.6GHz N2600 and 1.86GHz N2800 each offer a 22 x 22mm processor package size and a 17 x 17mm chipset package size, and support a compact FGCBGA559 socket, says Intel. As a result, the processors are said to support thinner netbook designs.
Both N-Series chips provide two cores supporting four threads, and offer 1MB of L2 cache memory, says Intel. They are each said to supply a 64-bit instruction set with SSE2, SSE3, and SSSE3 extensions.
The N2600 supports up to 2GB of DDR3 memory, while the N2800 extends that to 4GB, both via single memory channels, says the company. Memory speeds are said to reach 800MHz and 1066MHz, respectively.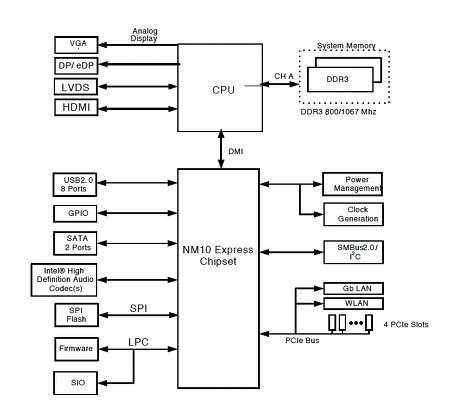 A block diagram of the Cedar Trail platform
Source: Intel
(Click to enlarge)
Both N-Series processors integrate the Intel Graphics Media Accelerator graphic engine, but the N2600 uses the 3600 version, clocked at 400MHz, while the N2800 offers the 3650 engine, clocked to 640MHz. In either case, graphics performance is twice that of the "previous-generation platform," says Intel.
The Cedar Trail Atoms offer a dedicated media engine enabling 1080p playback of videos and Blu-ray content, says Intel. Display and output options are said to include HDMI, DisplayPort, eDisplayPort, LVDS, VGA, and dual digital displays.
Wireless streaming and fast boot modes
The processors support new technologies including Intel Wireless Display and Intel Wireless Music. Together, these technologies enable users to share videos or photos wirelessly "from their netbooks to a television, or stream music through their home stereo speakers," says the company.
Additional features are said to include Smart Connect Technology, enabling users to have a fast-boot, instant Internet connection as soon as they open their netbook. This alternative boot system provides features such as email, Twitter, and RSS feeds, all automatically updated, even in sleep mode, says the company.
In addition, Intel's Rapid Start technology is said to enable fast resume from standby mode, while helping to conserve battery life. Other power management features include Intel Deeper Sleep and Intel SpeedStep.
Operating system support for the Cedar Trail processors includes a variety of Windows- and Linux-based platforms, as well as Wind River VxWorks. These include the Linux-based MeeGo, Tizen, and Yocto platforms, as well as Microsoft's Windows Embedded Standard 7, Windows XP and XPe, and Windows Embedded Compact, says Intel.
While netbooks and entry-level desktop systems are the main focus for the Cedar Trail processors, they can also be used in health care equipment, retail systems, and entry-level digital signage, says Intel. Arbor will release a new patient infotainment bedside terminal, based on the Atom N2800, and NCR Corp. plans to launch a point of sale (POS) terminal based on the D2700 in the first quarter of 2012, says the chip maker.
Cedar Trail already in trouble, says report
It's interesting that Intel still uses the netbook terminology in its Cedar Trail N-Series announcement, despite the sluggish demand for the once popular compact notebooks. The company has lately been pushing the Ultrabook concept isntead, which defines ultra-slim notebooks that run on more powerful "Sandy Bridge" Core processors. Nevertheless, Intel liberally uses the "netbook" term in relation to the N-Series.
According to a Dec. 26 Digitimes report, the Cedar Trail line is already in trouble due to low market demand, related to low demand for netbooks. Accordingly, in addition to targeting tablets and smartphones with its upcoming "Medfield" Atom processors, Intel is shifting its Atom focus to network-attached storage (NAS) devices and entry-level servers in the second quarter of 2012, says the report.
A new line of NAS- and server-focused "Centerton" Atom processors will be fabricated with the same 32nm process as the Cedar Trail Atoms, says the story. Both will be available in a system on chip (SoC) design.
Availability
The Cedar Trail Atom processors are available now to OEMs, says Intel. More information may be found on the following product pages:
---
This article was originally published on LinuxDevices.com and has been donated to the open source community by QuinStreet Inc. Please visit LinuxToday.com for up-to-date news and articles about Linux and open source.