Sep 12, 2011 — by Eric Brown — from the LinuxDevices Archive — views
Intel has tipped upcoming support for Android 2.3x ("Gingerbread") on its Atom E6xx processor and denied rumors it is discontinuing support for the MeeGo project. Meanwhile, HTC is said to be considering acquiring its own operating system, but Samsung says it won't be acquiring MeeGo, say two other industry reports.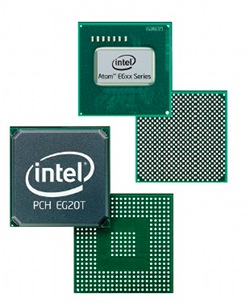 Intel posted a YouTube video on its Intel Atom E6xx processor (pictured), revealing that the E6xx will be ready to run a version of Android 2.3x ("Gingerbread") in Jan. 2012 (see video farther below). As noted by "Chippy" on CarryPad, which picked up early on the Intel video, "It seems clear now that this could be an open source version of Gingerbread for Atom that third parties can use in their products. This brings the possibility of Oaktrail tablets that run a nicely optimized and extended-battery-life Android OS."
Once the E6xx gets the Gingerbread port, this might soon be extended to other Intel Atom platforms including Menlow, Oak Trail, Moorestown (Atom Z6xx), and possibly even Cedar Trail, notes the story.
The x86-based Atom processor has been previously matched up with Android in various implementations over the last year, including Google TV devices (see farther below). However, the tipped E6xx Gingerbread release due in January would appear to be the first full-fledged, widely available version of Android that can run on Atom-based phones, tablets, and other devices.
A universal Android-on-Atom release is also suggested in the choice of Gingerbread over Honeycomb (Android 3.x). The upcoming, Intel Atom-based Google TV 2.0 will switch to a tablet-oriented Honeycomb platform instead of the current smartphone-focused Android 2.2 build.
The Intel video also lists other operating systems that will be supported by the E6xxx, including MeeGo and Fedora Core versions of Linux, and Timesys Fedora Remix, a version of the netbook-oriented Fedora Remix that has apparently been developed by Timesys. Windows 7, XP, and Windows Embedded operating systems are also said to be supported.
Android and the Atom: a short history
Android has already been ported to the Intel Atom in various ways, but there has yet to be a fully configured native port, nor has the Atom been much used in Android-only products.
As far back as 2009, the community-based Android-x86 project began porting Android to the x86 platform, and it recently released a test build for Gingerbread. In April 2010 Intel achieved a preliminary Android port to an Intel Atom-based smartphone prototype, according to reports at the time.

In June of that year, Acer announced the Acer Aspire One D260, a dual-boot netbook running Windows 7 and Android on an Intel Atom N450 or N455. However, the Android implementation was a stripped-down, fast-boot version of Android.
Also in June 2010, Intel SVP Renee James revealed to APC that it was developing an x86 port of Android that would be available to developers later that year.

Indeed Intel ported a version of Android to the Atom CE4100 system on chip (SoC) in the first Google TV products that emerged last fall. These include the Logitech Revue set-top box (pictured) and Sony Internet TVs. However, these were bare-bones implementations dedicated to IPTV functionality and lacking in numerous Android features.
Around the same time, Finnish mobile firm Aava Mobile announced Virta Android, billed as the first Android development platform for the Intel Atom Z6xx ("Moorestown") SoC.
Since then, several dual-boot Android/Windows tablets running on Atom processors have been released, such as the ViewSonic 10. In February of this year, ViewSonic followed up with a ViewPad 10Pro, which runs on the newer, more power efficient Intel Atom Z670 "Oak Trail" processor. In August, E-King announced a Talent T9 tablet running on the Z670 that will reportedly be offered with Windows 7, Android, or MeeGo operating systems (OSes).
In April of this year, DigiTimes claimed that Intel was planning to pay a $10-per-device subsidy to encourage the creation of Android tablets using its Oak Trail Atoms.
Intel E6xx promo video on YouTube


Source: Intel Corp.
(Click to play)
Intel: still behind MeeGo
The revelation that the E6xx will offer Android support in January adds further fuel to the speculation that Intel is backing away from its Linux-based MeeGo operating system and moving closer to Android. But on Sept. 8, Doug Fisher, general manager of Intel's Systems Software Division, told a press and analyst briefing there was no truth to the rumor that Intel was planning to pull the plug on its MeeGo development, according to PCWorld.
Intel is "fully committed" to MeeGo, Fisher was quoted as saying. "We're very open to other companies participating and helping us shape the next version of an open platform," he added. Fisher was said to have declined to comment on speculation that Samsung might purchase MeeGo development resources from the semiconductor giant.
Samsung: not buying MeeGo
A day later, on Sept. 9, Samsung representative James Chung told CNET that his company would not be acquiring MeeGo. "Meego is an open-source project which cannot be a target of acquisition," Chung was quoted as saying.
Indeed, as we pointed out in our earlier coverage of the Samsung rumor, unlike the proprietary, although Linux-based, WebOS — which appears to be up for sale by HP — MeeGo is an open source project run by the Linux Foundation, and cannot be sold. What could be sold is Intel's extensive, internal MeeGo development resources. Intel's resources represented the major force behind the mobile operating system, even before Nokia abandoned the project for Windows Phone.
Apparently, CNET did not ask whether Samsung might acquire Intel's MeeGo resources, so Chung may be playing coy here while also educating the world about the nature of open source. Yet, it would appear that Samsung will not aim for a MeeGo strategy, even if it does end up acquiring some staff or technology.
Samsung already announced that it would not buy WebOS, but will instead focus on its own Bada operating system, which can run on a Linux kernel or a real-time operating system such as Nucleus.
HTC may be in OS hunt
If Samsung isn't interested in acquiring WebOS or MeeGo assets, HTC may take its place, according to Taiwan's Central News Agency. HTC chairwoman Cher Wang said the consumer electronics giant is considering buying an OS, but is in no rush, says the story, which is based on an interview with Wang by China's Economic Observer.

"We have given it thought and we have discussed it internally, but we will not do it on impulse," Wang was quoted as saying. She went on to note that HTC wants to support multiple operating system with a goal of offering its HTC Sense UI layer running on all of them.
So far, however, aside from offering some Windows Phone models — such as the 4.7-inch HTC Titan smartphone announced by AT&T Sept. 12 — HTC has focused almost exclusively on Android in recent years. The manufacturer has profited handsomely from this arrangement via hot-selling phones such as the Droid Incredible (pictured).
However, increasing Android-related lawsuits, as well as Google's plans to acquire Motorola Mobility could lead major Android OEM vendors to hedge their bets with an in-house OS, analysts have speculated.
Wang reiterated her company's support for Android and for Google's Motorola acquisition plans. She told the Economic Observer HTC had made the "correct" decision by Google, due to Motorola's extensive patents.
Last week, Google sold a number of its own mobile patents to HTC to help the company in its defense against an Android-related lawsuit from Apple. HTC earlier settled with Microsoft over Android-related patents, giving Microsoft a bit of easy income in patent royalties.
---
This article was originally published on LinuxDevices.com and has been donated to the open source community by QuinStreet Inc. Please visit LinuxToday.com for up-to-date news and articles about Linux and open source.