Sep 29, 2011 — by Eric Brown — from the LinuxDevices Archive — 7 views
Nokia is developing a new Linux-based "Meltemi" operating systems to replace Symbian on its feature phones, according to the Wall Street Journal. Meanwhile, more details have emerged on the Linux Foundation's MeeGo-derived Tizen project, which also gained a bit of industry support beyond co-sponsors Intel and Samsung.

Despite shipping the MeeGo-based Nokia N9 (pictured) in Europe this week, Nokia has ended its commitment to the Linux-based mobile operating system, having shifted its high-end smartphone strategy to Windows Phone earlier this year. As for MeeGo, it's now apparently heading for extinction –but not before being stripped of parts for a new HTML5-based Tizen open source Linux OS that also incorporates key components from the LiMo spec.
Project leaders now say a significant portion of MeeGo will move to Tizen (see farther below).
One might have expected Nokia to eschew its interest in Linux entirely now that it's a tight partner with Microsoft, but the Wall Street Journal reports the Finnish phone vendor is now working on another new Linux-based OS. "Meltemi" is expected to run on its feature phones in place of the aging Symbian, says the story.
The Meltemi project is being led by Nokia Executive Vice President Mary McDowell, a source told the publication. Nokia declined to comment to the WSJ, which offered few additional details.
In April, Nokia CEO Stephen Elop was said to have mentioned a Meltemi project in a leaked memo picked up by the Register. At the time, Meltemi was considered to be related to Windows Phone, however. Now, it appears that Meltemi may instead be an offshoot of Nokia's long-time Maemo Linux project, but aimed at feature phones instead of mini-tablets and high-end smartphones.
It appears that Meltemi will similarly support Nokia's Qt cross-platform development framework. Maemo and Qt formed the basis for MeeGo along with Intel's Moblin Linux project. Qt's future in the new MeeGo-derived Tizen appears to be unlikely, however.
Meltemi is a Greek word for dry summer winds from the north. A MyNokiaBlog story responding to the WSJ item notes that previous Maemo releases have been code-named with wind-themed names, such as "Harmattan" (Maemo 6). The story goes on to speculate that Meltemi could be targeted at Nokia's S40 phones and will feature elements from Qt, MeeGo, and Maemo.
Tizen to offer some MeeGo interoperability
The Linux Foundation and LiMo Foundation left a lot of questions unanswered in their Sept. 27 announcement of an HTML5-focused, Linux-based project called Tizen. MeeGo project leader Imad Sousou made it clear in a MeeGo blog posting that MeeGo would be discontinued in favor of Tizen, but said that unstated parts of MeeGo would be contributed to the project.
Co-steered by Intel and Samsung, Tizen will also incorporate components from the smartphone-oriented LiMo spec, and the carrier-backed Wholesale Applications Community interoperability standard.
Now Sousou, who is director of the Intel Open Source Technology Center, has dropped some more hints about Tizen in a discussion with PCWorld. Applications written for Meego netbooks will work on devices running Tizen, Sousou told the publication. Because Meego netbooks are "fairly well-established," Intel will add APIs (application programming interfaces) to ensure compatibility, he was quoted as saying.
MeeGo apps written for smartphones, however, won't work on Tizen devices, he added.
Tizen will reuse a fair amount of Meego, including the file system and the underlying Linux OS distribution, according to Sousou. Other features that are already shared between Meego and LiMo (Linux Mobile), including much of the middleware and the connection management system, will also become part of Tizen, SouSou told PCWorld.
"Meego and the work done primarily by Samsung and LiMo have somewhat the same roots," Sousou was quoted as saying.

LiMo Foundation member Samsung developed one of the most high-profile LiMo phones in the Vodafone 360 H1 (pictured) in 2009. Over the last two years, however, it has instead thrived on Android while also doing well with its lower-end, Bada operating system (which can run on either a Linux kernel or a real-time operating system like Nucleus).
Samsung is also hedging its bets with Windows Phone, having just announced an Omnia W "Mango" (Windows 7.5) smartphone the same week it agreed to pay Microsoft royalties on all of its Android smartphones and tablets.
The Tizen project is structured so that no single entity can control the development or block another company from contributing, Sousou told the publication. He added that this should encourage participation from companies that may be competitors to Samsung and Intel.
It should be noted, however, that this is essentially the same argument that was promoted by the LiMo Foundation for its now largely ignored LiMo middleware spec. Mobile vendors instead threw in their lot with Google and its Android OS, leaving LiMo behind, despite some modest successes in low-end Japanese smartphones from NEC and Panasonic.
Android is more popular than ever, reaching a commanding 43 percent of U.S. smartphone share, according to a Nielsen survey last week. Yet, with Google potentially tightening the reigns on Android with its pending acquisition of Motorola, some vendors may be considering the old LiMo argument anew.
Tizen gains some supporters
Samsung's involvement in Tizen is setting the tone for the project, and it's unlikely we'll see many more major hardware vendors signing up until more is known about the project. However, Tizen's announcement received some support from some smaller players. Ixonos, Elektrobit, Nomovok, Cybercom, and TDi have all provided testimonials for Tizen.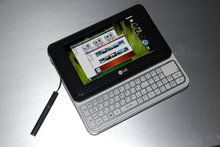 All these companies are from Scandinavia, the home turf of Nokia, which abandoned MeeGo. Finland-based Elektrobit (EB) developed the first Moblin-based MID reference design to run Intel's Moorestown (later, the Z6xx) version of the Atom. More recently, it developed an Android-based reference design for vertical-market smartphones and tablets called the EB Specialized Device Platform.
Stated Kari Happonen, president and CEO of Finnish mobile Linux software developer Ixonos, "We strongly believe that there is a resounding need for a globally uniform open software platform. Tizen offers the industry and its players interesting opportunities."
Stated Hannu Huttunen, president of Elektrobit Wireless Business Segment, "We feel that with our competence of delivering turnkey smartphones, this new initiative gives us the potential to help OEMs and Operators to help bring Tizen devices to the market."
---
This article was originally published on LinuxDevices.com and has been donated to the open source community by QuinStreet Inc. Please visit LinuxToday.com for up-to-date news and articles about Linux and open source.