Nov 15, 2010 — by Eric Brown — from the LinuxDevices Archive — views
At the MeeGo Conference 2010 today, chipmaker AMD announced it has joined The Linux Foundation's MeeGo open source Linux project. Meanwhile, Sweden-based open source automotive infotainment software developer Pelagicore announced it has joined the Linux Foundation and is collaborating on MeeGo and its Genivi-compliant In-Vehicle Infotainment (IVI) reference design.
AMD, which is currently a gold level member of the Linux Foundation (LF) and has a seat on the LF's board of directors, says it is joining the non-profit advocacy organization's MeeGo project to "provide engineering expertise intended to help establish the technical foundations for next-generation mobile platforms and embedded devices."
The new membership represents an entry into a project that is dominated, at least on the x86 side, by rival chipmaker Intel. The AMD announcement, as well as the Pelagicore announcement below, was made at the MeeGo Conference 2010, which kicked off in Dublin, Ireland today, running through Wednesday.
Among other things, the MeeGo conference will offer an opportunity for a closer look at the recently announced MeeGo 1.1 operating system, which includes major upgrades for the Netbook, IVI, and Handset user experience (UX) stacks.
The open source MeeGo project is a merger between the Moblin and Maemo mobile Linux operating systems. Although run by the Linux Foundation, it represents a partnership between Intel and Nokia, and targets both x86 and ARM architectures, with efforts for the latter platform focusing initially on the Nokia N900 smartphone.
AMD sees MeeGo integration with APUs
According to a statement from Ben Bar-Haim, corporate vice president, software development at AMD, MeeGo "will help drive our embedded plans and create expanded market opportunities for our forthcoming Accelerated Processing Units."
AMD's recently announced Accelerated Processing Unit (APU) technology combines CPU and GPU (graphics processing unit) technologies on a single die. The first AMD Fusion APUs, which combine "DirectX 11-capable graphics processors and next-generation microprocessors on a single chip," are set for availability to OEMs in early 2011, said AMD.
While the APUs will be applied throughout much of AMD's product line, they appear to be key to the company's strategy for developing processor solutions for netbooks and smaller mobile devices.
For example, at the same event, the company announced a 2012 road map that included the "Krishna" and "Wichita" processors. These two- and four-core 28nm chips, respectively, are based on its "Bobcat" CPU cores as well as a DirectX 11-capable GPU, designed for the tablet, notebook, HD netbook, and desktop form factors.
Like the Intel Atom, AMD's Bobcat is designed to work with portable devices and ultra-thin laptops. Unlike the Atom, Bobcat offers an out-of-order execution engine, which breaks data apart and allows for instructions to run in parallel, as well as offering improved performance, says AMD. In addition, AMD says the chip can run with a sub-one watt thermal envelope.
So far, aside from the ARM Cortex based N900, all of the announced products running MeeGo offer one of several versions of the Intel Atom, including the Z6xx ("Moorestown").
Stated Bar-Haim, "MeeGo represents an exciting, open-source mobile operating system we expect to be adopted by mobile and embedded device makers over time."
Stated Jim Zemlin, executive director at The Linux Foundation, "As an existing Linux Foundation member, AMD will be an important and valuable contributor to the MeeGo Project."
Pelagicore joins LF, pushing MeeGo IVI technology
Also at the MeeGo Conference 2010, the Linux Foundation announced that Swedish open source automotive software firm Pelagicore had joined the organization after previously playing a key role in the development of the MeeGo 1.1 IVI (In-Vehicle Infotainment) UX.
Pelagicore aims to collaborate specifically on MeeGo and its upcoming In-Vehicle Infotainment (IVI) reference design. The Genivi Alliance industry group, of which Pelagicore is a Core member, announced in July that it had selected MeeGo as the basis of its next Intel Atom-based "Apollo" IVI reference release. At the time, new member Hyundai said it was planning on developing an ARM reference platform for IVI, although this appear to be further off.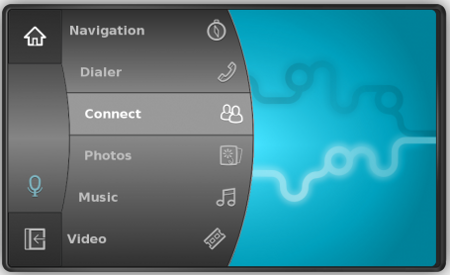 MeeGo IVI UX

1.1 main screen, with carousel interface
The reference platform will feature the MeeGo IVI UX, which was released as
version 1.0
in August. In late October, a far more polished
version 1.1
of the IVI UX (pictured above) shipped with MeeGo 1.1.
Pelagicore is "a leading contributor" to MeeGo's IVI reference design, according to the LF. Specifically, the company last month released a Qt-based IVI user experience for MeeGo called Qt for IVI. This will be joined with Nokia's "Terminal Mode" technology for integrating mobile applications into the car environment. Nokia is working with the Consumer Electronics For Automotive Group (CE4A) on an industry standard approach for Terminal Mode, says the LF.
The combination of MeeGo, Qt for IVI, and Terminal Mode "extends the capabilities of IVI with the ability to update during the life of the vehicle, enhancing the usability of mobile device capabilities in the automotive environment," says the LF.
Stated Mikael Soederberg, CTO at Pelagicore, "This market is maturing fast, and we're in a position to help accelerate Linux' dominance in IVI-based devices by contributing to MeeGo and other Linux development efforts hosted by The Linux Foundation."
Stated Amanda McPherson, vice president of marketing and developer programs at the Linux Foundation, "As the automotive industry evolves to include more and more real-time information in vehicles, companies like Pelagicore are using Linux and open source as the enabling technologies."
Availability
The Linux Foundation's Rudolf Streif is presenting a session entitled "MeeGo IVI: In-Vehicle Infotainment for Connected Mobility" this afternoon at the MeeGo Conference 2010 at 2:45PM in Dublin, Ireland. More information, may be found here.
More information on Pelagicore may be found at its still fairly seminal website, here.
---
This article was originally published on LinuxDevices.com and has been donated to the open source community by QuinStreet Inc. Please visit LinuxToday.com for up-to-date news and articles about Linux and open source.