Jun 3, 2010 — by Eric Brown — from the LinuxDevices Archive — 1 views
The MeeGo Linux operating system for mobile devices gained additional software support at the Computex show this week in Taiwan. Novell and Linpus both announced MeeGo-based netbook distributions, Movial announced a "MeeGo Services" offering, and Telefonica weighed in with support for the open source platform.
In April, the MeeGo project announced a wide range of supporting partners, including most major Linux desktop distro vendors except for Canonical (Ubuntu). Last week, MeeGo v1.0 for Netbooks was released, but was not offered in a full standalone distribution image.
If a full MeeGo Linux distro has yet to be released, at least two should be arriving fairly soon: This week at Computex, both Novell and Linpus announced MeeGo editions of their formerly Moblin-compatible netbook distros (see farther below).
Other vendors of Linux desktop and fast-boot distros that have announced generic support for MeeGo include Asianux, DeviceVM, Linpus, Mandriva, Metasys, Miracle, Novell, PixArt, Red Flag, TurboLinux, WTEC, and Xandros. Fedora was not part of the list, but has also been said to be working on MeeGo support.
Also at Computex, prototype MeeGo tablets running on Intel's Atom Z6xx ("Moorestown") system-on-chip were shown by Wistron, Compal, Quanta, and CZC, while Acer said it would offer MeeGo on both netbooks and tablets.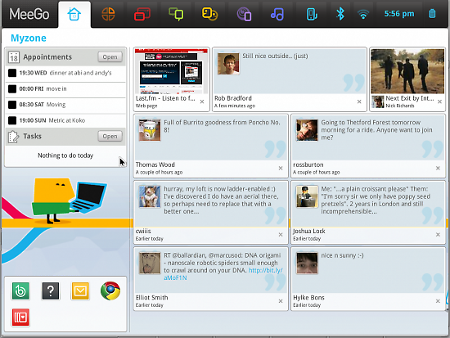 MeeGo Netbook Myzone main screen
(Click to enlarge)
MeeGo also received a bit of support this week from a new ARM-focused Linux development company called
Linaro
. Jointly owned by ARM, Freescale, IBM, Samsung, ST-Ericsson, and Texas Instruments, Linaro will initially support ARM Cortex-A tools on distros including Android, LiMo, MeeGo, Ubuntu, and WebOS.
It's said the company will develop standardized, open source Linux tools, kernel, and middleware software for consumer electronics, and will make use of Canonical's LaunchPad development platform used by Ubuntu developers.
Novell SUSE MeeGo
This week, Novell announced it is releasing SUSE MeeGo for netbooks to OEMs for eventual release on netbooks and other mobile devices "in the next twelve months." SUSE MeeGo is built on the MeeGo v1.0 for Netbooks codestream, says the company.
Novell has been a major contributor to the Moblin project, and is now a key participant in the development of MeeGo, says Novell. In January, the company said MSI would offer its Intel Atom N450-based U135 netbook (pictured) with SUSE Moblin Linux v2.1. Samsung will also employ SUSE Moblin, says Novell.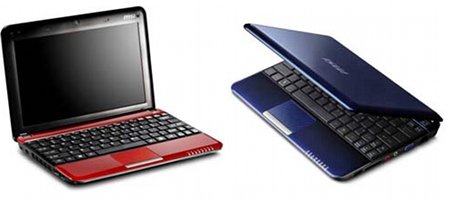 MSI U135
Stated Guy Lunardi, director of Client Preloads at Novell, "Our experience as the leading commercial provider of desktop Linux environments — from thin clients, to workstations, through netbooks, notebooks and desktop devices — puts us in a great position to deliver SUSE MeeGo to a broad base of original equipment and device manufacturers."
Linpus Lite for MeeGo
Taiwan-based Linpus was another major Moblin supporter, and this week the company announced a MeeGo version of its Moblin netbook distro, Linpus Linux Lite. As with SUSE MeeGo, Linpus Linux Lite for MeeGo is optimized for the Intel Atom processor.

Based on a Linpus Linux desktop distro that first started shipping back in 2001, Linpus Lite has been made available on the Acer Aspire One (pictured) among other netbooks.
Linpus Lite for MeeGo offers improved social networking support with sites like Flickr and MySpace, says Linpus. MeeGo's improved power management features, meanwhile, can bring power savings of around 15 to 20 percent over the Moblin version, says the company. Other MeeGo features offered by Linpus Lite are said to include an improved network manager and faster boot times.
Linpus Lite for MeeGo provides improved dual-boot capabilities for Linux/Windows hybrid installations, as well as enhanced peripheral support, says the company. Partitions of USB drives are now said to be alphabetically labeled, and easier to find, and users can easily switch between keyboards for four different languages. A new LiveUpdate function delivers device-specific patches, upgrades, and new applications, says Linpus.
The company offered no time-table for the release of the MeeGo version, but once again, this appears to be primarily an ODM-oriented distribution.
Stated Rita Jing, VP of sales, Linpus, "The combination of the Moblin and Maemo projects into MeeGo clearly creates a more powerful, flexible open source community and platform. Linpus Lite for MeeGo will benefit and so will our clients."
Movial MeeGo Services
This week, Movial announced its "MeeGo Services" for cross-device and cross-architecture development. Movial also announced MeeGo versions of its Qt WebKit-based IXS Browser, its IXS Widgets multiplatform widget runtime, and its Movial Communicator application suite.
Movial has a long history of working with Nokia's Maemo and Qt, the two other MeeGo technology foundations, and has also contributed to Moblin. Movial has been involved in our 100 projects that included at least one of the three technologies, says the company.
Movial's end-to-end MeeGo Services are said to include:
Graphic acceleration, UI optimization, and custom UI design
Qt application development and porting to MeeGo
Qt widgets and custom widget development, and porting to MeeGo
Integration of IMS, RCS clients, VoIP, and video calling to MeeGo
Addition of new native services to the MeeGo platform
Solutions to hardware-specific problems and porting issues
Flash 10 enablement and certification on both SoC hardware platforms and end-user devices
MeeGo/hardware integration and optimization
Integration of hardware peripherals
Stated Tomi Rauste, president, Movial Creative Technologies, "Competitive netbook, tablet, mobile devices, in-vehicle infotainment, connected TV and media phone manufacturers requiring MeeGo design and integration support, need look no further than Movial's highly skilled and experienced designers and engineers."
Telefonica explores MeeGo involvement
In early March, Intel and European mobile operator Orange announced an agreement to deliver Orange multimedia services for Intel Atom-based devices running MeeGo, and in April China-based Internet service portal Tencent announced a somewhat similar deal. This week, Spanish mobile operator Telefonica piled on, announcing a MeeGo pact, this time with both Intel and Nokia.
Like Orange and Tencent, Telefonica cited interest in deploying MeeGo on smartphones, netbooks, and tablets, but the company also mentioned Internet-connected TVs. The deal appears to be more exploratory at this stage than the Intel/Orange pact, as Telefonica says only that it will "jointly explore with Intel and Nokia how to leverage MeeGo's capabilities."
Telefonica's networks reach over 265 million customers in 25 countries in Europe and Latin America under the Movistar and O2 brands, says the company.
Stated Vivek Dev, Group Director of Innovation at Telefonica, "MeeGo's cross-platform approach and its focus on enabling the fast development of innovative applications, combined with its open source nature, are clearly supportive to our goals of reducing complexity and harnessing the potential of next-generation converging services."
MeeGo background
Intel and Nokia announced MeeGo in February. Hosted by the Linux Foundation, MeeGo combines two open source Linux projects: the Intel-backed Moblin and the Nokia-backed Maemo. In early April, the project released some early MeeGo code and announced reference platforms, including Intel Atom-based netbooks, the ARM Cortex-A8- and Maemo-based Nokia N900 smartphone, and Aava Mobile's Moorestown-based Aava phone design.
The stable new netbook environment released last week for MeeGo will be joined by tablet and handset versions in the fall. Other environments such as TV- and automotive-related distributions will follow.
Availability
Novell, Linpus, and Movial will all be demonstrating their MeeGo-based products at Computex through tomorrow.
More information on Novell's SUSE Moblin and SUSE MeeGo may be found here. More information on the Moblin version of Linpus Lite 1.3 may be found here. More information on Movial's MeeGo Services may be found here.
More information on MeeGo may be found here.
---
This article was originally published on LinuxDevices.com and has been donated to the open source community by QuinStreet Inc. Please visit LinuxToday.com for up-to-date news and articles about Linux and open source.