Jan 11, 2012 — by Eric Brown — from the LinuxDevices Archive — 1 views
At CES, ViewSonic announced a seven-inch ViewPad E70 tablet that runs Android 4.0 on a 1GHz processor and costs a mere $170. The company also unveiled a 9.7-inch ViewPad 10e tablet for $270, a 10.1-inch, dual-boot Windows/Android model (the $849 ViewPad 10pi), and a 3.5-inch ViewPhone 3 (Latin America-bound with Android 2.3).
Vendors of low-cost Android tablets have been stressed in recent months by the arrival of Amazon's $200 Kindle Fire. Despite its relatively basic feature set and walled-garden approach to Android, the Fire offers considerable processing power and screen resolution for the money. To cope, vendors like ViewSonic are lowering prices, cutting corners on features, and churning out endless variations on the basic tablet theme.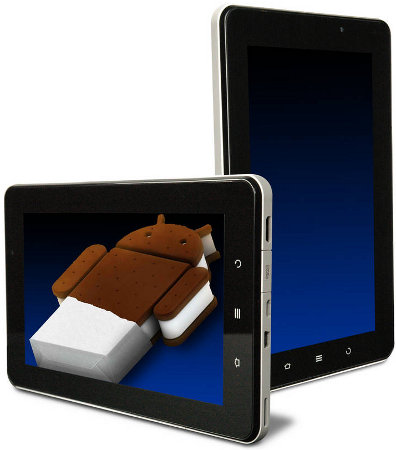 ViewPad E70
(Click to enlarge)
At the CES show in Las Vegas, this week, ViewSonic announced three more Android tablets, including a seven-inch ViewPad E70, which runs Android 4.0 ("Ice Cream Sandwich") and costs just $170. The other two models are 10-inch tablets, including the Android 2.3-based ViewPad 10e ($270) and a ViewPad 10pi ($849) which runs Windows 7 or Android 2.3 on an Intel Atom Z670 processor.
In addition, the company unveiled a ViewPhone 3 Android 2.3 smartphone, which will sell for $279 in Latin America.
ViewPad E70
The ViewPad E70 follows earlier ViewSonic seven-inch tablets such as the ViewBook 730 (which runs Android 2.2) and the more recent, Android 2.3-based ViewPad 7e. There's also a more powerful seven-inch ViewPad 7x, which runs Android 2.3 on a dual-core, 1GHz Nvidia Tegra 2 processor.
Like the 730 and 7e models, the Viewpad E70 settles for a single-core, Cortex-A8 processor clocked at 1GHz. Yet it ships with the latest Android 4.0 release, previously associated only with dual-core processors.
The tablet is further equipped with 4GB of storage plus a 32GB ready microSD slot, says ViewSonic. In addition, the tablet offers Wi-Fi, a front-facing camera, and 1080p HDMI output, says the company. No more technical details were provided.
Considering the Ice Cream Sandwich (ICS) availability, the big news here is the price. The ViewPad e70 will be available late in the first quarter at an ESP of only $170.
If that sounds too good to be true, it is, according to a hands-on report from CES by Gizmodo. First the good news: the E70 is "light and is very easy to hold," writes Brent Rose. Beyond that, the reviewer pretty much trashes the device, although he concedes this is a pre-release version, so things could get better.
Performance was a mixed bag, showing its limitations during multitasking, according to the story. It was the screen, however, that offered the most frustrations. The display had the "worst viewing angles I've ever seen on a tablet," writes Rose. "Pixelation was a problem, and colors were flat, dull, and murky."
As for Android 4.0, it was "all but unrecognizable," and not only because of the poor display, writes Rose. There were skips and crashes among the relatively few apps that were available, he added.
ViewPad 10e
While most of ViewSonic's 10-inch Android tablets have been dual-boot Intel Atom-based models that also feature Windows, the ViewPad 10e is an Android-only ARM-based model. In this, it is similar to ViewSonic's earlier, 10.1-inch G-Tablet, which was equipped with a Tegra 2 processor.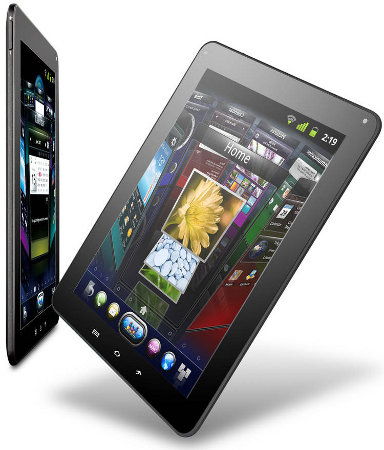 ViewPad 10e
(Click to enlarge)
The ViewPad 10e instead settles for a single-core, 1GHz Cortex-A8 processor, which runs Android 2.3. Also available are 512MB of DDR3 RAM and 4GB of NAND flash storage, says ViewSonic. Its capacitive screen is actually an iPad-like 9.7 inch in-plane switching (IPS) touchscreen with 1024 x 768 resolution, a slight improvement over the G-Tablet.
The device measures 0.26 inches (9.1mm) thick, and weighs 1.37 pounds (0.62 k), according to ViewSonic. The 2700mAh battery delivers up to 5.5 hours of life, and more than 200 hours on standby, says the company.
Wi-Fi and Bluetooth are available, as well as micro-USB, mini-HDMI, and 3.5mm audio ports, says ViewSonic. Speakers, a microphone, and a 1.3-megapixel, front-facing webcam are also said to be available.
Android 2.3 is joined here with the ViewScene 3D user interface, says ViewSonic. Pre-installed apps are said to include the Amazon Kindle Reader, the Amazon App Store for Android, as well as 1Mobile market. The ViewPad 10e has an ESP of $299 and will be available in late January in North America and Latin America.
ViewPad 10pi
The ViewPad 10pi is the latest in ViewSonic's line of 10.1-inch tablets running on the 1.5GHz Intel Atom Z670 ("Oak Trail"). Unlike the company's recent ViewPad 10Pro — essentially a Windows 7 computer that also uses the Bluestacks emulation layer to run Android — the 10pi is a dual-boot system equipped with both Windows 7 and Android 2.3.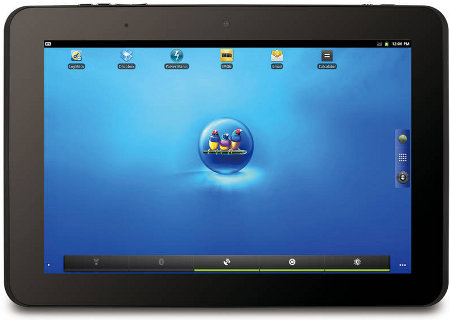 ViewPad 10pi
(Click to enlarge)
The ViewPad 10pi offers a 10.1-inch 1280 x 800 IPS display, and is equipped with 2GB of DDR2 RAM and an internal 64GB solid state drive (SSD), according to the company. Dual cameras, including a 3.2-megapixel model, are included along with dual USB 2.0 ports, an SD card slot, and an audio jack.
The ViewPad 10pi has an ESP of $849 and is available late January in North America, says the company.
ViewPhone 3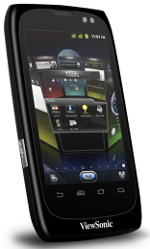 The ViewPhone 3 follows in the path of last September's V350 Android 2.2 phone. Like the V350, the ViewPhone 3 can load two SIM cards, letting users separate work and personal calls, and "providing more freedom and privacy across all networks, including GSM, EDGE and HSDPA," according to ViewSonic.
The ViewPhone 3 is the company's first phone aimed at the Latin American market. It features a 3.5-inch capacitive touchscreen, and runs Android 2.3 on an ARM-based 800MHz processor. The phone has an ESP of $279 and will be available in late Q1 2012, says the company.
---
This article was originally published on LinuxDevices.com and has been donated to the open source community by QuinStreet Inc. Please visit LinuxToday.com for up-to-date news and articles about Linux and open source.