Feb 2, 2012 — by LinuxDevices Staff — from the LinuxDevices Archive — 20 views
Congatec announced a COM Express module that offers a Type 6 pinout — for VGA, LVDS, and DDI (digital display interface) display support — and a choice of six soldered-on Intel "Sandy Bridge" processors. The Conga-TS67 offers up to 16GB of DDR3 memory, has eight USB 2.0 ports and four SATA ports, and has multiple PCI Express expansion lanes, according to the company.
Congatec has already released at least two COM Express modules featuring Intel's "Sandy Bridge" processors. Its Conga-BM67 was an early entrant, introduced in Jan. 2011 with Intel's QM67 Express chipset (block diagram); the Conga-TM67 followed later in the year, offering different CPU choices and a switch from a Type 2 pinout to a Type 6 pinout. (See later for more about pinouts.)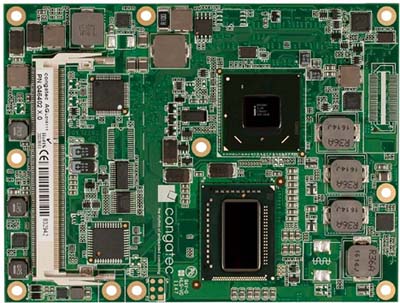 Congatec's Conga-TS67
The new Conga-TS67 (above) again offers a Type 6 pinout and comes with the QM67 Express (or HM65 Express) chipsets. What's different here is that its processors are soldered on, for extra robustness, and TDPs range from 10 to 25 Watts rather than (as on the Conga-TM67) 25 to 45 Watts.
According to Congatec, this 4.9 x 3.7-inch COM Express Basic module is offered with one of six different processors, as follows:
The Conga-TS67 accepts up to 16GB of DDR3 memory via its two SODIMM slots, according to Congatec. Fixed storage is catered for by two 6Gbps SATA ports and two 3Gbps SATA ports, and there are also eight USB 2.0 ports, the company adds.
Thanks to its Type 6 pinout, the Conga-TS67 supports the simultaneous use of dual displays, which may be selected from among multiple types, according to Congatec. Namely, VGA, LVDS, and DDI (digital display interfaces, including SDVO, DisplayPort, HDMI, and DVI).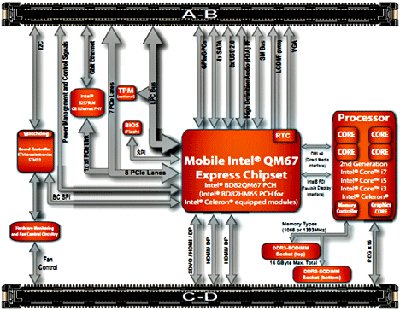 A block diagram of the Conga-TS67
(Click to enlarge)
According to Congatec, the Conga-TS67 has a PCI Express Graphics interface, seven PCI Express Rev. 2.0 lanes (x1, we presume), two ExpressCard interfaces, plus LPC, I2C, and 33MHz PCI buses. A discrete TPM (trusted platform module) is an available option, says the company.
Specifications listed for the Conga-TS67 by Congatec include:
Processor:
Chipset — Intel QM67 Express (HM65 Express on Celeron versions)
Memory — up to 16GB of DDR3 RAM via two SODIMM slots
Storage — 2 x 3.0Gbps SATA ports, 2 x 6.0Gbps SATA ports
Expansion:

1 x PCI Express Graphics
7 x PCI Express
2 x ExpressCard

Networking — gigabit Ethernet
Other I/O:

VGA
LVDS
DDI (SDVO, DisplayPort, HDMI, DVI)
8 x USB 2.0
I2C
LPC

Power requirements — n/s
Operating range — 32 to 140 deg. F
Dimensions — 4.9 x 3.7 inches
More about pinouts
The COM Express Type 1 pinout features one 220-pin connector — the A-B connector — and supports up to eight USB 2.0 ports, up to four SATA or SAS ports, and up to six PCI Express Gen1/Gen2 lanes. It supports dual 24-bit LVDS, an HD audio interface, gigabit Ethernet, plus eight GPIO pins and SPI.
COM Express Type 2, meanwhile, has all the above functionality, but adds a second 220-pin connector (C-D). This allows a 32-bit PCI interface plus IDE ports to support legacy PATA devices such as PATA HDD and CompactFlash memory cards. There are a total of 22 PCI Express lanes (six on the A-B connector and up to 16 on the C-D connector), 16 lanes on the second connector being intended for PCI Express Graphics (PEG).
In September 2011, the PCI Industrial Computer Manufacturers Group (PICMG) adopted the COM Express revision 2.0 spec, ratifying the 3.75 x 3.75 inch COM Express Compact Module size and adding Digital Display Interfaces (DDIs). It also approved new Type 6 and Type 10 pinouts.
Type 6 addresses the need for digital display and USB 3.0 interfaces and offers a simple upgrade path for existing Type 2-based designs. The Type 6 pinout can support up to three DDIs, including SDVO, DisplayPort, and HDMI/DVI. It also adds support for USB 3.0 and two additional PCI Express Lanes, for a total of 23.
Type 10, a single-connector pinout similar to Type 1, retains a 220-pin connector but no longer reserves pins for SATA 2 and SATA 3. These pins can now be used for new technologies such as USB 3.0.
Similarly, Type 10 no longer reserves pins for PCI Express lanes 4 and 5. In addition, it uses the second LVDS channel, previously employed for VGA, to support SDVO, DisplayPort, or HDMI/DVI.
Further information
According to Congatec, the Conga-TS67 supports Linux 3.0, as well as Windows 7, Windows XP, Windows XP Embedded, Windows Embedded Standard, and Windows Embedded POSReady. Prices for the module, which is available now, start at approximately $500.
More information on the module may be found on the Conga-TS67 product page.
Jonathan Angel can be reached at [email protected] and followed at www.twitter.com/gadgetsense.
---
This article was originally published on LinuxDevices.com and has been donated to the open source community by QuinStreet Inc. Please visit LinuxToday.com for up-to-date news and articles about Linux and open source.