Oct 26, 2011 — by LinuxDevices Staff — from the LinuxDevices Archive — 6 views
Axiomtek announced a COM Express module that offers a Type 6 pinout along with a choice of four different Intel "Sandy Bridge" processors. The CEM860 runs at up to 2.5GHz, accepts up to 16GB of DDR3 memory, has eight USB 2.0 ports and two optional USB 3.0 ports, and supports VGA, LVDS, and DDI (digital display interface) displays, the company says.
Axiomtek's CEM860 adopts the COM Express Basic (4.9 x 3.7 inches) form factor, along with a COM Express Type 6 pinout. (For more information on the latter — which had started cropping up on modules by January 2010, and was formally adopted as part of the COM Express Revision 2.0 spec in September of the same year — see the background information later in this story.)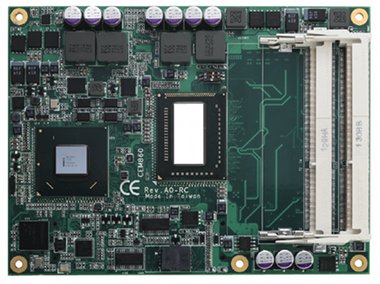 Axiomtek's CEM860
(Click to enlarge)
The device allows the buyer to select one of four different Intel "Sandy Bridge" processors, according to Axiomtek. These include:
Each of these processors is accompanied here by Intel's QM67 Express chipset (block diagram), which permits devices to offer two 6Gbps SATA ports and four 3Gbps SATA ports. The CEM860 limits itself to two 6Gbps ports and two 3Gbps ports, also including eight USB 2.0 ports and (as an optional feature) two USB 3.0 ports, according to Axiomtek.
Capable of accepting up to 16GB of DDR3 memory via its two SODIMM slots, the CEM860 has a gigabit Ethernet port. Axiomtek says the module can support VGA, LVDS, and DDI (SDVO, DisplayPort, HDMI, or DVI) displays, though there's no word on how many of these video outputs can be used simultaneously.
The CEM860 also has a PCI Express x16 interface that could be used to connect a GPU (graphics processing unit), plus additional PCI Express expansion. The latter may be configured as follows, the company says: either as six PCI Express x1, or one PCI Express x4 and two PCI Express x1.
According to Axiomtek, the module also provides eight channels of digital I/O (four in, four out), SMbus, and high-definition audio. There's also an optional Infineon SLB9635 trusted platform module, the company adds.
Of course, all the CEM860's functionality is passed via its dual COM Express connectors, and requires a separately available baseboard to reach the outside world. Axiomtek suggests its CEB94006, pictured below.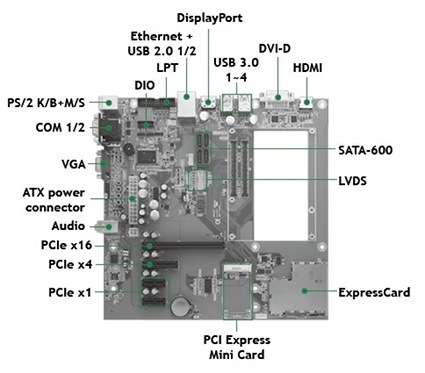 Axiomtek's CEB94006 spreads real-world ports over two coastlines
Using a 9.6 x 9.6-inch micro-ATX form factor, the CEB94006 provides a Mini PCI Express slot, an ExpressCard slot, a PCI Express x16 slot, a PCI Express x4 slot, and two PCI Express x1 slots. It also has two PS/2 ports, a parallel port, and two serial ports with DB9 connectors, says Axiomtek.
Unlike most other boards, the CEB94006 spreads its real-world ports over two coastlines (going by the image above, consider these a west coast and a north coast). This allows it to provide HDMI, DVI-D, and VGA video connectors, gigabit Ethernet, triple 3.5mm audio jacks, two USB 2.0 ports, and four USB 3.0 ports, among other facilities.
Axiomtek did not provide power consumption details for either the CEM860 or CEB94006. It does say that the module and baseboard are alike in providing an operating range from 32 to 140 deg. F.
Specifications listed for the CEM860 by Axiomtek include:
Processor:
Chipset — Intel QM67 Express
Memory — up to 16GB of DDR3 RAM via two SODIMM slots
Storage — 2 x 3.0Gbps SATA ports, 2 x 6.0Gbps SATA ports
Expansion:

1 x PCI Express x16
6 x PCI Express x1 or 1 x PCI Express x4 and 2 x PCI Express x1

Networking — gigabit Ethernet
Other I/O:

VGA
LVDS
DDI (SDVO, DisplayPort, HDMI, DVI)
8 x USB 2.0
2 x USB 3.0 (optional)
HD audio
SMBus

Power requirements — "tbd"
Operating range — 32 to 140 deg. F
Dimensions — 4.9 x 3.7 inches
More about pinouts
The COM Express Type 1 pinout features one 220-pin connector — the A-B connector — and supports up to eight USB 2.0 ports, up to four SATA or SAS ports, and up to six PCI Express Gen1/Gen2 lanes. It supports dual 24-bit LVDS, an HD audio interface, gigabit Ethernet, plus eight GPIO pins and SPI.
COM Express Type 2, also a common visitor to LinuxDevices, has all the above functionality, but adds a second 220-pin connector (C-D). This allows a 32-bit PCI interface plus IDE ports to support legacy PATA devices such as PATA HDD and CompactFlash memory cards. There are a total of 22 PCI Express lanes (six on the A-B connector and up to 16 on the C-D connector), 16 lanes on the second connector being intended for PCI Express Graphics (PEG).
In September 2011, the PCI Industrial Computer Manufacturers Group (PICMG) adopted the COM Express revision 2.0 spec, ratifying the 3.75 x 3.75 inch COM Express Compact Module size and adding Digital Display Interfaces (DDIs). It also approved new Type 6 and Type 10 pinouts.
Type 6 addresses the need for digital display and USB 3.0 interfaces and offers a simple upgrade path for existing Type 2-based designs. The Type 6 pinout can support up to three DDIs, including SDVO, DisplayPort, and HDMI/DVI. It also adds support for USB 3.0 and two additional PCI Express Lanes, for a total of 23.
Type 10, a single-connector pinout similar to Type 1, retains a 220-pin connector but no longer reserves pins for SATA 2 and SATA 3. These pins can now be used for new technologies such as USB 3.0.
Similarly, Type 10 no longer reserves pins for PCI Express lanes 4 and 5. In addition, it uses the second LVDS channel, previously employed for VGA, to support SDVO, DisplayPort, or HDMI/DVI.
An informative white paper providing more information about the Type 6 and Type 10 pinouts is available in PDF format from the Kontron website.
Further information
According to Axiomtek, the CEM860 supports Windows Embedded Standard and Linux operating systems and will be available at the end of November. More information may be found on the CEM860 product page and the CEB94006 product page.
Jonathan Angel can be reached at [email protected] and followed at www.twitter.com/gadgetsense.
---
This article was originally published on LinuxDevices.com and has been donated to the open source community by QuinStreet Inc. Please visit LinuxToday.com for up-to-date news and articles about Linux and open source.