Jan 18, 2012 — by Eric Brown — from the LinuxDevices Archive — views
HP Labs has demonstrated a prototype of a Linux-based set-top box (STB) designed to bring the Internet to the Indian masses, according to the Times of India. The Vayu Internet Device (VInD) is equipped with 1GB of RAM, 8GB of flash storage and an optional hard drive, HDMI, USB, and Ethernet ports, plus a range of wireless features that includes ZigBee.
Like many tech firms, HP sees a big future for Linux-based devices as a way to bring Internet access to India. In Dec. 2010, for example, the company launched its India-focused $442 HP DreamScreen 400 all-in-one PC, which runs Linux on an Intel processor and features an 18.5-inch touchscreen.
Pricing pressures are extreme in India, however, spawning efforts such as the Aakash UbiSlate 7 Android tablet. That device launched in October at a price of $61, but could be subsidized by the Indian government to go as low as $30 for students.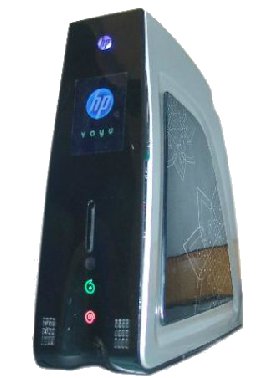 HP Vayu Internet Device (VInD) prototype
Now HP Labs has demonstrated a prototype of a Linux-based IP set-top box (STB) to the
Times of India
, intended to bring Internet access to Indians who already own a TV. Apparently developed primarily in India, the Vayu Internet Device (VInD) prototype has a Bill of Materials (BoM) of a little over Rs 5,000 (about $100).
HP hopes to reduce that through volume production, according to the Times of India's Sujit John, who offered an exclusive hands-on preview of the device. Assuming the price is reasonable, an STB could reach a much larger audience than PCs or tablets, suggests the story.
While relatively few Indians have computing devices, most have a television in their households. Meanwhile, many Indians who can afford a computer lack the necessary skills to use one, says the story. This is said to be especially true of older consumers, who are more comfortable with a remote than a keyboard.
The VInD is said to support even basic TV sets, letting users surf the Internet via their pre-existing TV remotes. Of course they also need to have some form of Internet access as well. There was no discussion of whether the device might be subsidized by Internet providers.
The story did not detail the architecture of the VInD's processor, but it's likely x86-based. Neither did it mention which Linux distro it's based on, although it says standard Linux apps will be able to run on the device. (All this would likely rule out HP's newly open source, Linux-based WebOS, which is currently built on an ARM platform.)
VInD specs include HDMI, ZigBee
The VInD offers 1GB of built-in RAM, 8GB of flash memory, and the ability to add a 300GB hard disk drive (HDD). The VInD is said to be further equipped with USB, Ethernet, HDMI, and A/V ports, plus a microphone and speakers.
Wi-Fi, Bluetooth 2.1, and infrared connectivity are supplied, and a GPRS or 3G modem can be hooked up via USB, says the story. The VInD also supports a wired or a wireless keyboard and mouse, author Sujit John adds.
One unexpected feature is a ZigBee wireless modem, typically used in short-range home automation applications. One could, for example, attach a ZigBee-ready motion sensor to a jewelry box at home, and then receive a notice on a paired phone if the box is moved, says the story.
Standard apps are said to include a web browser that offers the ability to set up categories and favorites, and a library database for organizing photos, videos, music, and other documents. A contacts app is also said to be available.
HP showed an app store prototype offering software that can retrieve stock prices, deliver a horoscope, pay bills, and supply train waiting list information, according to John. HP plans to open up the platform to third-party developers and provide the ability to insert ads to generate income.
"The product has the potential to be revolutionary in emerging markets like India," the Times of India story concludes, although the author adds, "A lot will perhaps depend on the pricing."
Availability
No pricing or availability information was provided by HP for the Vayu Internet Device (VInD). More information may eventually appear at HP Labs India or at the Times of India.
---
This article was originally published on LinuxDevices.com and has been donated to the open source community by QuinStreet Inc. Please visit LinuxToday.com for up-to-date news and articles about Linux and open source.