Jun 15, 2011 — by Eric Brown — from the LinuxDevices Archive — 1 views
IHS iSuppli published the results of a teardown of the 3G version of Samsung's Chrome OS-based Series 5 Chromebook — which began shipping today for $500 — and estimates the solidly-built notebook cost $334.32 to build. Meanwhile, an eWEEK review of the Wi-Fi only Series 5 was similarly impressed with the hardware, but questioned whether Chrome OS would find many takers.
Unveiled at Google I/O in May along with a slightly smaller, but very similarly configured Acer Chromebook, the Samsung Series 5 Chromebook went on sale June 15, from both Amazon.com and Best Buy online. The Series 5 is available in two flavors: $430 for the Wi-Fi-only version, and $500 for a 3G-ready version with a 100MB monthly data allotment from Verizon Wireless for two years.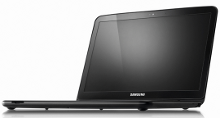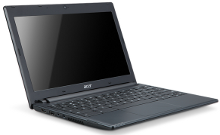 Samsung Chromebook Series 5 (left) and Acer Cromia Chromebook


(Click on either to enlarge)
Acer's Chromebook, meanwhile, is now called the Acer Cromia Chromebook, according to
Amazon.com's Chromebook page
. It now starts at $380 instead of $350, and ranges up to $450.
Available for pre-sale since June 9, along with the Series 5, the Cromia was also heading for a June 15 ship date. Today, however, the Amazon.com page says the Cromia is not yet shipping. Best Buy offers no information on it at all.
The Samsung Series 5, then, is the first commercial device to run Google's Linux- and Chrome browser-based Chrome OS. It follows Google's December release to developers of its Cr-48 pre-release Chrome OS notebook.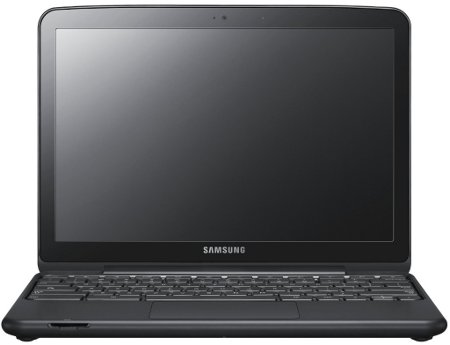 Samsung Series 5 Chromebook


(Click to enlarge)
Chrome OS is notable for being entirely cloud-based, running only web applications instead of native apps, and storing all data in the cloud as well. In fact, so far Google has dictated to its early hardware partners that no hard disk drive storage is permitted, and early models are limited to 16GB solid state drives (SSDs). An SD slot and two USB ports are available, however.
Google has all but admitted that Chrome OS may be a bit before its time, but sees it as a long-term play for the cloud future. Critics, meanwhile, have been more blunt, with Jefferies & Co analyst Peter Misek, for example, suggesting there's very little demand for it.
"Chrome is focused on netbooks, which we view as a dying product category," Misek wrote May 13.
The PC-centric columnist John C. Dvorak, meanwhile, is also — surprise, surprise — skeptical, writing, "By this time next year, I will be stunned if any Chromebooks are being sold." He adds, "The idea is bad, inefficient and comparatively expensive. In other words: a loser."
Google sued over Chrome OS trademark

With all this love, the last thing Google needs is a lawsuit, but then again the company is used to it these days, so — cue the lawyers! Late last week, intellectual property manager Isys Technologies sued Google, claiming Chrome OS infringes on trademarks for Xi3 Corp.'s allegedly Chrome OS-compatible Xi3 ChromiumPC Modular Computer (pictured).
Isys owns Xi3 Corp., which announced the 4.0 x 3.66 x 3.66-inch mini-PC last month, and plans to begin selling it on July 4. The ChromiumPC offers a modular design, featuring a swappable processor board with a single- or dual-core x86 processor, as well as two separate, upgradable I/O boards, says the company.
iSuppli finds advanced features in Series 5
If Chrome OS still has a way to go before it convinces reviewers of its worth — see Clint Boulton's eWEEK review below — the Samsung Series 5 does appear to offer capable hardware. This view is shared by Boulton as well as a new IHS iSuppli breakdown of the 3G version of the notebook.
Our sister publication eWEEK got the full story from iSuppli, and eWEEK's Nathan Eddy quotes the report's conclusion: "The Chromebook's focus on providing a compelling user experience has resulted in the inclusion of some advanced hardware features not typically found in low-cost notebooks."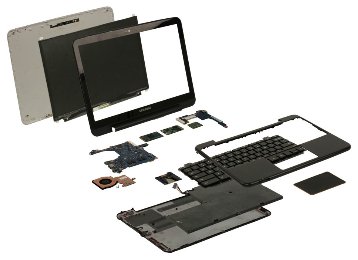 Series 5 dismantled, in iSuppli teardown image
The Samsung Series 5 carries a bill of materials of $322.12, according to IHS iSuppli. This is said to include the cost of the 12.1-inch display, battery, a new dual-core, 1.66GHz Intel
Atom N570
processor, 2GB of memory, a 16GB SSD, as well as the $12.20 estimated manufacturing cost.
IHS iSuppli did not appear to offer an opinion as to whether the roughly $180 markup to $499 seemed reasonable, but eWEEK's Eddy notes that the assessment accounts only for hardware costs and estimated manufacturing cost. It does not take into consideration other expenses, such as manufacturing software, licensing, royalties, or other hidden costs, he adds.
Boulton's eWEEK review found that at least with the Wi-Fi only version, the notebook lasts eight hours, just under the claimed 8.5-hour lifespan. iSuppli says that the six-prismatic-cell, 7.4-volt lithium ion battery pack takes up nearly two-thirds of the total volume of the Chromebook. The battery is sourced from Samsung SDI and carries a cost of $48.20, or 14.5 percent of the overall BOM, says the research firm.
The motherboard is the most expensive subsystem of the Chromebook, at $86.37, or 26 percent of the device's total BOM, according to the teardown. This is said to be largely due to the cost of the 2GB DDR3 SDRAM from Samsung Semiconductor.
Mechanicals and enclosures, including the keyboard assembly and touchpad assembly are said to cost $40.45, or 12.2 percent of the BOM. iSuppli found it unusual that the 16GB SSD, which costs $28, or 8.4 percent of the total, was sourced from SanDisk instead of Samsung itself.
The peripheral printed-circuit board, which contains the Wi-Fi and PC camera modules, came in at $17.85, or 5.4 percent of the BOM. The box contents, which include an AC power adapter and other accessories, cost $10.40, or 3.1 percent, says iSuppli.
All told, iSuppli seems to give the Series 5 its seal of approval, and notes that the Series 5 Chromebook boots up in a tidy eight seconds. eWEEK quotes Wayne Lam, senior analyst of competitive analysis at IHS iSuppli, as saying: "The Samsung Series 5 Chromebook is every bit a full-sized notebook PC — just don't call it that."
Series 5 great, but Chrome OS leaves questions, says review
Also at eWEEK, Clint Boulton wrote a review based on his week with the Samsung Series 5 Chromebook. Although he questions the whole Chrome OS concept, he finds the Series 5 to be far superior to Google's Cr-48, which he tested in December. Among other differences, the trackpad was said to be far more responsive.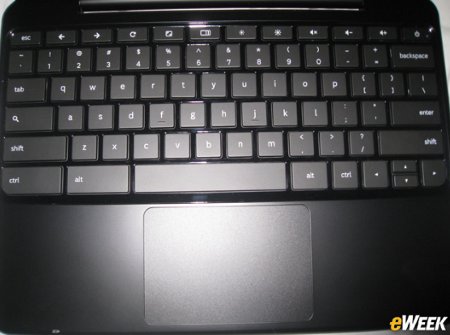 The Series 5's huge trackpad is superior to that of the Cr-48, says eWEEK
Boulton admires the 12.1-inch LED backlit matte display, which boasts 1280 x 800 resolution, as well as a 16:10 aspect ratio on an impressive 300 nits of brightness. The review also praises the overall build quality of the device, and as noted, lauds the eight-hour battery life.
Overall web performance was fast, and videos and Flash multimedia content played reasonably well, he reports. In addition, "Tunes played well on this machine with stereo speakers, a far cry from the Cr-48's inferior sound system," writes Boulton. He adds, however, that the online version of Angry Birds had more "hiccoughs" than he typically encounters with the native-app Android version.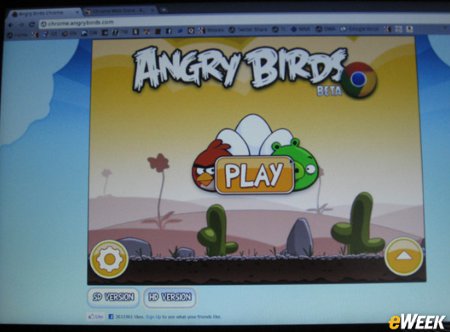 Yes, Angry Birds now fly in the Chrome OS cloud, but the web version has more "hiccoughs" than native app, says eWEEK
All in all, Chrome OS seemed to be quite stable and useful, however. And Boulton also likes the fact that it automatically downloaded from the cloud all of his previous bookmarks and app selections he had made on the Cr-48. He also appreciated the new file manager, which was not available on the earlier machine.
Boulton struggled, however, with the limited 16GB of SSD storage. He also notes that his Flip videos were not accepted, and would require transcoding to a new format.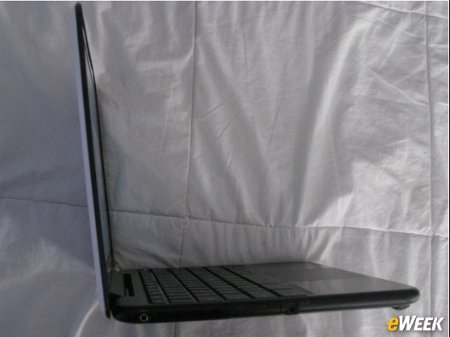 Series 5 from an angle
In the end, Boulton seems to like the computer, but questions its lack of storage, and Chrome OS' lack of apps. "I think computer makers could have trouble moving Chromebooks into anything other than a niche use case," Boulton concludes.
Boulton's full review may be found here, and an eWEEK slide show with photos and more comments on the Samsung Series 5 Chromebook, may be found here.
---
This article was originally published on LinuxDevices.com and has been donated to the open source community by QuinStreet Inc. Please visit LinuxToday.com for up-to-date news and articles about Linux and open source.