Dec 14, 2010 — by LinuxDevices Staff — from the LinuxDevices Archive — 1 views
Google's Intel Atom-based Cr-48 notebook test platform for Chrome OS beta testing gets a mixed review in this eWEEK evaluation. The fast, clean Chrome OS interface is said to get the job done fast on the web, but the keyboard is "deeply flawed," and a tablet might have been a better device target for the cloud-based operating system anyway.
Google's Linux-based Chrome Operating System (OS) has received a wide response, ranging from praise for the long-term strategic move to a more typical skepticism as to whether the platform is relevant in today's Android and iPad-crazed environment.
Earlier today, the naysayers were bolstered by a tweet from Gmail and FriendFeed founder Paul Buchheit stating "Prediction: ChromeOS will be killed next year (or "merged" with Android)." This was followed by more discussion on FriendFeed.
Whatever the fate of Chrome OS, we now have the means to start testing it. The Cr-48 notebook announced by Google last week is a newfangled mobile web computing device that does a lot of what a netbook does, serving up web applications via a browser.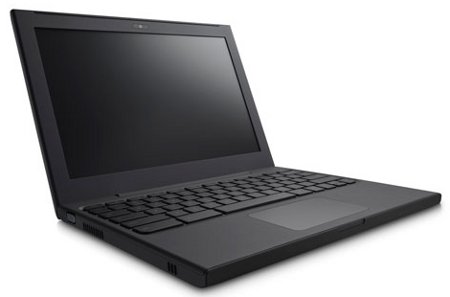 Google's Cr-48
It's how users access those web apps that is different than a netbook. Not better, but definitely different. The Cr-48 is the test machine Google is giving to media, business partners and some lucky consumers as the linchpin of its Chrome OS pilot program.
The program is the search engine's consolation offering for missing its own holiday 2010 deadline for getting Chrome OS machines into the hands of consumers via computer makers. Samsung and Acer are expected to ship Chrome OS notebooks in mid-2011.
Fast boots and swift browsing
The CR-48 has a black matte finish that feels chalky to me. I prefer the feel of the sleek, black plastic encasing of my Asus Eee PC netbook to the Cr-48 shell. However, the Cr-48's 12.1-inch screen size is full bodied and pretty crisp for a test gadget.
The device has a VGA port on one side and a single USB port on the other. When you flip open the lid, Chrome OS boots within six seconds because Google has effectively removed the BIOS boot layer. The Cr-48 also naps when you close the lid, fires up in one second when you reopen it, and reconnects to the web and your apps/webpages instantly.
There is a power button on the top right of the keyboard users can press and hold for a few seconds to officially power up and down when the lid is open.
Setting the device up is a dream — five minutes start to finish. Users pick their language, then their Wi-Fi network, let Chrome OS take a picture of them (this can be skipped), enter their Google Account and they're ready to go.
When I got online I was pleased to see all of my Chrome bookmarks ported right to the Cr-48, courtesy of rgw Google Sync feature in Chrome. I was greeted with the Getting Started screen, which runs through the machine's functionality in nine steps.
Funky keyboard gets in the way
The keyboard functionality is the biggest deal here. It takes some getting used to. Laptop users are accustomed to having separate directional touch pads and execution buttons. In the Cr-48, the two are integrated. Your directional pad and execution button are one and the same, and you can navigate the web and click on content with one hand. Check that: one finger.
To right click, you put two fingers on the touchpad press down, and let go. Scrolling is different, too. You have to take two fingers and swipe up or down on the touchpad. This felt very awkward for me, was unresponsive and, I would argue on the whole, was poorly done. It's way too slow to respond.
To be fair, you can click the Chrome controls wrench in the top right of the browser window to adjust the touchpad sensitivity. This helps a bit, but you're better off plugging in a mouse and being done with it.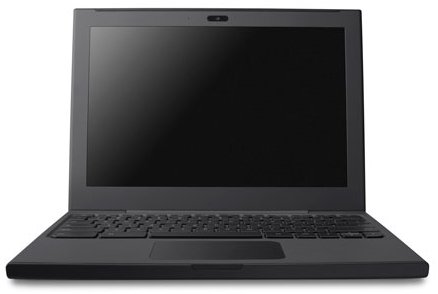 Another view of the Cr-48
How about the other buttons on the keypad? Strange. The Caps Lock has been replaced by a search button — the same one found on
Google TV
hardware controllers. Click the button and a new Chrome tab opens.
To do caps, you click Shift, then type your letter, but if you're really set on having the Caps Lock button, just go to that trusty wrench button and click settings, then the modifier keys to make the search button a Caps Lock button. That's what I did. I don't need a search button on my laptop.
Above the normalized QWERTY keyboard are what I call web control keys. Where these are normally function keys on my Eee PC, Cr-48 has: back and forward browsing keys, a reload button, a full screen key, a next window key, buttons to boost or reduce screen brightness, a mute button and volume buttons, all bookended by the requisite escape key and power button. All did their duty well enough.
Fast web browsing
Performance of Chrome OS was fast and enjoyable. Browsing the web was fine, including on graphically intensive websites such as ESPN.com. Google's Chrome Web Store, accessible from an icon on the new tab page in Chrome, worked well for the most part.
All files are stored online in the cloud. The Cr-48 does not store any of that data because there is no hard drive. Chrome users will manage their settings through the Personal Stuff tab under settings when they click the wrench. Users can also provision the Cr-48 for guest access mode so that friends can browse the Web without accessing your data.
When you find an app to download, you just click to install and it shows up on your App Wall in five to 10 seconds. I easily installed the first two that struck my interest, NPR Radio for Chrome and HootSuite for social media apps.
Rovio's Angry Birds failed to install for me, however. I notified Google by clicking the bug icon next to the wrench. Feedback will prove invaluable for Chrome OS going forward.
In addition to Wi-Fi, the device has a 3G radio. Google contracted with Verizon to serve Cr-48 users 100MB of data every month for two years. Activating this was as easy as clicking the network button and choosing the Verizon Wireless option, entering a zip code, picking a data option, and entering my personal info.
Users who require more than the 100MB monthly data allotment can also choose an unlimited day pass for $9.99, or 1GB for $20, 3GB for $35, or 5GB for $50, all per month. This is a nice boost for people who want to use the Cr-48 without the benefit of a Wi-Fi connection.
In effect, the notebook acts like any cell phone served by a carrier. Use and standby time of the machine is eight hours, which held up under our tests running web apps, surfing the web, etc. I enjoyed the Cr-48 as a web surfing device, but realized quickly I couldn't do any serious work in Google Docs on it until I plugged in a mouse. I just didn't care for the directional pad.
Better off as a tablet?
Assuming this experience will be ported to official Chrome OS notebooks from Acer, Samsung, HP, Lenovo and whomever else launches them, I have a hard time seeing this paradigm proving popular launching in a massive ocean of tablet mania next year. This is especially true as tablets become more friendly toward the productivity work Google expects us to do on our Chrome OS notebooks.
I expect Apple's iPad 2 and Android Honeycomb-based tablets to be better suited for work. All this is to say that Google would have been better launching Chrome OS in a tablet form factor, turning the funky keyboard into virtual keys that are easy to tap and swipe. Chrome OS is fine; it's the form factor of the new keyboard that's questionable.
Summaries of some other recent first-look evaluations of the Cr-48 may be found in our previous coverage. For further images of the device, check out this eWEEK slide show.
Clint Boulton is a writer for our sister publication eWEEK.
---
This article was originally published on LinuxDevices.com and has been donated to the open source community by QuinStreet Inc. Please visit LinuxToday.com for up-to-date news and articles about Linux and open source.