Jan 16, 2012 — by LinuxDevices Staff — from the LinuxDevices Archive — 1 views
Google is planning a new version of Google TV that will integrate personalized recommendations based on user preferences, says a report. Meanwhile, Google TV 2.0 was reviewed by DeviceGuru, which praised the Android 3.1-based interface and Chrome browser, but dinged the poor Flash performance and continuing lack of Android apps.
Google said it plans to upgrade its Google TV software by the end of the year, adding fresh content and more personalized recommendations. The company plans to maintain an annual software upgrade schedule for the Android-based web TV platform.
"We don't intend to stop iterating," Rishi Chandra, director of product management for Google TV, told BusinessWeek. "You'll see cool interaction stuff, you'll see a lot of cool things happening on the recommendation engine and on the discovery experience."
Google plans to enhance its TV and video recommendations to carefully match preferences with the user, Chandra told BusinessWeek. Google TV will ultimately track peoples' viewing preferences and offer recommendations, he added. This service will require an opt-in from consumers.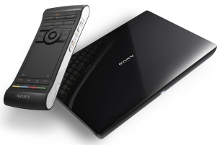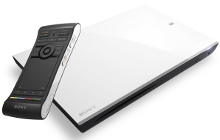 Sony's NSZ-GS7 Network Media Player and NSZ-GP9 Blu-ray disc player
(Click on either to enlarge)
Google Executive Chairman
Eric Schmidt said
at CES that Google ideally could enable users' phones to send a text message alert to users' TVs, ordering up content based on their personal preferences. Google TV will also include voice search capabilities over time, matching Microsoft's Xbox 360 and
new TVs from Samsung
.
Google TV picks up steam at CES
The initial Google TV products — Sony's Internet TVs and Blu-ray players and Logitech Revue companion box — failed to sell well. In addition to having more than the usual version 1.0 technical issues, Google TV had few Android apps, and the service had trouble signing up major content providers. For example, Hulu blocks Google TV from accessing its content.
The second Google TV version, based on Android 3.1 ("Honeycomb"), however, appears to be vastly improved. It provides more than 150 Google TV-tailored applications from the Android Market. (See farther below for more on Google TV 2.0.)
CES proved to be a hotbed of Google TV activity. Sony, LG, Vizio, and E Fun all showed off new Google TV systems, ranging from TVs, to Blu-ray players, to TVs, to streaming media boxes. Sony, for example, released a new NSZ-GS7 Network Media Player and NSZ-GP9 Blu-ray disc player (see images farther above).
Marvell showed off its new dual-core, 1.2GHz Armada 1500 system on chip (SoC) and "Foresight" reference platform for Google TV, which will replace Intel's slower Atom CE4100 SoC this year. Samsung is also planning to launch a Google TV system this year.
Google TV 2.0 review: cool interface, funky Flash
Google TV's activation rate doubled after the refresh to Google TV 2.0 in October, according to the company. The Android 3.1-based upgrade includes a revamped interface, featuring a new customizable home screen and app shortcuts. It also adds hundreds of Android Market apps, and offers improved search for TV and YouTube, according to the company.
Over at DeviceGuru, Rick Lehrbaum decided to see if the platform lived up to the hype. His generously illustrated review of Google TV 2.0 is based on a software update to his Logitech Revue set-top box (a device for which Logitech has no hardware update plans).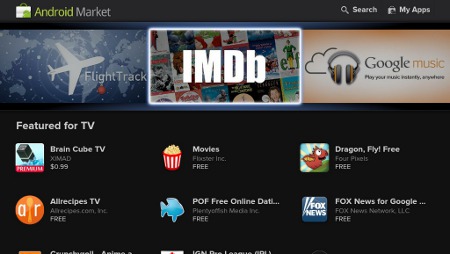 Google TV ready apps on Android Market
(Click to enlarge)
First, Lehrbaum steps through the new features and hardware requirements for Google TV 2.0, and then walks the reader through the update process. At the time of the installation, there were fewer than 50 Google TV-specific apps available on Android Market, he noted (see image above).
With version 2.0, however, Google promised "you can now download Android apps for your TV, just like on your smartphone." But Lehrbaum reported having to "sideload" apps with the help of the File Expert app and DropBox. Of the dozens of apps tried, the "hit rate" of those that successfully installed and ran was "disappointingly meager," he added.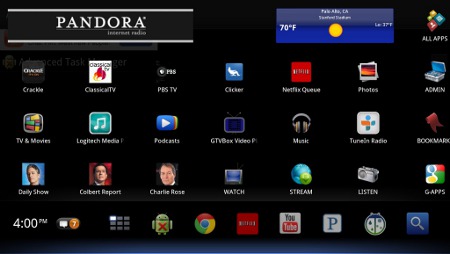 Modified Google TV 2.0 homescreen
(Click to enlarge)
The review goes on to show how to modify the Google TV homescreen using a Folder Organizer app available from Android Market (see image above). In addition, it shows how to add Apple AirPlay support for streaming videos from iOS 4.2 and higher devices. A screenshot tour of all facets of the Google TV 2.0 interface is also supplied.
The DeviceGuru review concludes with admiration for Google TV 2.0′s power, flexibility, and clean interface, compared to the original. Lehrbaum also lauds the new Chrome-based web browser.
However, Lehrbaum adds, the platform still needs to evolve, however, especially in order to improve the Flash video driver, which he found to crash frequently. In addition, many more TV-oriented apps need to be made available before the platform clicks with consumers, he concludes.
Clint Boulton is a writer for eWEEK. Eric Brown contributed to the review summary.

---
This article was originally published on LinuxDevices.com and has been donated to the open source community by QuinStreet Inc. Please visit LinuxToday.com for up-to-date news and articles about Linux and open source.