Aug 24, 2011 — by Eric Brown — from the LinuxDevices Archive — 15 views
Qnap is shipping two desktop Turbo NAS network-attached storage servers with 3.3GHz Intel Core i3 processors, aimed at high-end SMB environments. The 10-drive TS-1079 Pro and eight-drive TS-879 Pro offer RAID, iSCSI, and SATA 6Gb/s support, plus dual eSATA ports, six USB ports (two of them USB 3.0), and dual gigabit Ethernet ports, with an option to add dual 10GbE ports.
Designed for file sharing in mixed Windows, Mac, Linux, and UNIX environments, the new Turbo NAS servers support private cloud storage, server virtualization, and specialized applications such as high definition video editing, says Qnap.
The company's Linux-based Turbo NAS products range from home/SOHO NAS devices (such as the single-drive TS-112) up through a variety of SOHO and SMB targeted systems (including the rack-mounted, four-drive TS-412U). The new TS-1079 Pro and TS-879 Pro push the outer envelope of what LinuxDevices typically covers, aiming as they do for the high-end SMB/corporate market.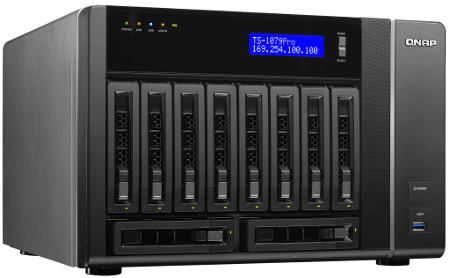 Qnap TS-1079 Pro
(Click to enlarge)

The two models are identical except that the TS-1079 Pro provides 10 hard disk drive (HDD) hot-swappable slots instead of the eight on the TS-879 Pro. Each system supports up to 3TB drives for up to 30TB or 24TB storage, respectively. A
The systems support 3.5-inch SATA 6Gb/s or SATA 3Gb/s HDDs, as well as 2.5-inch SATA solid state drives (SSDs), says the company. The two systems are similarly sized at 12.8 x 12.65 x 8.65 inches, and with the help of dual cooling fans, support operating temperatures of 32 to 104 deg. F (0 to 40 deg. C), says Qnap. Both systems run on 100-240V AC, 50/60Hz, 350 Watt power supplies.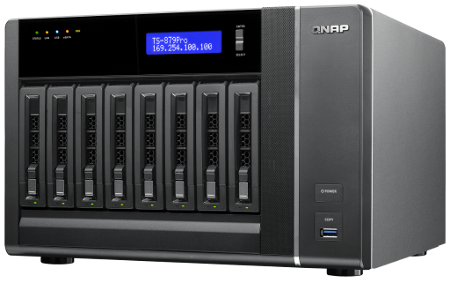 TS-879 Pro
(Click to enlarge)

Power consumption and noise levels are slightly different. The TS-1079 Pro consumes 121 Watts in operation, or 40 Watts in sleep mode, and sounds off at 30.4 dB during operation. The TS-879 Pro, meanwhile, consumes 101 Watts and 39 Watts, and is rated at 27.4 dB, says the company.
Otherwise, the two servers are identical. Each is equipped with an Intel Core i3-2120 clocked at 3.3GHz, one of this year's "Sandy Bridge" Core processors. The systems offer 2GB DDR3 RAM and 512MB flash, says the company.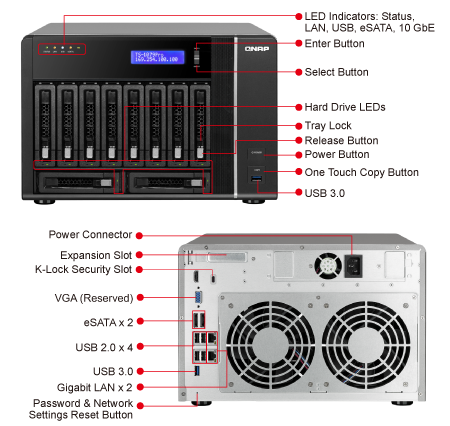 TS-1079 Pro port detail

The TS-1079 Pro and TS-879 Pro ship standard with dual gigabit Ethernet ports, offered with failover and load balancing. An expansion slot is also available, enabling the addition of a networking card with two more gigabit Ethernet ports or a card with dual 10Gbps Ethernet ports.
The 10Gbps option is said to support 1,000MB/sec network backups and 100,000 IOPS (input/output operations per second). It also appears the network expansion slot can be swapped out for a storage expansion slot.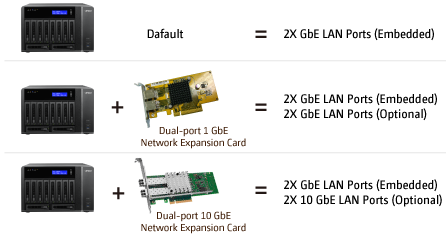 TS-1079 Pro expansion options

Six USB ports are supplied in all, with two of them USB 3.0 and one front-facing. Four more USB 2.0 ports face toward the rear. In addition, there are two rear-facing eSATA ports, says the company. The systems offer LCD panels, LEDs, and alarm buzzers, and a VGA port is available for maintenance.
The TS-1079 Pro and TS-879 Pro support RAID 0, 1, 10, 5, 6, 5+ hot spare, 6+ hot spare, 10+ hot spare, single disk, and JBOD storage functionality, says Qnap. They also support the new Global Hot Spare feature, which allows a spare drive to "flexibly replace a failed drive on any RAID volume on the NAS for automatic RAID data rebuilding," says the company.
Advanced iSCSI support is available, and the servers can operate with simultaneous IP-SAN (iSCSI) and NAS functions, says Qnap. The systems are said to be VMware and Citrix XenServer ready, and Windows Hyper-V compliant.
The Linux-based NAS stack includes a wide variety of servers, backup features, and security mechanisms, including FIPS 140-2 certified AES 256-bit encryption. Much more information may be found in the links at the end of the story.
Stated Richard Lee, president of QNAP Systems, "Now there is a viable alternative to the overpriced networked storage that has been previously marketed to the high-end SMB. QNAP's new TS-879 Pro and TS-1079 Pro delivers uncompromising performance and features at prices sure to make the accountant smile."
SilverStone DC01 NAS gets good review
In other NAS news this week, Phoronix reviewed the SilverStone DC01. The Linux-based DC01 from Taiwan-based SilverStone was announced in March, and is now shipping.
The tiny device supports only a single 2.5-inch HDD or SDD, and runs Linux on a dual-core 750MHz ARM11 processor. The system is equipped with 256MB of DDR2 SDRAM, 256MB of NAND flash, a gigabit Ethernet port, an eSATA port, and two USB 2.0 ports, says SilverStone.
Reviewer Michael Larabel seemed to like the system, calling it "an affordable Linux-based NAS server. He also vouched for other SilverStone gear, which the Phoronix uses in its benchmark testing.
Availability
The TS-1079 Pro and TS-879 Pro are currently available from a variety of distributors, resellers, and e-tailers, says Qnap Systems, which did not list pricing. More information may be found on this TS-1079 Pro page and this TS-879 Pro page, respectively.
---
This article was originally published on LinuxDevices.com and has been donated to the open source community by QuinStreet Inc. Please visit LinuxToday.com for up-to-date news and articles about Linux and open source.