Feb 16, 2009 — by Eric Brown — from the LinuxDevices Archive — 6 views

The LiMo Foundation announced nine new LiMo (Linux Mobile) compliant handsets from NEC and Panasonic aimed at NTT DoCoMo's wireless network. The resurgent mobile phone consortium also announced six new members: Telefonica, Aromasoft, Casio Hitachi Mobile Communications, Marvell Semiconductor, Opera Software,… and Swisscom.
(Click for larger view of NEC's new LiMo-compliant Docomo Prime series N-01A )
LiMo announced the new phones and members as part of a major push at Mobile World Congress in Barcelona this week. LiMo is showing off its new R2 release and aiming to prove that it's still a force to be reckoned with, even in the midst of the show's prevailing Android-mania.
Last week, the industry group announced that six major carriers, including new member and board member Telefonica, would be shipping LiMo compliant phones this year. The commitments came from Orange, SK Telecom, Telefonica, Verizon Wireless, Vodafone, and Japanese carrier NTT DoCoMo, which will be fielding the NEC and Panasonic phones announced today.
Last week, LiMo also announced that five Linux phone stacks have been contributed to the organization, from Access, Azingo, LG Electronics, Purple Labs, and Samsung Electronics. Each implementation is said to comply with the "R2" LiMo spec, which LiMo will be demonstrating in Barcelona this week. In addition, LiMo announced that it would adopt the BONDI standard from the OMTP (Open Mobile Terminal Project), an industry standards group backed by major mobile operators. (For more information, see our previous coverage.)
The new LiMo members include the following companies, bringing the total membership to 54: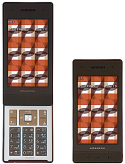 Docomo Smart series N-04A
(Click to enlarge)
NEC and Panasonic keep DoCoMo users happy
The nine new LiMo devices bring the number of commercially available LiMo handsets to 33, says the Foundation. Like the new handsets, the majority of LiMo handsets have been NEC and Panasonic phones destined for DoCoMo users. All the models appear to support the 7.2Mbps 3G connectivity provided by DoCoMo's 3.5G network.
The latest LiMo-compliant handsets from NEC are said to include:
Docomo Prime series N-01A
Docomo Style series N-02A
Docomo Style series N-03A
Docomo Smart series N-04A (pictured at right)
The latest LiMo-ready handsets from Panasonic Mobile Communications include:
Docomo Prime series P-01A (pictured at top)
Docomo Style series P-02A
Docomo Style series P-03A
Docomo Smart series P-04A
Docomo Smart series P-05A (pictured below)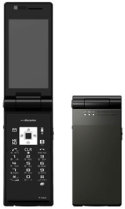 Docomo Smart series P-05A
(Click to enlarge)
All the phones will be offered by NTT DoCoMo, which has long ruled as the world's largest mobile operator. The Japanese economy, however, seems to be suffering more than most right now, so despite the smartphone segment's relative immunity to the recession, a difficult path may lay ahead. (More details on the new LiMo phones will be provided in the coming days on LinuxDevices.)
Additional LiMo reference designs
A number of designs from new LiMo phone vendors will also be demonstrated in Barcelona. LG Electronics and Samsung will each provide demos of their own LiMo reference implementations for phones that will be released later in the year. The LG LiMo Phone handset (pictured below, right) is said to offer a touchscreen interface, with WebKit-based connectivity and browser, a Web Runtime for widgets, and rich multimedia support, says LiMo. Samsung, meanwhile, will show two LiMo-ready handsets as reference devices.

LG LiMo Phone design
In addition, two of the other five reference design vendors — Azingo and Access — will show off a variety of LiMo development environments, editing and debugging tools, and virtualization technologies, says the Foundation. Access is showing off its new Access Linux Platform (ALP) 3.0, which NTT DoCoMo has selected as a successor to its MOAP/L Linux platform, long used by Panasonic, NEC, and Esteemo in dozens of popular Linux phones. DoCoMo will begin distributing 3G FOMA phones based on ALP in the second half of 2009, Access said.
Azingo is demonstrating the touchscreen-enabled Azingo Mobile 2.0, which it announced earlier this month. Version 2.0 offers a new runtime, homescreen interface, browser, and UI toolkit, which together enable a smartphone-ready touchscreen- and web-widgets interface (see images below). Azingo's new stack will run on an upcoming Vodafone phone, say the companies.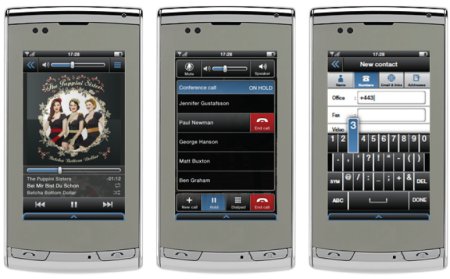 Different views of Azingo Mobile
(Click to enlarge)
The fifth LiMo reference design vendor — Purple Labs — was not listed as providing a demo, perhaps because it will be busy with its merger with Esmertec. Pending shareholder approval, the companies will soon re-emerge as the Myriad Group.
The Mobile World Congress will also feature several other LiMo-oriented demonstrations, says the Foundation, including:
Acrodea — Previews of "Themed UI" technology, enabling UI personalization based on different social networks, as well as branded and user-generated themes; plus GUI-based UI technologies and tools, called "Vivid UI" and "Vivid UI Workshop"
Kvaleberg AS — Preview of a new version of its LiMo-ready Mimiria software suite and development tookit, offering a multi-touch based UI, shown on Compal's "Madrid" touchscreen hardware platform.
Movial — Demonstration of a new version of the LiMo-compliant Movial Internet Experience Suite (Movial IXS), incorporating 3D graphics acceleration, 3D application transitions, fast PDF reader support, and automatic UI orientation.
Stated Morgan Gillis, executive director, LiMo Foundation, "LiMo's ground-breaking role within the mobile industry is leading operators, manufacturers, and developers to change the way they approach device design and development."
---

This article was originally published on LinuxDevices.com and has been donated to the open source community by QuinStreet Inc. Please visit LinuxToday.com for up-to-date news and articles about Linux and open source.