Sep 15, 2010 — by LinuxDevices Staff — from the LinuxDevices Archive — 19 views
Intel's new Atom E6xx is attracting software and hardware designed to leverage its use of PCI Express as an interconnect. Real-Time Systems announced a hypervisor designed to leverage the chipmaker's own EG20T I/O controller, while STMicroelectronics says it will replace the latter with a device tailored for automotive in-vehicle infotainment (IVI) systems.
Yesterday, Intel announced the Atom E6xx — previously known only as "Tunnel Creek" — touting features already offered on some other Atoms (low power consumption and an integrated graphics controller, for example). But the E6xx is unique, the chipmaker added, in that instead of using a proprietary interconnect between the CPU and an I/O controller, it employs the industry-standard PCI Express bus.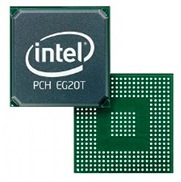 As a result, third-party vendors will be able to create their own IOH (I/O hub) chips for the E6xx, adding custom functionality. Meanwhile, Intel's own EG20T (right) will be offered for those requiring typical interfaces such as SATA, USB client, SD/SDIO/MMC, and gigabit Ethernet, as well as general embedded interfaces such as CAN, SPI, I2C, UART, and GPIO.
Noted in the block diagram below, the EG20T supports the IEEE 1588 standard for clock synchronization. The German company Real-Time Systems GmbH has exploited this fact to spin a new version of its RTS Hypervisor software.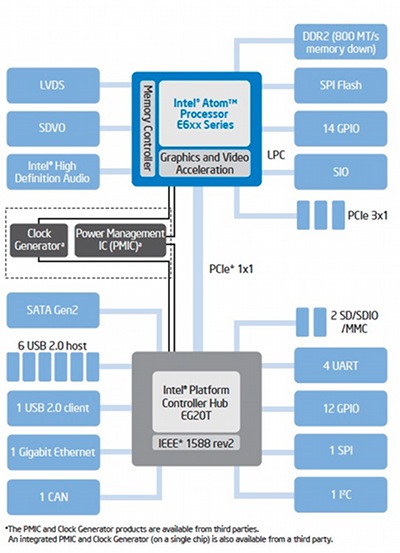 A block diagram of the Atom E6xx and EG20T I/O hub
(Click to enlarge)

As before, RTS Hypervisor is said to let the Atom run multiple operating systems in parallel, with exclusively allocated memory, devices, and I/O ports. But now, the EG20T's IEEE 1588 time stamping unit is "seamlessly integrated" with the RTS IEEE 1588 stack, "providing highly accurate time synchronization," Real-Time Systems says.
According to RTS, the IEEE 1588 stack, whose source code is available, allows synchronization of distributed real-time clocks over packet-based networks (typically Ethernet.) Possible maximum jitter in the nanosecond range can be achieved when supported by hardware, or as low as five microseconds when used with standard network interfaces (NICs), the company claims.
Gerd Lammers, CEO of Real-Time Systems GmbH, stated, "The availability of Intel virtualization technology, Intel hyper-threading technology, and an IEEE 1588 time stamping unit among others, makes the new E6xx series a perfect fit for a lot of our customers. The increased performance along with reduced power consumption and the availability for extended temperature ranges is very appealing."
A replacement IOH
In contrast, rather than leveraging capabilities on Intel's EG20T, STMicroelectronics (ST) is proposing a replacement for it — no doubt, the first of many to appear on the market. The "ConneXt" IOH will be designed specifically for situations where the Atom E6xx is employed in in-vehicle infotainment (IVI) systems, the company says.
While ST released neither a block diagram nor many details, it says the ConneXt IOH will "simplify system design, enable the use of open, off-the shelf software, and reduce development costs and time-to-market." I/O will include Ethernet AVB (audio video bridging), CAN, and MOST (media oriented systems transport), as well as general purpose I/Os such as SATA and USB On-the-Go for broader applications, the company adds.
Jonathan Luse, director of marketing for the Intel Low Power Embedded Products Division, stated, "The Intel Atom processor E6xx series is more integrated and provides an open interface that allows it to be easily customized for in-vehicle infotainment solutions. Pairing it with an IOH such as STMicroelectronics ConneXt allows our automotive customers to quickly develop a solid hardware platform to add compelling in-vehicle applications and services."
Further information
The version of RTS Real-Time Hypervisor supporting Intel's Atom E6xx series appears to be available now. More information on it and the IEEE 1588 stack may be found on the Real-Time Systems GmbH website, here.
ST says its ConneXt IOH for the E6xx will begin sampling in May of next year. The expected high-volume price will be approximately $7.50, the company adds.
An interactive block diagram highlighting the Atom E6xx and EG20T I/O controller may be found on Intel's website, here.
---
This article was originally published on LinuxDevices.com and has been donated to the open source community by QuinStreet Inc. Please visit LinuxToday.com for up-to-date news and articles about Linux and open source.