Jan 9, 2012 — by Eric Brown — from the LinuxDevices Archive — 1 views
One Laptop per Child (OLPC) demonstrated a "fully functional" version of its long-delayed XO 3.0 tablet, equipped with a 1GHz Marvell Armada PXA618 processor running Sugar Linux or Android 3.x. Like OLPC's XO 2 laptop, the eight-inch tablet is aimed at educational systems in developing nations, and it will feature an optional sunlight-readable Pixel Qi touchscreen plus the ability to draw power from an optional solar panel or crank charger.

In May of 2010, OLPC and Marvell agreed to develop the next-generation OLPC XO 3 tablets based on Marvell's Moby reference design (pictured at right) running its 1GHz Armada 610 system-on-chip (SoC). Later that year, Marvell said it would provide the non-profit OLPC Foundation with $5.6 million to fund the development of a next-generation bendable, dual-screen tablet that would follow the Moby-based design.
On Jan. 8, the companies used the Consumer Electronics Show (CES) to demonstrate a "fully functional" version of the Moby-based XO 3 tablet. Like earlier XO netbooks, it will be heading for OLPC's established customer base among educational systems in developing nations. The tablet will feature both Android and Linux, say the partners.
It's unclear when and if the more futuristic bendable design, which had originally been planned as the XO 3, will ever be produced.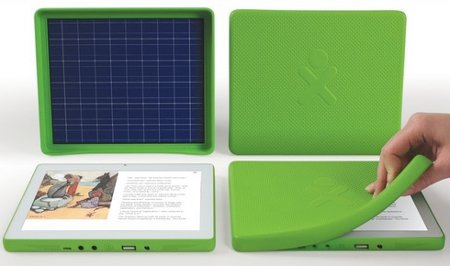 OLPC XO 3
The XO 3.0 tablet will feature the 1GHz Marvell Armada PXA618 SoC, a member of
Marvell's PXA610
line of ARMv7 processors, and will also include an Avastar Wi-Fi SoC, say Marvell and OLPC. The XO 3 ships with a standard LCD touchscreen or an optional
Pixel Qi
low-power, sunlight-readable display, say the partners.
Other features are said to include a "unique" charging circuitry that can be charged directly by solar panels, hand cranks, and other alternative power sources. Alternative power has been a longtime goal of OLPC that wasn't implemented in earlier XO designs.
Back in 2010, the partners had said the XO-3 would support 1080p video encode and decode, 3D graphics, Flash 10-enabled web access, and teleconferencing. These details were not repeated in the current announcement, however.
The partners had also said in 2010 the XO 3 would consume only a single Watt. According to a report in The Verge, however, the shipping version will run on a still-respectable two Watts.
The XO 3 has an eight-inch, 1024 x 768-resolution display, and supplies 512MB of RAM, according to The Verge. The rugged tablet was designed by Yves Behar, and can achieve 10 minutes of runtime from one minute of cranking with the optional crank, says the story.
The tablet can be purchased for as little as $100 by school systems in emerging nations, says The Verge. That price, however, does not include the Pixel Qi option, and may possibly require the deletion of other features, says the story.
A PCMag report specifically reports the availability of both Android "Honeycomb" (3.x) as well as OLPC's usual custom Sugar Linux OS. According to PC World, meanwhile, Microsoft Windows will no longer run on the device (as it does on the currently shipping XO 1.5 laptop). The story also confirms he eight-inch size, and notes that the XO 3 will offer eight to 10 hours with a top-of-the-line battery option, but can be bought with a smaller battery that does not last as long.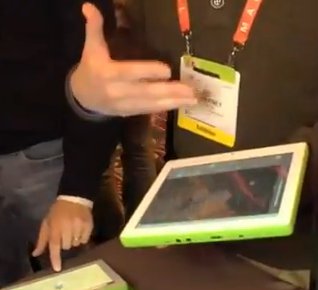 XO 3 demo'd at CES
Source: GottaBeMobile
GottaBeMobile posted
a video of an XO 3 demo from the CES show floor (see images above and below, and video farther below). Here, it is further revealed that the tablet's mic input doubles as a DC input, enabling experiments with sensor equipment, as well as just about any form of DC power input. The video also shows the solar panel and crank accessories.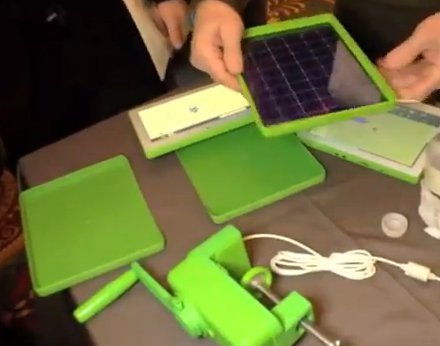 XO 3 with solar panel and crank accessories
Source: GottaBeMobile
The video also details many of the educational programs available on the program. It's unclear how much of this will be available on the Android version, as opposed to the K12 educational focused Sugar Linux OS.
ARM-based XO 1.75 netbook due soon
Neither Marvell or OLPC appeared to say when the XO 3 would ship, although PC World suggested the tablet was "ready to ship." On the other hand, the story also said it was designed to replace the XO 1.75 laptop, a device that Marvell and OLPC now say will begin shipping February or March of this year. The rugged netbook had originally been targeted for shipment in the fall of 2010.
The XO 1.75 upgrades the XO 1.5 design with a sunlight-readable (presumably Pixel Qi) screen, as well as the same Marvell Armada 618 SoC used in the XO 3 tablet. This is said to cut power consumption in half compared to the earlier, x86-based Via C7M processor, which was also clocked to 1GHz, according to Marvell and OLPC.
According to PCMag, the XO 1.75 will cost about $185. Over 75,000 units of the XO 1.75 have already been ordered by OLPC projects in Uruguay and Nicaragua, says OLPC. So far, the original XO 1.0 and XO 1.5 have been distributed to more than 2.4 million children in 42 countries and in 25 languages, claims the foundation.
Stated Edward McNierney, chief technology officer of One Laptop per Child, "The XO 3.0 builds on many of the technology breakthroughs we made with the XO 1.75, including the use of the Marvell Armada PXA618 processor, resulting in a significant decrease in power consumption — a critical issue for students in the developing world."
XO3 demo from CES YouTube


Source: GottaBeMobile
(Click to play)
Availability
No availability information was provided for the XO 3. The XO 1.75 laptop will ship in February or March, say Marvell and OLPC. More information may be found at OLPC's website.
---
This article was originally published on LinuxDevices.com and has been donated to the open source community by QuinStreet Inc. Please visit LinuxToday.com for up-to-date news and articles about Linux and open source.