Feb 4, 2011 — by Eric Brown — from the LinuxDevices Archive — 1 views
IT services firm Capgemini announced it will offer its utility customers an energy monitoring "In-Home Display" device based on an Intel reference design. Intel's "Home Energy Dashboard" design offers an Atom Z6xx processor, an 11.5-inch OLED capacitive touchscreen, plus ZigBee, Wi-Fi, Ethernet, and USB connectivity and "an open software API."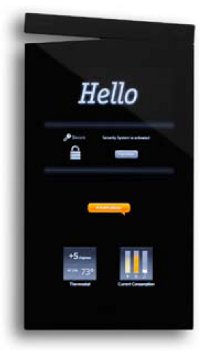 CapGemini's In-Home Display will allow utilities to better manage their demand response programs by shifting residential customers' peak usage, says the company. The device is touted as allowing utilities to offer preferential tariffs to customers who reduce energy consumption, while delivering new services, such as solar panel monitoring, electric vehicle battery management, and storage management.
Capgemini says it will develop consumer applications for the In-Home Display. Though no image was provided, we're guessing the device will be physically identical to Intel's Home Energy Dashboard design (pictured at right).
Also provided will be software that supports secure communications between the device and utilities' existing systems. Capgemini says it will also deliver project management and deployment services, as well as technical and customer support.
Capgemini offered few details on the device, but Intel provides a wealth of specs for its Home Energy Dashboard, which joins several similar Atom-based home energy devices from Cisco, OpenPeak, and others (see farther below).
Announced in September, Intel's Home Energy Dashboard — which also appears to go by the name of "Intelligent Home Energy Management Proof of Concept" — was promised to be available in early 2011 with a royalty-free contract. The design will also be deployed by GridNet, said Intel at the time.
The design originally ran on an Intel Atom Z530, but has now moved up to an Atom Z6xx ("Moorestown") processor, which is touted for its lower power consumption compared to other Atoms. The Z6xx is paired with the Platform Controller Hub MP20 chipset, which was announced at the same time.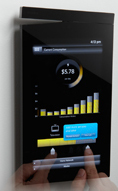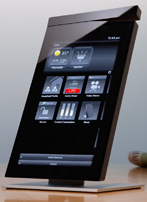 Two views of Intel's Home Energy Dashboard
Neither Capgemini or Intel mentions the operating system, although Intel says it offers "an open software API." That sure sounds like Linux to us, and it could be either Moblin or its heir, MeeGo, both of which are supported by the Z6xx. (The only other open OS supported by the processor is Android, which is another possibility. If it is Android, however, the UI appears to have been extensively modified.)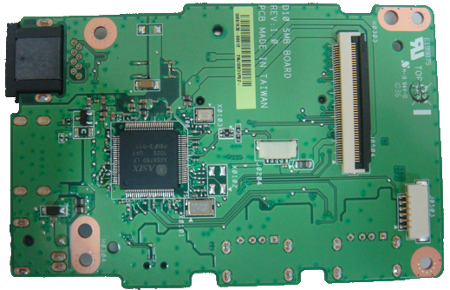 Home Energy Dashboard reference board
(Click to enlarge)
The Dashboard is offered with up to 2GB of DDR2 memory, and comes with an SD slot for expansion, says Intel. The wall-mountable device offers an 11.5-inch capacitive touchscreen with OLED (organic light emitting diode) display technology, the company adds.
The Dashboard also supports HD video and provides LVDS and HDMI outputs, says Intel. A speaker and microphone are also said to be available. The device offers both 802.11b/g/n and ZigBee, a short-range wireless technology that has become a mainstay of smart energy devices. Users can add new appliances to the system for monitoring by plugging them into a Zigbee-enabled smartplug.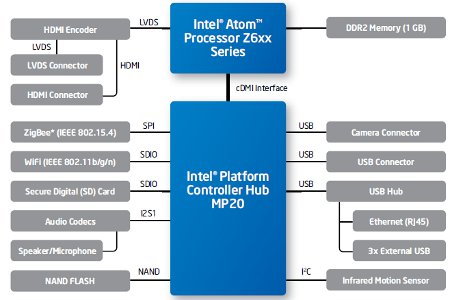 Home Energy Dashboard reference design block diagram
(Click to enlarge)
A USB hub provides access to an Ethernet port and three USB ports, and there's also a USB-based camera connector, and what appears to be another internal USB connector. In addition, the Dashboard offers an SPI interface and an infrared motion sensor, says Intel.
Software includes an energy manager, color coded clock screen, smart thermostat, and remote management features. Users can compare energy usage to similar homes in the area, among other features.
The partially opened lid on top of the device is actually a "goodbye switch," says Intel. Press this down, and the device goes into a user-configurable off mode that can be used to adjust the thermostat, turn off "vampire" power-sucking devices in the household, and remind users if they forgot to turn off the stove, says Intel. It can also arm connected security systems.
Other home energy devices

A number of other home energy devices also run on Intel Atom processors. Last summer, in the same announcement in which Cisco debuted its Cius Android tablet, the company announced a Home Energy Controller (pictured at right) which runs Ubuntu Linux on an Intel Atom Z510. The device appears to be based on OpenPeak's Intel Atom- and Moblin-based Home Energy Manager (HEM) reference design (pictured below, at left).
OpenPeak

's HEM is in turn based on the company's OpenFrame 7 tablet design, which has been revamped as the Atom Z6xx-based OpenTablet 7 consumer tablet design. The device is expected to support MeeGo.
Capgemini launched a dedicated service line called Smart Energy Services (SES) in 2010, providing "smart" metering, grid, home solutions, and analytics to utilities across the world. The company cites ON World research projecting that global revenues for HEM equipment and services will reach $3.3 billion by 2014.
Stated Joe Jensen, general manager, Low Power Embedded Processor Division, Intel, "The Intel Home Energy Dashboard reference design, based on the Intel Atom processor, has the potential to change the game in the home energy management space by intelligently facilitating a change in consumer behaviour, without the need to sacrifice comfort or convenience."
Stated Perry Stoneman, global leader for Capgemini's Smart Energy Services, "We believe there will be a great appetite for this kind of solution in the market and Capgemini's Smart Energy Services team is delighted to be taking Intel's Home Energy Dashboard to utilities and providing the required value-added services."
Home Energy Dashboard demo on YouTube


Source: Intel
(Click to play)
Availability
More information on the Home Energy Dashboard may be found at Intel's home energy page. More info can also be found in the Capgemini In-Home Display announcement.
---
This article was originally published on LinuxDevices.com and has been donated to the open source community by QuinStreet Inc. Please visit LinuxToday.com for up-to-date news and articles about Linux and open source.